The Parable of the Mustard Seed, Lisa Henry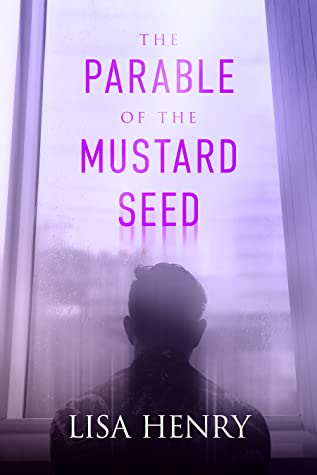 Rating: 5 Stars
Publisher: Self Published 
Genre: Gay Romance  
Tags: Psychological, PTSD, Past Abuse, Religious Themes, Mental Health, Interracial MCs, Police Officer, Some Procedural Work, Age Gap, Emotional, Potential Triggers 
Length: 280 Pages   
Reviewer: Kazza
Purchase At:  amazon
Blurb:
John Faimu is an Australian-Samoan police officer who deals with hurt kids every day. Caleb Fletcher was the teenager John saved from a cult eight long years ago, and he's now the young man John wants in ways that neither of them should risk.
Eight years after his rescue, Caleb is still struggling with PTSD and self-harm. John has always been his rock, but now Caleb wants more. Can he convince John to cross a line and love him the way they both crave? And when the monsters from Caleb's past come back seeking to silence him for good, will John's love be enough to save him?
Review:
O le fogavaʻa e tasi. One family.
Lisa Henry knows how to tug on the emotional strings when she wants to. She knows how to put two people together as MCs who work for reasons that speak to their past, their present, their complex life circumstances thrust up against their unique personalities. Definitely she does her best work where someone needs to lean on the other for support, while the other shows incredible courage to push through life's curve balls. It's the case in the raw but beautiful When all the World Sleeps, co-written with J A Rock, and she does it again beautifully on her own in The Parable of the Mustard Seed.
John and Caleb work. Should they? Maybe not. Especially given the ongoing nature of the case that involved, involves them from different perspectives. But these men are part of a team, one that includes Darren, Caleb's father. It means loving and supporting Caleb as best they can. The three of them have been doing this for 8 years, but now that dynamic has shifted. Shifted in that the feelings John and Caleb share from a major life event and beyond has morphed into a more adult love and emotional attachment bond. There is much deliberation by John about the ever-present love he feels for Caleb. It could ruin everything good. Their carefully built friendship. He's kept his true feelings to himself. But Caleb lets John know he loves him and, once aware, John can't keep hanging onto the pretence that he doesn't feel the same. Because it's untrue. Caleb is doing better more often, and surely he deserves/needs some personal, adult agency? But both scenarios are fraught with danger for someone who still spends some of his time in a psych ward.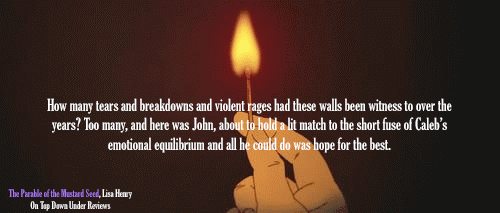 One could argue in a review that Caleb is young, reads young – apt for his past and his present, the abuse and his complex PTSD, his survivors guilt – and that John has an air of maturity that speaks to someone older than 30 turning 31. It makes the age gap seem larger. However, both of these men are so beautiful in their own right, John so respectful, Caleb now needing that next step in his life, wanting to take it with John. People are supposed to be able to love someone if they find them, why can't Caleb? Why can't they? The reader understands the cost and the benefits, and I felt for John and Caleb. I cheered for them… with trepidation. Darren is a good man, a good dad – how he deals with his son's trauma and wants nothing but the best for him, that he accepts the next step in his son's life so it can work for all the right reasons… with trepidation: In healthy families we accept our children gain more milestone freedoms and more responsibility as they mature and develop, that's the right life progression. It doesn't mean we stop worrying once they hit "adulthood." Here, around Caleb, there is a genuine fear.
"I bleed and you're here."
Fuck.
John straightened and turned his face toward Caleb's. His face was pale, his lips colourless. Dark circles carved out hollows under his eyes.
"Your dad called me," John said. "He's on his way."
There are flashbacks at the beginning of each chapter. They aren't long but they're incredibly powerful. It's a perfectly organic structure to move this story along and involve the reader without overwhelming them or info dumping. Be prepared to feel all the emotions. There is a deep melancholy throughout and it can seem unrelenting but the narrative clips along at the right pace and takes you on a journey you want to ride out. I needed John and Caleb to find their equilibrium and happiness. The secondary characters add an extra layer to help the story being told. There is a case to be worked. There is respect for the Samoan culture and also for those who have mental health conditions or disorders. The Parable of the Mustard Seed is deeply intense storytelling because of the (sadly) very real nature of its core content. It's also hopeful with kind, gentle and caring MCs who make you feel the need to stay with them for the entirety of their story. 5 Stars!