A Handkerchief for Kade (Alaskan Pebble Gifters #5), Amy Bellows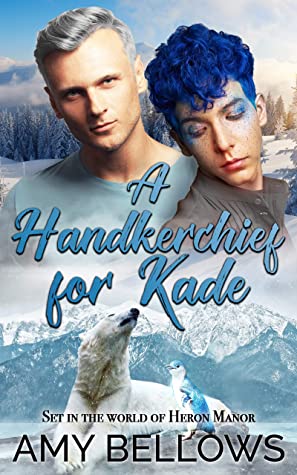 Rating: 3 Stars
Publisher: Amy Bellows
Genre: Gay Paranormal Romance
Tags: Paranormal, Age Gap, Daddy Kink (Mild), Fated Mates, Mpreg, Romance, Series, Shifters (Polar Bear and Penguin) 
Reviewer: Cindi
Purchase At: Amazon.com
*** This review has spoilers. ***
Blurb –
Companion wanted for an old and ornery card player.
All I want is a clever person to play cards with at night. No funny business. You sleep in your bed, and I'll sleep in mine. Must be clean, quiet, sober, and willing to go to bed at a reasonable hour. A preference will be given to applicants who can play cribbage and gin rummy.
Sure, Kade wouldn't normally consider a position as a companion for a polar bear shifter sentenced to a life in the oil fields of Alaska's North Slope. But he's broke. And the pay is good.
He doesn't expect the "ornery card player" to be so handsome. Or sweet.
Before long, Kade wishes some "funny business" was an option. Especially when he goes into heat two weeks early…
A Handkerchief for Kade is an age gap romance with an omega who loves makeup, D/s, and MPreg of the penguin egg variety. It's book five of the Alaskan Pebble Gifters series, and will only make sense if you've read the other books.
Review –
This is book 5 of the Alaskan Pebble Gifters series. You can find my reviews of the first 4 books here. The third one, A Home For Ben is one of my favorite books of 2020.
A lot has happened in the series up to now so there's no way I can't attempt to explain any of what has led to A Handkerchief for Kade. I'll just give my thoughts on the book and leave it at that.
Kade is a little blue fairy penguin, basically an outcast in the shifter community for reasons explained in the book. He's staying with his brother as he tries to get his YouTube channel out there. He has a lot of subscribers but it's still not enough to pay his bills.
I hated Jason, his brother. That didn't change as I read the book.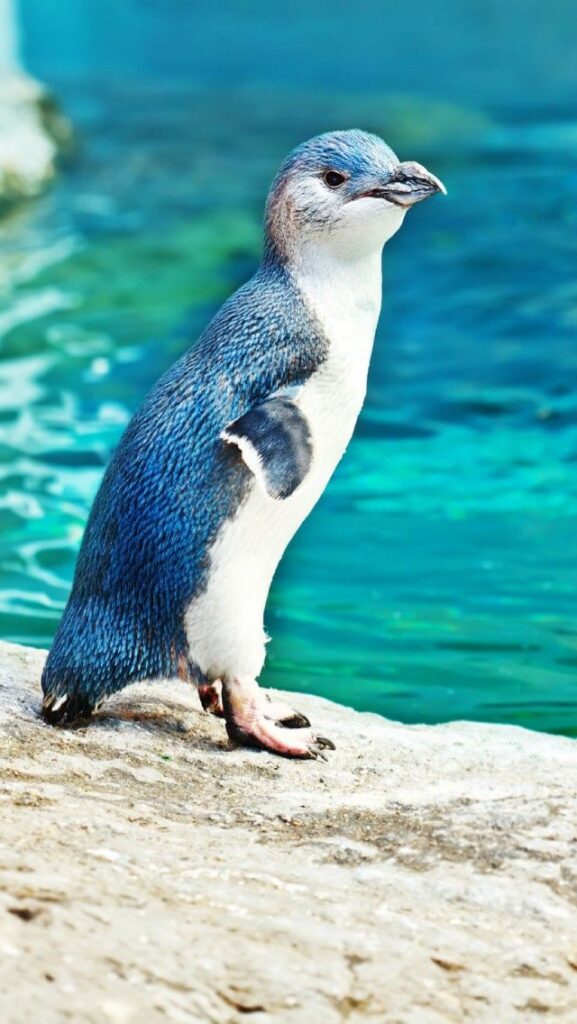 Kade's desperate so he answers an ad for a job as a companion for a polar bear shifter (Otis) in Alaska's North Slope. The Slope is where the Guild sends prisoners – known as ragers – to live out their sentences while being free labor on the oil fields. A lot of the ragers are killers and deserve to be put away somewhere. Some are sentenced to the Slope for other reasons. Otis, in a moment of anger and hurt, did something he can't come back from. Nobody died but they very well could have. He's been on the Slope for ten years and now he's on probation. He's told he has to get a temporary companion (usually a sex worker) or go to prison – much different from the Slope. Paid companions are common on the Slope. It's the Guild's hope that having a companion will calm Otis' anger.
So he places an ad and Kade takes the job. What Otis doesn't expect is, well, Kade. He's unique with his makeup and bright blue hair. He's also super hot, but Otis doesn't say that. The job advert was for someone to play cards with, nothing more – that nothing more being sex.
Yeah, well, things have a way of taking a turn. A couple of The Wizard of Oz movie and cuddling nights and Otis doesn't stand a chance.
Otis, before he committed the crime that put him on the Slope, was a Daddy who owned a kink club in Anchorage. He's not had a boy since. I don't think he'd even had sex since? I could be wrong but I don't think so.
Rather quickly Otis and Kade's relationship goes from just playing cards to snuggling and kissing a little.
And then Kade goes into heat. When he does, something bad almost happens (with the bad guy in the book). He manages to get away, only to lock himself in Otis' bedroom because Otis is safe. What happens next was hilarious before it got sexy. Otis, not wanting Kade to be miserable, offers to help him out. And boy, does he help him out. *snort*
They have lots of sex and in the process, Kade – who is on birth control that obviously doesn't work – ends up getting pregnant. Otis wants to keep the baby. Kade doesn't.
Good Lord, the 'will I keep the baby or won't I?' got so old after page after page of it. Kade wouldn't even call it a baby.
Anyway.
Raising a child on the Slope is not ideal so (as Kade goes back and forth about keeping it or not) Otis contacts his brother, who he's not spoken with in a decade. He forces himself to for Kade. He wants to make sure he's well taken care of in Anchorage if he keeps the baby.
Major issue I had with the story – Harry and Silas. Harry is Otis' brother. Silas was Otis' boy slash blood mate slash business partner. I say was because dear old brother and Otis' boy were caught hooking up with each other – hence the crime Otis committed a decade before.
I don't care what happened later or how many apologies were made, it boiled down to the fact that the man Otis was in love with had been having sex with his brother for six months (I think it was?) before they got caught. You can't come back from that.
Long story a little shorter, Kade decides (geez, finally!) to keep the baby, a rager somehow manages to escape the Slope without dying in the process, and Otis gets brought into a political thing in order to change things on the Slope. Otis manages to escape with Kade, they have their babies (3) and they all live happily-ever-after with Harry and Silas and their kids right next door.
I apologize for my sarcasm but that's the story. Everybody is forgiven as if nothing happened, including Kade's brother with the attitude.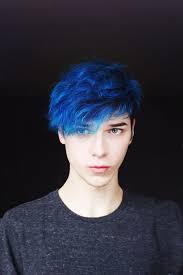 As much as I enjoyed this series through the first 3 books, the last 2 really haven't done it for me. It's obviously a me thing because of the slew of 5 star ratings on both.
I really liked Otis. I guess I liked Kade, but he was so flighty. I felt that they went from 'no sex, no funny business' to hooking up pretty quick. Then there's the bad guy in the book who was there and then he wasn't because he was sent to prison. I'm assuming this happened because of what he tried to do to Kade? Or maybe I missed something.
One thing I did like was that Kade had some pretty kinky shifter fantasies and Otis went out of his way to help him act them out (not with others). That was pretty hot.
There's a lot more to the book than what I've put in the review, but I'm stopping here.
Overall, a nice enough addition to the Alaskan Pebble Gifters series. It just didn't blow me away. I read a short excerpt for book #6. While it seemed okay, I'm not sure I'll be reading it. It might be time for me to cut my losses and end the series here.