Audiobook Review: Mr Uptight, Felice Stevens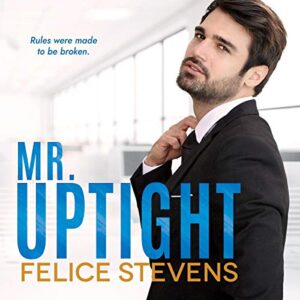 Genre/Tags: Gay Contemporary Romance, Best Friend's Younger Brother
Author: Felice Stevens 
Story Rating: 5 Stars
Narrator: Kale Williams 
Narrator Rating: 5 Stars
Length: 8 hours and 44 minutes
Audiobook Buy Links: Audible
Blurb:
Jude Staubman lives his life by a strict set of rules.
Mason Reiner makes him want to break every single one of them.
Jude:
What do you do when you wake up with a hangover and find yourself in bed with your best friend's younger brother?
Who happens to be your new brother-in-law?
The man who drives you crazy.
The man who's always skated by on fast-talk, good looks, and a bright smile.
The one who makes you want to break all the rules.
You hire him as your assistant, of course. And pray you can keep your sanity.
And your hands off him.
Mason:
How do you prove you've changed?
That you're no longer the party-boy who always needed rescuing from his own mistakes—and boy you've made some big ones.
But no one needs to know your secrets.
You take a job with the one man who doesn't trust you.
The man who's waiting for you to screw up.
You try and forget that one explosive night together.
Except you can't.
And to your shock…neither can he.
What do you do when the one man you can't imagine living with is the one you can't live without?
Review:
I'm pretty fond of the whole I can no longer resist the once annoying but sexy younger brother of a friend trope. Mr. Uptight delivers very nicely, thank you very much. Jude Staubman has long found his best friend and now business partner's younger brother, Mason Reiner, irritating. Hotly free-spirited too, but he wouldn't ever allow himself to  admit that part. Now, however, Mason is back in New York and, well, the free-spirited part works no matter how hard Jude tries to spin it otherwise. And, hello, Mason's matured and is hotter than ever. Mason's older brother Doug has achieved a lot in his life and (at twenty) Mason took off to find himself. He didn't want to feel overwhelmed and underachieving in comparison to Doug. He also had a crush on the responsible Jude Staubman which he believed would never go anywhere, so Fiji and surrounds it was for around a decade.
The book kicks off just after Mason's brother's and Jude's sister's wedding. A tequila-fuelled hook-up, post the wedding reception, between Jude and Mason has them both hot and bothered. Mason, because it was amazing. Jude, because it was amazing but he's also all, 'how could I do that?!' They both keep remembering the drunken and sexy as sin night though. Mason gets shutdown about it. His occasional sassy reminiscing meets with Jude refusing to talk about it or admit he totally enjoyed it, which he did.
When Jude's PA has reasons to leave his and Doug's marketing firm and Mason is suggested as a replacement – Mason both wants and needs a job – there is some reticence. But Mason has a good reference from his previous boss, Warren Colchester, who's a well respected British entrepreneur. Decision made, Mason takes to the job well. He's smart, even-keeled, and a nice guy… but there's that damnable chemistry lurking in the background. Jude fights it, Mason wants Jude to actually give in to it while also seeing him as he is now – well and truly grown up, fun, flirty, but also hard working and accountable.
I had to work somewhat to not want to slap Jude for a while because he's just so rigid. I understood it though, but I was waiting for him to cut free as well. Jude has worried about and cared for his sister for years, since she was sixteen. Before that it was concern and assistance for their mother who had a chronic illness until she passed away. Now Alanna has married his best friend and business partner, Doug, but Jude still finds it hard to let go of duty and think about himself for once. He still feels like Alanna's protector. Then Mason comes crashing back into his orbit again and he's forced to think about himself and relationships, to have some feelings about someone outside immediate family, something that is so alien to Jude.
Doug considers Jude to be a good friend and business partner, thoroughly responsible, but with that comes being  "Mr. Uptight." However, after that drunken night of sex with Jude, Mason knows just how Mr. Un-Uptight Jude can be if he lets go.
"In case you haven't noticed, he's uptight. I can't even imagine him having sex."
Oh, trust me, he's had sex. He knows his way around a dick. 
I loved that beneath the stoic exterior Mason has always been Jude's hot crush, something wild and desirable and dangerous, off limits to him. However, awareness around him, how gorgeous Mason is, how desirable, how nice, can't fully be repressed anymore, even if Jude still worries that Mason is not responsible enough. Not serious enough. That Mason's someone who has had everything come easily to him.
Mason was like a breath of fresh air throughout. He's fair and supportive of Jude. He props up Jude's insecurity, is understanding of Jude's inability to see more than what was over a decade ago. And Jude can't get past the fact that Mason is older, he's not an impulsive, exuberant twenty year old. He's thirty now. However, as time passes, as Jude starts to see how much Mason has to offer, how sweet and sexy and caring, how professional, his defences are lowered.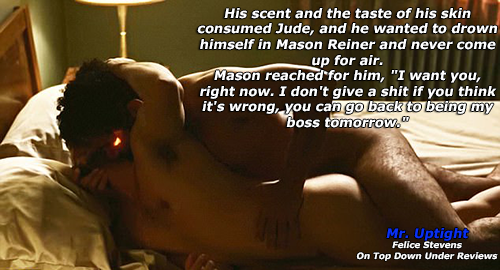 While there is a great deal of vulnerability between the two men in bed and when they're in private, Jude doesn't want anyone else to know they're seeing each other. He's cautious. He's also unsure what "they" are because he's never had time for a romantic relationship previously. Are they just fucking? In a relationship? Somewhere in between?
Mason has a few 'operations' in mind to get  Jude onboard – Mission Remove Stick from Jude's Arse and Operation Get My Shit Together. I loved his positive attitude, especially in the face of Jude's initial negativity around Mason then the idea of the reality of Mason and him.
Secondary characters are all well done. The whole thing with Price was predictable but I didn't care, I was too busy loving on Mason and Jude. I was totally into their building relationship. I need good characterisations and this pair are so good. I also adored the relationship Jude has with Edith, an older woman in his apartment complex who he looks out for, including walking her cheeky dog, Foxy. Edith is forward about Jude, and Jude and Mason's connection. She also appreciates a fine looking young man too. She uses her age to dole out some sage and practical advice, sometimes living vicariously through their growing relationship. Edith was an excellent character. She added wit and wisdom, a kind and concerned aspect to Jude. The good thing about age, and Edith knows it, is that we know love is worth it. Life is too short to deny yourself and sit around ruminating. Carpe diem, young people!
The Narration: 
I do like Kale Williams as a narrator. He did a great job of Felice Steven's Fool for Love, an absolute favourite of mine, and he was equally as good narrating Mr. Uptight. He gets Mason and Jude's voices just right, there's no mistaking whose voice it is. He hit the right amount of upbeat for Mason without being over the top, and Jude is Mr. Uptight while Williams also allows more depth of emotions and feelings as Mason gets under Jude's skin. It was well done. Then there was the sex. This book is smokin' hot and Kale Williams delivers on that too. Yes. Indeed.
When I want a good contemporary romance, I ferret out Felice Stevens' books now as they tend to deliver just what I'm looking for. This was truly enjoyable, especially since I'd bombed out on a few other books around the time I grabbed this. For sheer entertainment value, the characters, the setting, and the sexy times, certainly for the narration, I'm giving Mr. Uptight 5 Stars! 
PS: Another Felice Stevens book, an audiobook no less, another virus. We're in freaky territory now. I swear the author is bad for my health. Good thing I really enjoy her books 😀 😀