The City Dragon's Mate (Lonely Dragons Club #3), Silvia Violet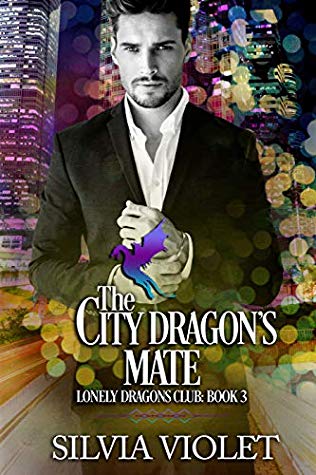 Rating: 3.5 Stars
Publisher: Silvia Violet
Genre: Gay Paranormal Romance
Tags: Paranormal, Fated Mates, Insta-Love, Mpreg, Romance, Series, Shape Shifters
Reviewer: Cindi
Purchase At: Amazon.com
Blurb –
Best Decision Ever: Hiring a man in need of discipline and finding out he's your fated mate.
Bartholomew
When a friend calls, hoping I'll take a problem employee off his hands, I jump at the chance. Despite running a large company and having a bustling city at my feet, I'm bored. I need a project. And if that project happens to be teaching a young man discipline, all the better.
But when he arrives, I realize my mistake. Pierre carries burdens from his past and needs my comfort as well as my discipline. My dragon instincts tell me I'm never going to want to let him go.
Pierre
I made a terrible mistake, and it nearly cost me my life. Now I've got a second chance with Bartholomew, and I'm determined not to screw it up, no matter what he requires of me. But I didn't expect to want him so much, not when longing for a different dragon was what got me into this mess in the first place.
All I'd ever wanted was security, but now I'm falling in love. And nothing sounds riskier than trusting my heart to a dragon.
Lonely Dragons Club series is an MM dragon shifter mpreg series about finding your one true love. The City Dragon's Mate is Book 3. The next book is The Island Dragon's Mate.
Review –
I'm having a hard time reviewing this one. I enjoyed the story a lot more than I thought I would. That's nothing against the author or the writing. My problem is Pierre, one of the main characters. He did something SO stupid in the first book that I had a hard time coming back from that.
Which leads me to how he comes to meet Bartholomew…
After the 'incident' with Laszlo and Roman in the first book, Roman talks his mate into 1. not killing Pierre (seriously), and 2. not putting him out in the street. You know Laszlo loves Roman because he didn't do either. The only thing left to do would be finding another dragon Pierre can work for – far, far away from Roman and Laszlo. Kymar was the first choice but he met his mate already, Holden. That only leaves two to choose from – Bartholomew, a businessman in the city, and Desmond, a dragon who very little has been said about so far. Bartholomew agrees to take on the problem employee, especially when Laszlo makes it clear that he basically wants Pierre to be brought to his knees, so to speak. Oh, he doesn't want the omega to get hurt, but he's still extremely bitter over what happened before – as he should be – and he believes the stiff businessman Bartholomew can make Pierre work for his keep, and I'm not just talking about in the bedroom.
Sex is not a requirement. Just sayin'.
My mind began to spin. A young man begging to be cared for, seriously in need of discipline, and adventurous in bed. That could be a fun project indeed. I hadn't had a house boy in far too long. And once I had him trained and thoroughly punished for what he'd done to my friend, I could find him a paying job and send him on his way.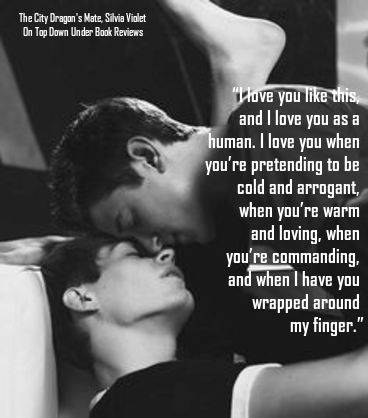 When they meet for the first time, Bartholomew is expecting a cocky omega. What he gets instead is someone who appears so broken that he agrees to do anything and everything he's ordered to do without question. If he has to clean bathroom floors with a toothbrush, he'll do it. If he needs to bend over or drop to his knees, he'll do so willingly. He needs this job desperately for reasons I won't go into here because they're spoilers. I will say this, though… I'm not going to lie, I felt a little teary as Pierre's story came out little by little. It still doesn't excuse his behavior with Roman and Laszlo, but I really did feel bad for him. Apparently, so does Bartholomew. His dragon is screaming, "Mate. Mine." He tries to ease into the mate thing with Pierre but that's easier said than done. His dragon is seriously impatient. Only when Pierre's heat hits do things finally come out. There's also a bit of a medical emergency that brings everybody from the previous books together briefly. This, like the others, is mpreg. While the pregnancy wasn't as elaborated on as in book #1, it's important to the story as a whole in this one. I can't say more than that.
I'm stopping there about the actual story.
Even when I was feeling bad for Pierre, and I did several times during this book, I still couldn't get past what he did before. He redeemed himself somewhat, and was even forgiven by Laszlo and Roman, but still. He and Bartholomew are really good together so there is that. I got to see Laszlo and Roman and Kymar and Holden again, if only for a few pages. That was nice. I also got to see Desmond, the final Lonely Dragon Club member left who hasn't found his mate. His book is up next.
Overall, a good story and a nice addition to the series. I admit to going into this without an open mind when it came to Pierre. I tried to like him, and I did somewhat, but there are some things characters can't get past for me, regardless of their so-called reasoning behind it. This one also doesn't have the humor the other two had. Honestly, the story wouldn't have worked if it did. There needed to be a little angst. It was written very well, as were the sex scenes.
One thing to note that I didn't in my other reviews of this series… the editing. The first book only had a couple of things so they weren't worth mentioning in my review – a quote not closed, a paragraph running together. In the second book, there was a big lack of quotation marks. I knew where they were supposed to be so I didn't get confused. But this one, the third book, has a ton of issues and it's mostly again with lack of quotation marks. There were several instances where there weren't any at all during full conversations. I found myself confused more than once as a result. I tend to overlook the lack of commas or lack of a period if it's not all over the place. It was very obvious in this book.
Off to next one.