The Island Dragon's Mate (Lonely Dragons Club #4), Silvia Violet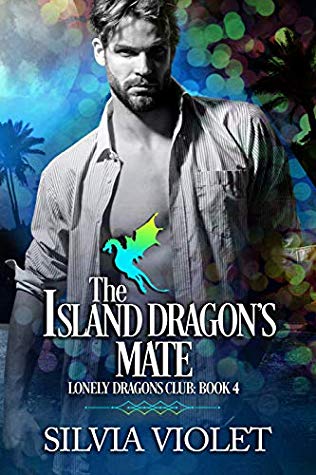 Rating: 3 Stars
Publisher: Silvia Violet
Genre: Gay Paranormal Romance
Tags: Paranormal, Fated Mates, Insta-Love, Mpreg, Romance, Series, Shape Shifters
Reviewer: Cindi
Purchase At: Amazon.com
Blurb –
Best Day Ever: When your fated mate washes up on the beach like a gift from the sea.
Desmond
I'd nearly resigned myself to a life alone when the sea brings me a beautiful omega who smells like heaven. I realize he's mine, and I'll do anything to protect him. He doesn't know how he got here. He doesn't even know his name, but he feels our connection. I wait for his memory to return, but no matter what happened in his past, I won't let it take him from me.
Jonah
I woke up on a beach with a big, gorgeous man standing over me. I can't even remember my name. I should be afraid, but I'm not. This man feels safe, his touch comforting. Even when I learn he's actually a dragon, I'm not intimidated. He's caring and protective, and he wants a big, loving family just like I do. I don't want to think about my past, only my time with Desmond. But when my old life catches up with me, I'll have to find a way to face my past while protecting my future.
Lonely Dragons Club series is an MM dragon shifter mpreg series about finding your one true love. The Island Dragon's Mate is Book 4.
Review –
This is my least favorite in the series which puts me in the minority if other reviews are to go by. Things just happened so fast. I know the same happened in the previous three books but it just didn't seem to work in this one for me.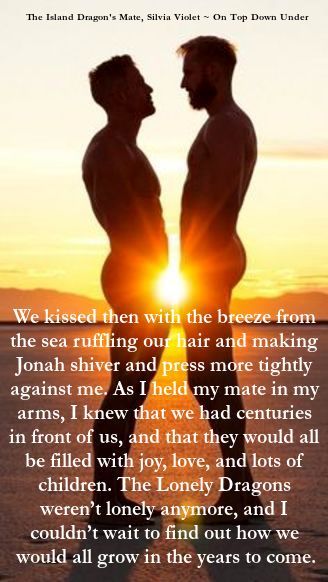 Desmond is the fourth and final member of the Lonely Dragons Club. The other three – Laszlo, Kymar, and Bartholomew – found their mates recently after searching for centuries. While Desmond is happy for them, he's also sad and feeling a little sorry for himself because he hasn't found his yet.
One night, he's on his balcony that overlooks his private beach – he owns the island – and he sees something in the sand. When he realizes it's a person he shifts and rushes down to them. The man looks like he's been washed up on the beach. When Desmond is finally able to rouse him, he's taken back to Desmond's house and cared for. The man has no memories of anything, including his name, though his name, Jonah, does come to him relatively quickly. He remembers he loves black coffee, he can draw, and a few little things but not who he is or where he came from. Desmond's dragon doesn't care one way or another if the man remembers anything because it's convinced that he's Desmond's mate.
All that was good. Jonah immediately felt an odd and strong connection to Desmond. Also good. What I thought happened way too fast was the sex. Well, a hand job, but still. Anyone else might be freaking out a little to wake up with a naked man (Desmond had to be naked to shift) and not remembering anything about their life, but Jonah only seemed to care about having sex with Desmond. While I get it – the series is all about fated mates and their unusual connection – I still felt like it was way too much too fast.
When Jonah's memories do come back I felt that it was a nonevent. There's an incident when someone from his past shows up. I liked how that was handled but I wish there would've been a few paragraphs added to that.
I loved Desmond. I liked Jonah okay. I was able to see all the others and their mates – Laszlo (Roman), Kymar (Holden), Bartholomew (Pierre) – and that was nice. I loved the first two, liked the third one okay, but this one didn't really wow me.
This is a nice series. Don't go by my review of this one. Everyone else seemed to love it.