In Step (Painted Bay, #3), Jay Hogan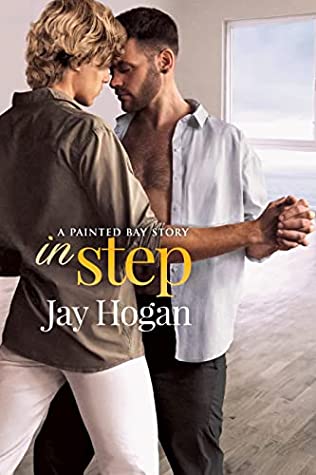 Rating: 4.5 Stars
Publisher: Self Published
Genre:  Gay Romance
Tags: Contemporary, Hurt/Comfort, Redemption, Second Chances, Series. **TW Past Bullying, Past Abuse of Adolescent
Length: 373 Pages  
Reviewer: Kazza
Purchase At: amazon
Blurb:
Karma. You reap what you sow, and KANE MARTIN isn't looking for forgiveness. But the arrival of ABE TYLER in Painted Bay has Kane dreaming of the impossible. The sexy, silver fox choreographer is determined to pull Kane out from the shadows, but Abe's career isn't about to shift to Painted Bay, and Kane's life is in neat little boxes for a reason.
A past he isn't proud of.
A family he's walked away from.
A job he doesn't deserve.
A secret he's ashamed of.
But life's dance can make for unexpected partners, and learning to trust and keep up with the footwork is the name of the game.
Two steps forward, one step back.
It takes two to tango.
Trigger Warning: Contains references to past abuse and bullying.
Review:
I'm just going to start with that cover. Beautiful. Suits the characters. The story. Jay Hogan nails it again and takes so much pride in the Painted Bay series covers. Every one of them is golden.
Some readers like hockey or MC clubs. Me? Yeah, nah. But if you write dance, I'm here for it.
I love this series. I've read a few books in other series by the author and they're nice but this series is a real gem. Judah and Morgan set the bar high with the wonderful Off Balance, a regular re-read book for me, then cemented the status as a must read series with On Board. Now it's been followed up by the mature narrative of In Step. 
Kane Martin was in both books preceding In Step but in a minor capacity. In book 1, trying to apologise for his teenage bullying of Judah. Something Judah wouldn't accept. In book 2 when Cora Madden, Judah and Leroy's mum, organised for him to work on their family mussel farm and to live in a bedsit on their property, much to Judah and Leroy's astonishment. Bit by bit Kane has proved himself to be a reliable worker and people have said he's reformed from his past but Judah is permanently angry, understandable after what happened, and Leroy and his now partner, Fox, don't want to rock the tenuous but building connection Leroy has with Judah nowadays. The brothers have had to work through their own issues. Which means that Kane works the mussels and stays to himself for the rest of the time. Well, Kane and his kitten Bossy, and his rescue rabbit… and Tank, another cat with problems. No family get togethers for Kane. No Sunday lunches with the Madden's growing family and friends. Nobody who seems to care or, worse still, nobody who doesn't know what he did to Judah years ago. The town is claustrophobic to Kane because of his past.
I kept shaking my head. "You don't understand. Did they tell you about me? About what I did?" I eyeballed him, daring him to lie, and from the pause before he answered, I knew somebody had. And I wanted to fucking cry. As long as I lived in Painted Bay, I would always be that guy.
Then Abe comes to Painted Bay to help with a production that Judah's dance studio is planning for all ability children. It means a lot to them, their families, and Judah to make this happen. Judah's Meniere's makes it impossible for him to do everything himself.
Abe Tyler is a contract choreographer who travels the world with his skillset. He's with family in Wellington between jobs, his mother has dementia and he's there to find out how to help and where she's at, when Judah asks him to come and assist. They know each other from Judah's ballet days. He has six weeks between contracts before he has to leave again, so it's six weeks he'll spend in Painted Bay. Abe sees Kane looking out the window when he first arrives at the Madden's and is interested in the blond with the shy demeanour. Little by little Abe gets to know Kane after Kane recognises the swing music he's listening and dancing to in Judah's studio one evening. Kane floats his boat physically and there is something lovely about Kane. Kind. When Abe finds out bits and pieces about why Kane is so shut out, he cannot reconcile the gentle man he's getting to know with what he did. He also believes that people deserve a chance to atone or be forgiven when it's warranted and he strongly sees that it is warranted in Kane's case.
This book offers-
The theme of one local with another who's just in town for a short time works to tug at the heartstrings. You see someone wrestling with leaving and even though you know this is what's happening again, Hogan definitely weaves her magic because I seem to be a right into it.
Lovely, lovely characters. Abe is a gracious and strong support for a lost Kane. He kindly prises him out of his shell.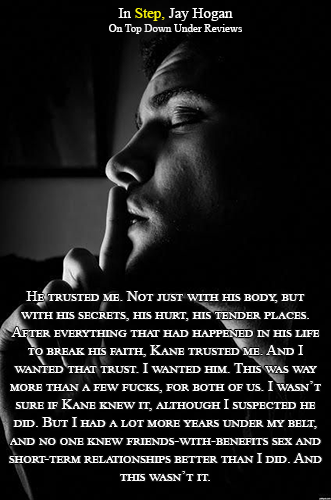 Abe is in his forties and Kane has just turned thirty, so there's an age gap. I always enjoy that. It was well utilised here as Abe has experienced more of life and with that he also has a confidence, an ease within himself, that allows him to know when to push and when to hold back. Kane is a great redemption story. He owns what he did and feels ashamed of it but he has demons of his own that have to be exorcised. Abe was a revelation. He had no preconceived ideas of Kane and that also added to Kane's sense of self with and around Abe.
The use of tango and it's meaning and connection suited Abe and Kane. Everything about the dance and it's origin story fit these characters. The invitation, the flirtation, the connection, the deep sensuality, the possibilities.
Hogan's writing was visceral and added the right degree of hurt/comfort. Survival. Human adaptation. I felt so much for Kane. He is a gentle guy who had some reasons for what he did when he was younger. None of those reasons were anything new in romance writing but it hung together well and made you cheer for Kane, and Kane with Abe.
I enjoyed seeing Judah and the little bit of Morgan there was. There is more Leroy and Fox because Kane works with them. They are caught between seeing Kane as decent while also understanding Judah's apprehension. Outside of that, with their own romance growing, they don't think too much about Kane, but Abe was a great catalyst to open eyes.
I was grateful that Abe made Judah take stock of his behaviour. It was time. Welcome to really moving forward, Judah.
In Step is another delightful and loving addition to the Painted Bay series. I'm a devotee of what feels like the gayest place on earth, certainly in New Zealand. I made time to write this review in the middle of a brutal work/study schedule because I kept thinking about it and because I enjoyed the book so much and felt it deserved some love from me on the blog. 4.5 Stars!