Escaping the Merman (Cursed Mermen #1), Aramis Jordan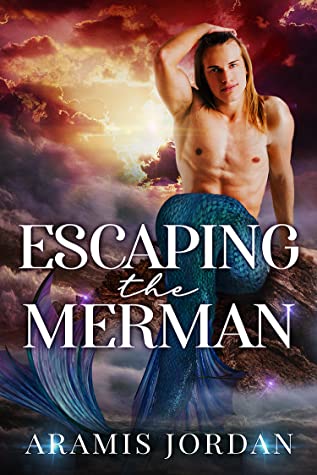 Rating: 3.5 Stars
Publisher: Aramis Jordan
Genre: Gay Erotic Romance
Tags: Fantasy, Historical, Paranormal, First Time, GFY, Romance, Series
Length: 247 Pages
Reviewer: Cindi
Purchase At: Amazon
Blurb –
A handsome sailor who thinks he's straight.
A beautiful merman driven by desire.
Fernando knows he's in trouble when his ship runs into a merman colony. Infamous for luring in ships with their ethereal song, mermen are feared. Fernando tries to escape, but when he lays eyes on gorgeous merman Arian, he wonders: does he even want to get away?
Arian loves men and cannot believe his luck when a ship sails into his archipelago. When his gaze falls on Fernando, Arian wants him and no one else. But mermen are dark creatures, and it's not a question if things will go wrong – it's when.
Escaping the Merman is a 70,000 word gay-for-you romance with a dark side. It features an intense love story and plenty of steam.
Tropes: Gay for you, Kidnapped by the hottie
Review –
I have no idea how to describe what I just read. Bear with me as I attempt to make sense of it.
First off, the story was good. Well, it was entertaining anyway.
Second, you can have WAY too much sex in a book. Of the 247 pages, I'm going to go with at least 220 or so of those being about wanting sex, having sex, or dreaming of sex. Granted, Arian (the merman in the story) could only give pleasure and not receive at first, but still.
I'm the last one to be a prude about sex in books, but good heavens. It took all my power to not skim starting within the first few pages. I didn't, but I damn sure wanted to.
Now to my thoughts of Escaping the Merman.
Fernando is a very wealthy merchant, having amassed a fortune after growing up in a poor family. He's on his ship carrying goods to be traded when he and his crew come across a merman colony while trying to get away from pirates. When Fernando and a few of his men (Kristian, Darin, Luis) hear the mermen singing, they're sucked in. Mermen are well-known in Fernando's world, and everybody knows to stay far, far away. Once they lure you, there's no coming back.
Only Arian and his friends aren't bad guys. Fernando and his crew just don't know this until later.
"And it gets worse! He doesn't only give them fishtails, he also curses them with eternal desire! Imagine that, they want to fuck all day but can't 'cause of that bloody fishtail."
Fernando only has eyes (and everything else) for Arian, though he's never been with a man, nor wanted to be with a man. He's all about the high-society women and the working girls he pays handsomely for. Suddenly, he's wanting Arian, like REALLY wanting Arian, This, of course, makes his not ever wanting to be with a man moot considering that, duh!, Arian's a merman.
Arian is unable to receive pleasure – there's the curse, of course – but he's all about giving it. He also has a magical sex toy to help in that regard. It was kind of sad because Arian and the other mermen were aroused 24/7. Unfortunately, they couldn't really do anything about it other than give pleasure to the occasional crewmember of lost ships. That just won't do for Fernando, who's never left a lover unsatisfied. Of course, Fernando finds a way, though there's still the issue with that pesky tail of Arian's.
"So, what makes you come?"
"I can't. The curse, the fishtail… we don't get to come."
~
"I'm aroused every second of every day. I want to fuck and get fucked and come so hard, but my body doesn't allow it. I want to feel pleasure, but with a fishtail, I can't be touched where I need it."
Everything is going well enough, I suppose, until suddenly it's not. The eldest of Fernando's crewmembers – that would be Luis – has played so much with his particular merman that it's caused a serious health issue. It's so bad that he either dies on the island with the mermen or Fernando and the other two get him help. Thankfully the row boat they'd used to get to the mermen has been found closeby.
Of course, everything was going too well with "Mr. I Don't Do Men" and Arian. Because Luis' merman let things go much too long with Luis, that made all mermen bad in Fernando's eyes. Well, and that of the others too, especially grumpy Kristian.
Long story short, there's a lot of anger thrown at the mermen, Fernando and his guys take off, not knowing if Luis will live or die. Fernando misses Arian like crazy. Arian's more depressed than he's ever been. The merman who caused Luis' health issues wants to do something for Luis' family, though he doesn't know what. Arian comes up with the perfect solution for both of them. He (Arian) will go to the sea witch (Malik, who cracked me up even if I don't think he was supposed to) and find a way to get to Fernando. You know, to pass along a message of sorts to Luis.
Arian just really needs to see his human again.
The sea witch helps Arian, but it comes at a serious price. Even so, things are good for a few hours for Arian. Fernando welcomes him, especially after he learns that the 'Luis having too much sex and getting hurt as a result' wasn't anybody's fault. Not really. But alas, Arian has made a deal with the devil, I mean, the sea witch, so their time together comes to a close. You know, after they spend almost every single minute having sex, talking about sex, or dreaming about sex.
In Arian's defense on that (re: all the sex), he was finally able to do things he'd never been able to do before so it was understandable.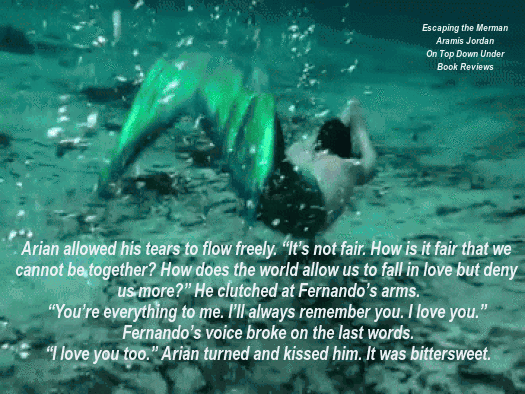 The way things come together for these two was not really that surprising, though I will say that the Epilogue was.
I liked Arian from the start. He broke my heart because he was so lonely, constantly aroused, and could do nothing about it because of the curse. Fernando took some getting used to. He was all about his FEMALE whores (his term for them, not mine) and others he slept with. And if it was said that he 'doesn't do men' once, it was at least a dozen or more times. I won't even get started on how his, "I am the man when it comes to giving pleasure. Hear me ROAR!" got tiring from the get-go.
Even so, everything came together nicely for these two guys. I'm curious about the other mermen and their humans, so I'm sure I'll be reading their stories at some point.
Overall, a nice read for anybody who's all about one sex scene after another. Don't get me wrong, the sex scenes were written quite well, but it was just too much. There's some dubious consent happening, but Arian does make it clear once Fernando's head is cleared from the 'siren song' fog that he can walk away. Things kind of take a weird turn once shackles come into play, but Fernando doesn't seem to mind. All he cares about is getting off. There was no wanting to walk away for Fernando. He just didn't want his crewmembers to know how much he was wanting the merman, especially considering he was known as a bit of a ladies man.
I went back and forth on what to rate this book. While I did enjoy it, it was too much of a good thing throughout. 3.5 stars.