Two Truths and a Lyle (Games We Play #0.5), D.J. Jamison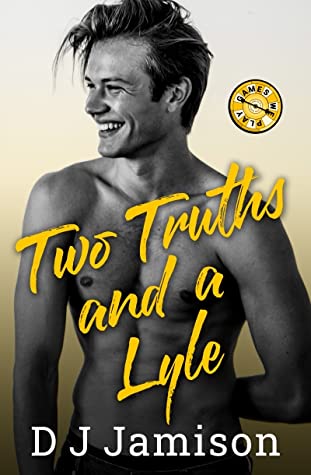 Rating: 4.5 Stars
Publisher: D.J. Jamison
Genre: Gay Romance
Tags: Contemporary, Friends-to-Lovers, OFY, Romance, Series, Short Story, Small Town, Virgin 
Length: Unknown (short story)
Reviewer: Cindi
Purchase At: Prolific Works Freebie
Blurb –
Two Truths and a…wait, what?!
What happens when drunken idiots, aka your friends, use a silly drinking game to sideswipe you and your BFF with the truth bomb that you're actually in love with each other?
Truman: You impulsively kiss the best friend you've been in love with for ages…then wake up with a hangover—and regrets.
Lyle: You freak out because you're not gay or bi, before realizing the kiss wasn't *actually* bad. Then you begin to wonder…should we do it again?
Two Truths and a Lyle is a cute, low-angst M/M romance with two oblivious best friends who are perfect for one another, a town full of quirky residents who get in everyone's business, and a sweet sexual awakening.
Review –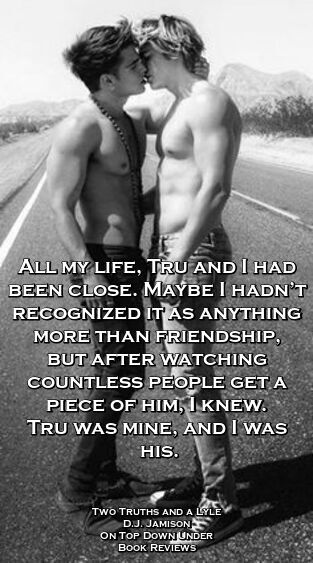 Before I go into my review, I need to mention that the Prolific Works link above takes you to a page of freebies – M/M Romance Book Boyfriends Group Giveaway 2022 – not just Two Truths and a Lyle. Instead of trying to get the one link, I posted the main one. There are a ton of books listed that you might be interested in.
Now to my review.
Lyle and Truman have been best friends for years. Not just best friends. They've always planned to graduate high school, work at Truman's dad's construction company, and move into an apartment together. Sounds perfect, right? Well, to Lyle it was. To Truman, not so much. It's not that he didn't want to move in with his best friend. He did. What he didn't want to do was work for his father knowing that his dad (a bit of a jerk early on) expected him to take over the company someday – the company he had no desire to take over. Another thing he didn't want? To watch his very straight best friend find love with somebody else down the road. Tru has been out of the closet since he was nine. Even living in a small town, it's never been an issue. What was an issue was being in love with somebody he knew he couldn't have.
Truman was the best friend I'd ever known. But he left me behind.
~
But he'd run away, left me behind, left me always wondering… Why did he really want to leave, and why was it so easy for him to cast aside our friendship when it meant everything to me?
Truman was offered a scholarship to a college 300 miles away and he accepted it. Lyle, of course, hadn't taken that well. When Tru left for college the year before, it pushed Lyle into a deep depression.
I'd gone to escape the feeling that if I didn't, I'd spend my life watching Ly fall in love, get married, raise a family. And where would that leave me?
Now Truman's back in town for the summer and they're at a little get-together with friends Darren (Lyle's current roommate), Calista, and Evan (who has his story next). Tru's already had too much too drink, but that doesn't stop him from jumping into a game of 'Two Truths and a Lie' at the urging of the others. Lyle tries to stop it but Tru insists on playing. What neither man expects is for it to be a serious set-up by their friends to get them – Lyle and Tru – together.
You know, the straight guy and his gay best friend.
Darren was announcing his truths and a lie. "I'm a Scorpio. I'm a virgin. And my roommate and his best friend totally need to bone because they are in luuuurrrve."
And it wasn't just Darren. Calista threw out her truths and lie, also about two besties secretly loving and wanting each other. Even Evan, the sweet and innocent one of the bunch, got in on it, albeit reluctantly. Lyle puts a stop to the game and he and Truman take off to Lyle's place. Truman drunkenly kisses Lyle – first time ever for something like that to happen – things get awkward, they separate and go to sleep, then Truman disappears before Lyle wakes up the next morning.
Things are pretty awkward for both of them when they do run into each other later that day. Things got NOT awkward when Lyle's forced to watch Tru kiss a bunch of men (and a few women) in a kissing booth at the town's goofy festival.
Ah, the little green monster came out to play.
Of course, Lyle's jealous as hell, and what do you know? He's not going to stand back and watch anybody else kiss his man, um, I mean his best friend. One kiss from him and everything changes for both guys. They go back to Lyle's place and talk about things. Well, they talk after (smirk), but they do talk.
I was thinking this was totally 'gay for you' for Lyle during the first half of this little story. But then things started to make sense a little. While Truman had never been with anybody, with the exception of a little playing around, Lyle had. None of those experiences meant anything and I'm not referring to him not having feelings beyond a sexual spark with his (female) partners. He was basically just along for the ride, doing what he thought he was supposed to do. There were never any real feelings – not even of arousal, really – and he never felt any kind of real spark. But he loved Truman, had always loved him, but he thought it was just the best friend thing. What he didn't realize until later was that he was demisexual. There was no spark with his other sexual partners because he felt nothing emotionally for any of them. And the sex was just meh for him.
With Tru? Holy cow were there sparks, and lots and lots of genuine feelings.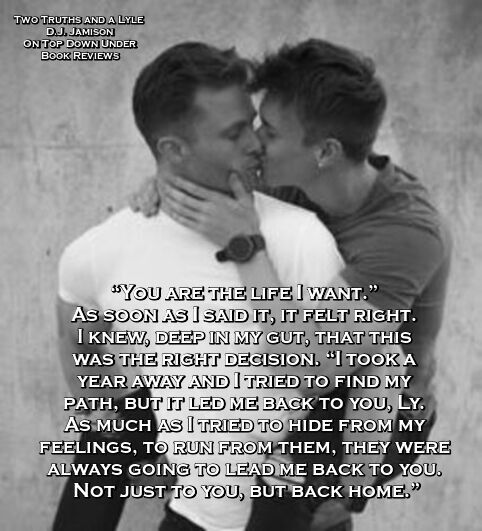 One thing that was really cute was how the entire town knew long before Lyle did. Not just knew, they (not just the friends in the game) went out of their way to push the two men together so they (Lyle and Tru) could see it.
Some small town books work. Others, not so much. This one was perfect. Oh, there were your typical busybodies, most notably a little old lady who had a booth at the festival called "Kinky Marriage Tips" where she did exactly that – she gave kinky marriage tips for a price. She cracked me up, as did a lot of the others who didn't even pretend to not be pushing Lyle and Truman together.
And, of course, these guys get their HEA.
Overall, a really good story. I've been a fan of this author since I read my first of hers years ago. Sexted by Santa was even on my 2021 Books of the Year list. I'm not usually a fan of books with college-age kids (Lyle and Truman are both 19) but D.J. Jamison always writes them well. I'm never not entertained.
I admit to not being overly thrilled with the way Darren and Calista (I can't say Evan because he was kind of pushed into it) handled the game and putting Lyle and Truman on the spot like they did. It could've backfired horribly and destroyed a lifelong friendship. Things worked out in the end, but still. They also do it with sweet Evan; put him on the spot, I mean. I can't say I'm overly thrilled with that either, especially considering that not everything you know about your friends needs to be broadcast during drinking games.
The next book in the Games We Play series is Never Have I Evan. I'm looking forward to reading Evan's story. He was so shy, and he felt so bad about his part in the Two Truths and a Lie game. I'm eager to see him get his HEA.