Sexted by Santa (Thrust Into Love #4), D.J. Jamison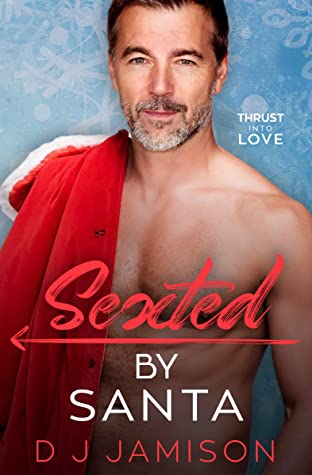 Rating: 4.5 Stars
Publisher: D.J. Jamison
Genre: Gay Romance
Tags: Contemporary, Age Gap, Christmas, Fake Boyfriend (Kind of), Opposites Attract, Romance, Series
Length: 357 Pages
Reviewer: Cindi
Purchase At: Amazon
Blurb –
Christian Kringle: College professor, reluctant Santa, and…fake dating my neighbor?
I'm a grinch and proud of it–but this year, there's no avoiding the Christmas cheer.
First, I get roped into playing Santa. Shudder. Then, while trying to dodge a setup with my boss's brother, I somehow promise to attend a holiday party with my boyfriend–who doesn't exist.
Next thing I know, my (soon-to-be former) best friend has set up a profile on a hookup app to find me a date. With the username of…. wait for it… SantaWantsYourChimney.
Go ahead and laugh. He sure did, the traitor.
Before I can delete the profile, I match with an easygoing guy with amazing photos. His teasing about Santa kink makes me laugh, and blush, and feel things I haven't since my divorce. For the first time in years, I look forward to dating.
Until we meet, and he turns out to be my neighbor. My very young, very off-limits neighbor who I've clashed with for years. Only now I know just how sexy, charming, and sweetly devoted to his daughter he is.
I should walk away, but I still need that fake boyfriend. The only problem? Jaxson's so convincing I can't tell where the pretense ends and real feelings begin.
Falling for him is easy. Loving his daughter? Effortless. Trusting that I can keep them is the hard part.
It'll take the magic of love, family, and yes–even Christmas–to teach this old grinch new tricks.
Sexted By Santa is a standalone holiday romance set in the Thrust Into Love universe.
Review –
Christian (don't call him Chris) Kringle is a college professor who really hates Christmas. He's also not exactly a people person unless he's teaching, especially with the single dad who lives next door to him, Jaxson. Jax has made it clear over the years that he's not a fan of Professor Kringle, who'd once been his college adviser who Jax feels didn't do such a good job of advising. To be blunt, he was an ass to Jax. Even so, they're perfectly fine avoiding each other. Well, Jax is happy to avoid him anyway.
Professor Kringle wasn't polite or distant. He told me when my grass was too tall in the summer. He told me when I should rake the leaves in autumn. He'd even complained about Tori's tricycle sitting on the porch when she was a toddler. When I'd first moved in, he'd had the nerve to warn me to keep my home well-maintained because he didn't want property values to fall.
~~~
He'd clearly held a grudge about our last meeting as faculty adviser and student – and I'd quickly realized we'd never be friendly neighbors.
Christian's Aunt Henry, the woman who took him in when he was disowned by his mother and grandmother when he was outed at fifteen, has talked Christian into doing something that's so not him. She needs him to play Santa Claus at a nursing home, a homeless shelter, and a children's hospital. Christian really hates Christmas (bad things always seem to happen around that time), but he can't say no to the woman who saved his life. The problem? He's as far from being jolly as anybody can get.
"What on earth…" I mumbled to myself.
Who would be desperate enough to ask this man to play Santa?
That's bad enough, right? Now he has nosy matchmaking colleagues trying to set him up with their brothers, friends, friends of friends. To prevent yet another bad blind date, he lies to his boss about the upcoming Christmas party at the university when she says she wants him to meet her brother. He tells her he already has a date. He doesn't, of course, but what can he do? These people are a bunch of nosy busybodies who think his business is theirs. I won't even get started on how they're constantly going on about Fynn, his ex-husband.
Ah, Fynn. What a pretentious little bastard. Model looks and perfect body, but shallow and looks down on everybody.
Barry, Christian's best friend, decides to help Christian out with the date thing. He creates a profile on a dating app for Christian with the goofiest name and profile. And what do you know? He has a match. Not just a match, but a very hot and sexy match. There are no pics of the other guy's face but who cares? He's hot. A quick conversation turns into sexting, with the other guy even jerking off for him on video – only showing him from the neck down.
That was hot as hell.
After talking and flirting back and forth for a few days, they decide to set up a meeting.
You can see where this is going.
Jaxson, 26, is a single father to eight-year-old Tori, who has Type 1 diabetes. Tori is his number one, as she should be. Bisexual, he's dated a few men and women here and there, but they didn't stick – just like Tori's mom didn't stick. After those, Jaxson made it his mission to not allow Tori to get close to anyone else he dated unless he knew beyond a shadow of a doubt they'd be hanging around and could handle his duties to his daughter. Not that he's looking for serious anyway. He doesn't have time for all the hassles of a relationship, not when he has to focus all his time on his little girl and getting the bills paid.
It takes no time at all before Jaxson is convinced the man he's been sexting back and forth with is his grumpy neighbor and former college adviser. He doesn't like Christian much, but he admits he's a sexy older man. And if it is him, holy shit on the sex talk. Jax is finding himself wanting to get to know the real Christian Kringle, not the rude man he's lived next door to for the past seven years and who'd rudely 'advised' him eight years before.
The meeting goes about as well as can be expected considering that Christian had no clue the guy he'd seen naked on video was his sexy neighbor – the same sexy neighbor who rightfully hates his guts. An awkward dinner later, Jaxson agrees to be Christian's pretend date for the college Christmas party, especially when Tori is invited too.
Aunt Henry has a party coming up as well, and what do you know? Fynn, the pretentious ex-husband, will be the date of another of the guys she'd taken in years before, Hugh. Christian and Hugh were as close as brothers until one bad decision by Christian, and worse decisions by Hugh when he jumped into a relationship with Fynn. Friends don't hook up with other friends' exes. Needless to say, they weren't so close after that.
I loved Aunt Henry throughout most of the book, but I wasn't too thrilled about her allowing Fynn to come to the party knowing how it would make Christian feel. Christian had already blown off a couple of the parties over the years. He should've blown this one off too. She knew it could hurt him, yet she did it anyway. I don't care how close she was to Hugh. It should've been understood that Fynn wouldn't be welcome. Hell, Hugh should've understood and done the right thing and not invited him.
I won't spoil something that Hugh throws out there to Christian at the actual party, but it left me shaking my head.
The university party goes better than expected, though the matchmakers are out in full force, with one of the guys openly hitting on Jaxson in front of Christian. Tori has the time of her life, which makes both men smile. Christian immediately takes to the little girl and starts to really care about her dad. The end of that evening doesn't exactly go as well as both men want, but when they go to their respective homes and Tori goes to bed? Let's just say the two men who were too weird to even kiss goodnight pick up where they left off on their sexting games.
While that was sexy, it was also a nice way for the two men to get to know each other – as they kind of did before they discovered each other's real identities – and a nice way for them to act on their sexual attraction without actually acting on it. Trust me, neither was left unsatisfied. 😉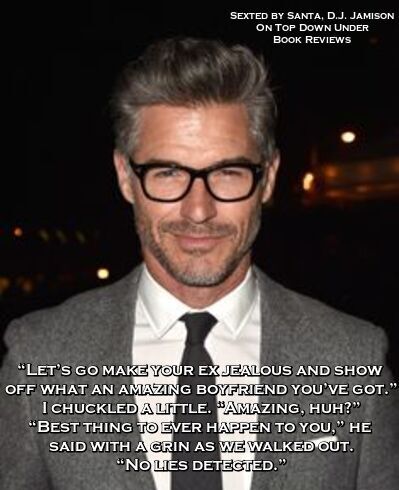 That starts something between Christian and Jaxson, something that really gets going when Jax agrees to be Christian's date for Aunt Henry's party. With it being an adult party, this also has Tori finally talking her dad into letting her spend the night with her best friend. There were a lot of sleepovers before Tori's diabetes diagnosis but none since for obvious reasons. Jaxson is a very overprotective dad, but what good parent wouldn't be?
They go to Aunt Henry's party and of course the twit ex-husband Fynn is there with Christian's former friend, Hugh. And it goes about as well as one could expect, though I figured Fynn would just be a bit of a jerk by flaunting his relationship with Hugh in front of Christian. I didn't expect him to immediately insult Jaxson.
"Wherever did you find this one, Christian? Was there a discount sale at Walmart?"
Thankfully, Jax took it in stride and ignored him. What he couldn't ignore, however, was how openly jealous Fynn and Hugh both acted because Christian was with another man.
Note that Fynn had been Jax's neighbor for a few years too. They'd never been friendly even a little bit.
Long story short, Christian and Jaxson leave the party, only this time they won't be separating. They're both tired of fighting whatever it is they have. After spending the night together, they decide to work on building something together, not telling Tori just yet in case they don't work out. But Tori's a very perceptive little girl who knows more than they think.
A lot is said about Tori's Type 1 diabetes. I respected that. So many authors skim over details of illnesses, but that wasn't the case here. Tori genuinely had a condition that could kill her if it wasn't constantly monitored. A lot of the book was about Jaxson's worry of something happening to his little girl, and Christian's eagerness to learn how to care for her as well.
I'm a sucker for kids in books, and I absolutely adored Tori, though when it counted she didn't make the right choices when it came to her health. A wrong choice puts her in a life or death situation that almost tears Christian and Jaxson apart right after they finally admitted their feelings for each other. My heart broke for Christian. He'd literally done everything right, but he thought he failed. He didn't. Thankfully all of that is resolved quickly and doesn't drag out for dozens of pages.
I started out thinking Christian was a total jerk but I ended up seriously loving him before it was all over. I think the best part of the book was watching him go from being this grumpy ass hardened man who hated the holidays to becoming the loving and caring man that both Jaxson and Tori needed. His playing Santa also helped him gain a little of the Christmas spirit that he'd never had before. I expected him to be the biggest hold back in the relationship, but I was so wrong. Once he was in, he was all in, falling in love with both Jaxson and Tori. All he wanted was to be part of their family.
There was also Sir Elton John, Christian's long-haired Yorkie that he spoiled rotten, though he'd deny it to anybody who asked. The dog had been Fynn's, not Christian's, but when Fynn left the hubby he also left the dog. That right there should tell you how Fynn was. Who just leaves their dog?
There's a much-needed epilogue that takes place five years later. It was so sweet. I started reading it thinking I knew what was going to happen but Tori threw in a nice surprise.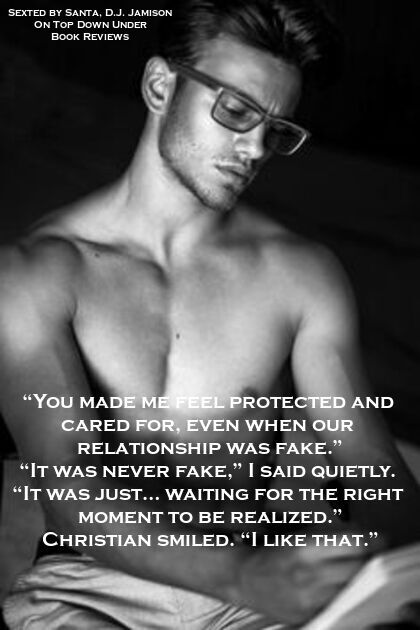 Overall, I loved this. I'm all about age gaps, though Christian's age wasn't given (I don't think?). I do know Jaxson was 26 and that Christian had 'had enough' of younger men with Fynn, who was in his twenties when they got together, so he was hesitant with Jax. I loved watching Christian go from being a mean old grumpy butt to being the sweetheart he was with his new family.
Something I have to mention… at one point in the story Christian wears glasses. Jaxson thinks it's sexy as hell (who doesn't?) so he insists Christian wear glasses during one of their sexual encounters. One of the sexiest things in the world to me is a man wearing glasses, so that was pretty hot. I normally try to add visuals of couples. Not today. 😉 In the entire book I think Christian only wore glasses twice – once at a school program and another time during the sexual encounter I just mentioned.
So, we have a kid in a story, a major age gap, and a man who wears glasses? All it needed was some silly humor and it would have clicked ALL my reading boxes.
I've read #1 in this series (Swiped By My Dad's Best Friend), and now this one, #4. I almost never skip ahead in series, but I'm not a big fan of college type books unless it involves older characters or age gaps. I may go back and read the other two at some point. I almost cringed when I saw how long this book was because the first one (in my opinion) dragged on too long. Not Sexted By Santa. I breezed right through it. It really was a great book.
With that being said, both books I've read can totally be read as standalones.