Swiped by My Dad's Best Friend (Thrust Into Love #1), D.J. Jamison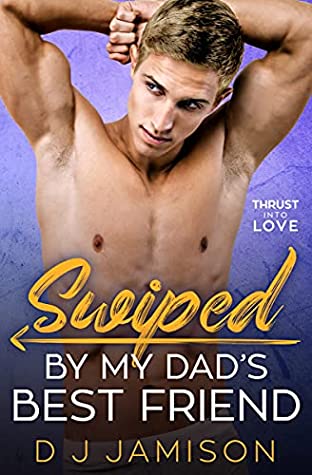 Rating: 4 Stars
Publisher: D.J. Jamison
Genre: Gay Romance
Tags: Contemporary, Age Gap, College, Daddy Kink, Romance, Series
Length: 306 Pages
Reviewer: Cindi
Purchase At: Amazon
*This review is a little spoilerish.*
Blurb –
Cooper Rutledge: frat boy, general screwup, and…Daddy's boy?
On the surface, I don't take things too seriously.
Not my poor grades, or my hookups, or my inability to find my purpose.
But that was before.
Before the daddy of my wet dreams swiped right on my pic.
Before he turned out to be my father's best friend.
Before I convinced him to indulge in one night of pleasure with no strings.
I didn't count on how magical it would be.
I didn't know that when he spanked me and offered words of praise, my soul would drink it up.
I didn't realize how right Daddy kink would feel.
One night could ever be enough.
Because I do care. Too much.
And when life sends me into an emotional tailspin, Trace steps up to support me—proving he cares too.
Everything has gotten very real, very fast.
But are we ready for the fallout?
I can't let anyone, not even my father, come between me and Trace.
I've finally found my Daddy, and I'll fight to keep him.
Swiped By My Dad's Best Friend is a contemporary age-gap M/M romance that includes light daddy kink and no age play.
Review –
I don't usually read books set in college, but I've read a couple by this author that I liked, and the premise of this one sounded good, so here I am. It also helped that the main characters had a substantial age gap between them.
Trace has been invited to speak for some kind of alumni thing at his old college. He's just arrived in town, and all he wants to do is check into his B&B and find a guy to play with for a little while.
Only two things were on my mind as I pulled up to the bed-and-breakfast where I'd be staying for the weekend: a hot shower and a quick fuck to blow off steam. After six hours in the car, my shoulders were tense.
Facing my former best friend in less than twenty-four hours? Surely that had nothing to do with it.
It takes all of a minute before he finds just who he's looking for on an app. They set things up, with Trace telling the guy to just come into his room when he gets to the B&B.
The guy is Cooper.
Cooper lets himself into the room and a couple of minutes later Trace comes out of the bathroom after a shower. There's a little fondling from behind by Trace until he notices a scar on the guy's back. And what do you know? He recognizes the scar, and then he has an 'oh, shit!' moment and recognizes the guy he'd just been fondling. It's the now-grown son of his former best friend. He puts an end to the hook up right then and practically throws Cooper out, though Cooper very much wants to finish what they started.
Matthew, Cooper's dad, and Trace were the best of friends years before. Everything was good until Matthew's insecurities over his (now ex) wife caused him to accuse Trace, who wasn't out of the closet, of being a little too close to the woman he was married to. Trace could've outed himself, but why bother? For Matthew to accuse him of that was more than enough for the friendship to end.
It's now a decade or so later and he's not only being forced to have a strained meeting with Matthew  who's the college dean, but he's also wanting to get the man's son naked. He doesn't plan on acting on his attraction to Cooper, but then Cooper makes it really hard for him not to.
I didn't like Matthew at all. He had no clue about his son, nor did he care unless it pertained to grades, classes, and following the carefully laid out plans that Matthew had for Cooper. It didn't matter what Cooper wanted.
Another thing that had me disliking Matthew is how he treated Cooper's younger sister Lena like she was this perfect, golden child. She was going to art school, she was so freaking perfect – unlike Cooper who can't even figure out what he wants to do with his life, blah, blah, blah.
As someone who was constantly being compared to my older sister by mother, I felt really sorry for Cooper. Been there. Done that. Could probably write a book about it.
Matthew didn't care what Cooper wanted. He never bothered to ask. All Cooper wanted was to make him proud.
Once upon a time Matthew and Cooper had been close, but then Cooper's mother took off to start a new life, leaving not just her husband but her kids as well.
Cooper wears Trace down and they spend the night together in the B&B before Trace has to leave to go back home. There's no plan for them to keep in touch, but it's hard not to when neither man can stop thinking about the other. What starts as few messages turns into some serious mutual jerk-off sessions and Daddy/boy talk on Skype, and suddenly Trace and Cooper are in a relationship of sorts. The 'of sorts' disappears when Matthew invites Trace back to the university for a seminar series that will have him back in Cooper's town every weekend for a few weeks. By now Trace and Matthew have buried the hatchet and they're rebuilding their friendship – kind of. I didn't see it as much of a friendship. I saw it as Matthew realizing his past screw up with Cooper and trying to make things right in order to get past his guilt of what he'd done.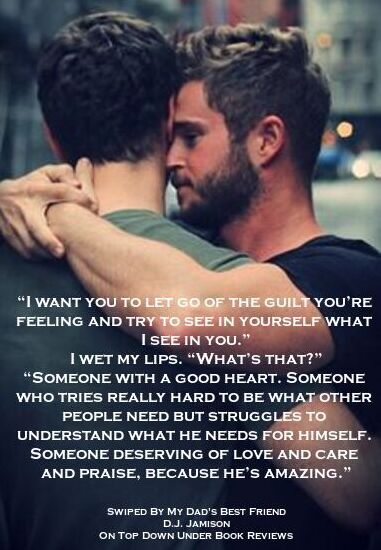 I'm not a fan of keeping secrets that you know are going to blow up sooner rather than later. The Matthew thing was always there, and I assumed rightly that his discovering his son and friend were involved wasn't done because the two men discussed it with him. Not that it would've mattered. Matthew wasn't going to accept the relationship no matter what, even when Cooper and Trace told him they were in love with each other.
I could understand to an extent why Matthew couldn't accept it. This was his twenty-two-year-old son who was now sleeping with the man he once called best friend, the same man who's a year older than Matthew, though I don't think Trace's actual age was given.
A lot of things bugged me about Matthew. I've mentioned the constant comparisons to Cooper's sister and his wanting Cooper to follow along with HIS plans, not what Cooper actually wants.
It doesn't take long for the reader to see there's a lot more to Cooper than what his father believes. He struggles a lot with keeping on track and concentrating on his classes.
As someone with ADHD, I saw that in Cooper in the way the author described him. His lack of concentration, his inability to complete certain tasks when it came to school, his absolute frustration over both – all signs of ADHD. I know everybody who has ADHD is different, but I saw myself in Cooper in a lot of ways.
When his GPA plays a part in his fraternity getting much-needed prize money for a philanthropy project contest they've entered, Cooper knows he'll let them down – just like he's always let his father down.
And we can't forget his horrible mother abandoning her husband and kids years before. Her letting everybody down is one of the main reasons Cooper is so hard on himself.
There's not much to say about Cooper's mother other than a lot was left unsaid and undone when she was kinda/sorta brought into the story. No explanations for why she abandoned her family except a line or so about her taking off with a diplomat (I think it said?). Now she's trying to make amends.
The sex scenes were pretty hot, though there were too many of them. And when Trace and Cooper needed to be discussing things they were having sex. One thing in particular bugged me… Cooper got hurt and had a concussion. There's a back and forth with his dad at the hospital before he agrees to stay with him during his recovery. A lot is said about his headaches and other issues. Trace is beside himself because Cooper's phone is going straight to voicemail and Matthew refuses to allow him to talk to him. When they finally do talk and see each other, it's straight to bed, and not for Cooper to recover. The entire book is about Trace (who Cooper calls 'his Daddy') taking care of Cooper, but when Cooper's hurt, they end up going straight to bed and having sex.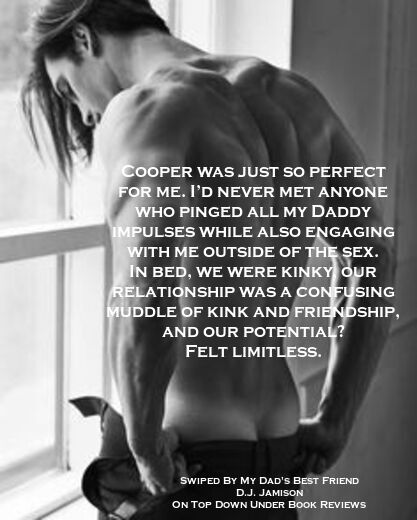 If you've read any of my reviews you know I'm not a prude, but I felt that Trace would've done a better job of proving to 'his boy' – and to the reader – that his Daddy truly wanted to be his Daddy if he'd at least been gentle instead of literally throwing Cooper on the bed and having sex with him.
I mentioned Daddy/boy. There's spanking, a little bit of orgasm denial, but I'd consider it Daddy kink lite. It was something they kind of fell into. What started with Cooper calling Trace Daddy before they had sex turned into an actual Daddy/boy relationship, something Cooper was learning about as he went along because it was all new to him.
There's more to the book, of course, but what it boils down to is two men – one in his early twenties and the other one older than his father – coming together secretly, being found out by the dad, and then them going on to live happily ever after. In the middle of it all is Trace trying to save his landscaping business and Cooper trying to prove himself to his father. Cooper did smoke pot a lot (before Trace came into his world), and he missed a lot of classes, but he also helped repair the homes of elderly people with his fraternity brothers. That was what he wanted to do, not sit in boring classrooms. Cooper was not the person Matthew thought he was. Matthew didn't know this because he never cared to learn.
The story was good, and I liked Cooper and Trace together. I just felt that the story went on way too long after they professed their love for each other. And, again, too many sex scenes. I felt the sex scenes were thrown in at times as filler. They weren't always necessary. I wanted to see more of these guys as a real couple, not just fuck buddies. And I felt like certain things (Cooper's mother for one) were left hanging, unfinished.
Something else to note… there's a lot of 'my best friend' and 'my dad's best friend' with regard to Trace and Matthew. They weren't best friends. They'd been best friends until Matthew accused him of sleeping with his wife years before. They've buried the hatchet (though I think Trace was way too forgiving) and are slowly getting back to having a friendship, albeit strained.
Well, until Matthew found out his 'friend' and son were sleeping together anyway. Yeah, it went way beyond strained then.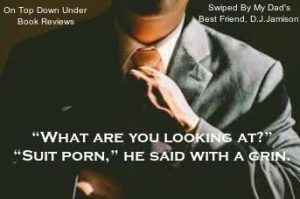 One thing I did like was a quick cameo of Ace and Benji from Secret Admirer, that I read last year and loved.
Overall, I enjoyed it. There's another one in the series I know I'll be reading. I'll have to think on the other two. Like I said above, I'm not usually big on college books. Not unless there's an age gap like this one (not just a couple of years) between the two main characters, or older characters.