New Hope, Annabella Michaels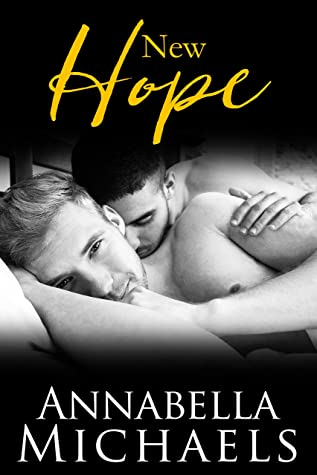 Rating: 4.5 Stars
Publisher: Annabella Michaels
Genre: Gay Romance
Tags: Contemporary, Friends-to-Lovers, OFY/First Time, Small Town Romance
Length: 209 Pages
Reviewer: Cindi
Purchase At: Amazon
Blurb –
What do a city cop who's never been with a man and an out-and-proud, small-town doctor have in common? Besides being single dads, more than they know.
A year after divorcing his wife, Ford Scott leaves his job with the NYPD and moves to a small town in Rhode Island, hoping to get a fresh start for himself and his daughter, Ellie. Having been burned by love in the past, the last thing he expects is to feel so drawn to the sexy doctor in town. Especially when that doctor is a man, awakening desires Ford had long ago pushed aside.
Dr. River Adams is happy with his life. Being the favorite pediatrician in the small town where he lives and a father to his little girl, Hannah, is incredibly fulfilling. Still, he can't help wishing he had someone to share it all with.
When Ellie and Hannah become friends, the two dads find themselves spending a lot of time together, forging a friendship of their own. But what starts out as nothing more than simple companionship, soon turns into heated looks, lingering touches, and mind-melting sexual tension. The chemistry between them is undeniable, but as they grow closer, Ford begins to worry that one more big change might prove to be too much for Ellie.
Can River convince Ford to trust what is happening between them, allowing new hope to heal Ford and Ellie's damaged hearts?
Review –
What a sweet story.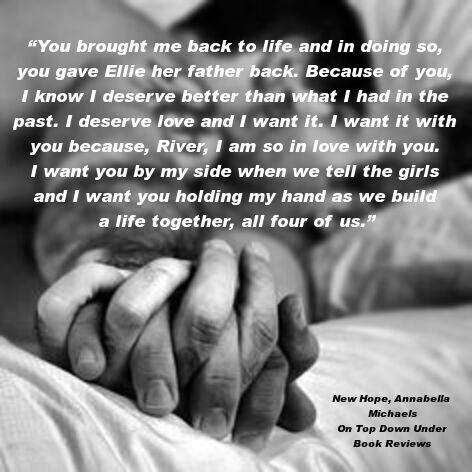 Ford Scott and his little girl Ellie have had a rough year. Ford's wife, Ellie's mother, took off a year ago and never looked back. It's bad enough she left her husband but her little girl too? Ellie's only eight and doesn't understand why her mommy would just up and leave. Ford doesn't understand it either. He knows his marriage (of eighteen years) wasn't always perfect, but to just take off like she did without warning is something neither Ford nor Ellie will be getting over anytime soon, if ever.
Ford knows they both need a new start. A cop, he resigns from the NYPD and accepts a job in the small town of New Hope, Rhode Island. He and Ellie pack up and begin their new life far away from all the reminders of the life they had before everything fell apart.
My heart broke for both of them. Ford only wanted to make his daughter happy, but he had no idea how to fix her broken heart.
River Adams is New Hope's pediatrician. He has an eight-year-old adopted daughter, Hannah, who is his whole world. At times he's lonely, but there aren't a lot of gay men in the small town they live in.
Thanks to Hannah's excitement over her new friend Ellie, Ford and River meet first at the elementary school, and then again in River's doctor's office when Ellie needs a routine physical. With the help of the girls, they start spending time together and quickly become friends. Ford's settling into his new position and in the town itself. Ellie's enjoying having a best friend in Hannah. What starts as the four of them doing things together for the girls turns into the two men simply enjoying their time with each other.
This is a slow burn story, so the friendship comes first. It needed to. Some may say it went on too long before they took things further, but I disagree. Ford had never even so much as kissed a man before, much less more. This wasn't a gay-for-you book, something I was happy to see. Ford had been attracted to guys from a relatively early age and had long known he was bisexual. He and Connie (the ex-wife) were together for twenty-two years, married eighteen of those, so there was no reason to explore that side of him because he was already in a committed relationship.
Until he meets a certain doctor in a small town in Rhode Island. 🙂
Everything happened exactly when it was meant to happen. I think what I liked the most about the book was how Ford never really fought what he was feeling for River. He was super nervous, of course, but he never fought it. His main concern was his daughter and ensuring she was happy. What he didn't see until much later was his being happy made Ellie happy. Her daddy smiling more made her smile more.
"I told Ellie I thought you were boyfriends because of the way you kept looking at each other," Hannah explained.
"And how have we been looking at each other?"
"You know, like this." The girls turned to face each other on the couch and started making big moony eyes at each other, puckering their lips, and making kissy sounds in the air. They even threw in a few dramatic phrases like, "Oh, River, you look so handsome," and, "Ford, you make the best spaghetti," followed by even more kissy noises. By the time they were finished, they'd both dissolved into a fit of giggles.
~~~
"So, you guys are all right with this? With us being together?"
Ellie and Hannah stared back at me with identical expressions of confusion. "Why wouldn't we be? You smile more when you're with Hannah's daddy," Ellie answered simply.
What can I say about Hannah, River's daughter? What a little breath of fresh air. She took Ellie under her wing on Ellie's first day of school and became her immediate best friend. As they got closer, so did their dads.
With Ford never having been with a guy before, he had a lot of firsts with River. And wow when it happened. They played around a little before doing the actual deed, all of that being hot as hell.
There are a lot of secondary characters you can't help but like. From River's parents to Ford's coworkers, pretty much everybody was amazing. There was no silly small town homophobia, and nobody batted an eye when Ford's feelings for River became obvious. A lot of them saw it before he did, I think.
River and Ford together were perfect. I think my favorite part of the book is when Ford takes River by surprise and kisses him the first time after their first night out without the kids. They were just friends at this point, but Ford had already realized he wanted more. Anybody looking at River would know he'd long realized he wanted more, but he thought Ford was straight. The next time they see each other has River as a bundle of nervous energy as he tries to acknowledge the kiss without actually acknowledging the kiss. That was so cute. Thankfully, it only took a few minutes for Ford to set him straight.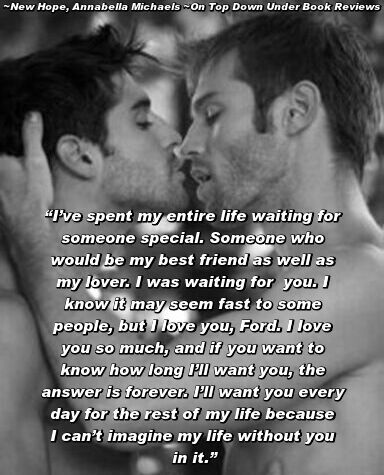 Overall, I loved this. I loved watching Ford and sweet Ellie find the happiness that had eluded them for a year. I loved watching Ford and River come together as a couple. I absolutely adored Ellie and Hannah. I really loved watching the four of them become a family.
There's a nice epilogue – actually two of them – that show the little family down the road. I admit to getting misty-eyed reading them. Definitely some major aww! moments, especially the first one because it wasn't just about Ford and River. It was also about their daughters.
The only niggle I had with the story is the author's overuse of exclamation points. They weren't everywhere, but the ones there were a bit much. Otherwise, the story was pretty much perfect.
My first by this author, I think. I'll definitely be reading more.