Not So Silent Night, H L Day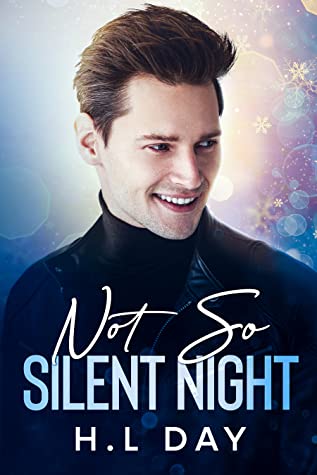 Rating: 4 Stars
Publisher: Self Published 
Genre:  Gay Romance 
Tags: Christmas Theme, Live-in Nurse & Patient, Humour 
Length:  236 Pages
Reviewer: Kazza
Purchase At: amazon (**NOV 1st Release) 
Blurb:
One grumpy patient. One unconventional nurse. Twenty-two reindeer later.
Things aren't great for Xander Cole. It's Christmas, he's fractured his pelvis on a skiing trip he never wanted to go on, and his on/off boyfriend is most definitely off. No wonder he's not exactly full of festive cheer.
Ferris Night isn't having much luck either. His plan to take a break from work before starting a new job has been wrecked by a flooded flat. With nowhere to stay, he grabs the opportunity for a job as a live-in nurse with both hands. After all, how hard can it be?
Xander doesn't need a nurse. Especially one who's far too flirty, far too attractive, far too into Christmas, and far too good at getting his own way. But Ferris has never faced a challenge that couldn't be overcome with a bit of charm and perseverance. It doesn't matter how attractive Xander might be. He's immune. Maybe.
As banter and sparring between the two men turn into more, a nurse might not be needed, but both men could be in for a fresh start to the new year.
A low angst 63k romantic comedy, which features snarky banter, a slow burn relationship, two men who can give as good as they get, an annoying ex, and a Star Wars nativity scene.
*Please note that this story was originally released as a single POV short story as part of the Winter Wonderland Prolific Works giveaway. The story has been revised and is now dual POV with over 40k of added content*
Review:
I started reading this and was thinking, thinking, thinking…"OMG, I've read this before…" and started freaking out. Then I remembered  Xander and Ferris. I'd read a considerably shorter version of their story as part of a Prolificworks promotion last year that H L Day took part in. I mean, it's mentioned in the blurb which I completely managed to not read or notice, go me. But I did remember enjoying this short story and leaving a review, not that you'd know because Goodreads took down reviews for all the shorts in the promotion last year. Not happy, Jan!  Anyway…
Xander Cole is hurt in a skiing accident at St Moritz after his douchey – kind of sort of – boyfriend convinced Xander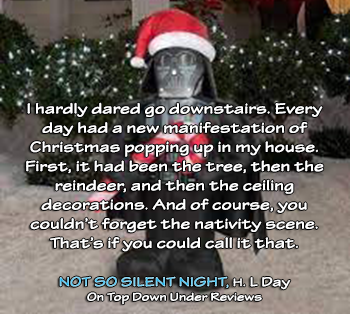 he'd love to be skiing far more than he'd love the sun, surf, and sand of a tropical getaway. Typical Harvey. Pelvis broken and a wound from a fence to Xander's thigh later, douchey boyfriend leaves Xander in a hospital because Chanel calls and there are parties to go to elsewhere. Besides, ill health is icky. Miles, Xander's brother, brings Xander back home to London but then he has to go to Spain to see his children for Christmas. So Miles frantically rings around to see if he can get an agency nurse at this time of the year to look after his brother.
Enter Ferris Night, a nurse in the middle of changing jobs. As part of the new job he'll also be moving home. Unfortunately for him, great for us, his flat has been flooded by an upstairs bathroom so he can't stay where he is. He has a couple of weeks before being able to move into his new place. Staying with his mother and her sleazy partner also isn't an option so he needs somewhere to sleep for a couple of weeks. Oh my, whatever will he do? Enter an arrangement to be a live-in nurse for the gorgeous Xander for several weeks while Miles is in Spain, and – ding, ding, ding – we have a romance novel winner, baby!
This is a very sweet story. Drama does not live here. There's just a teensy-tiny tug at the heartstrings for effect but that's it. Everything else is fun and funny, light-hearted and joyful. Basically, it's a chipper and cheery Christmas story with rather adorable MCs. Xander hates Christmas, and Ferris is right into it. Mostly he loves to put crazy ornaments up each day to aggravate the snot out of Xander, and to also make them both a bit more festive. Ferris delights in getting the most bizarre decorations and naming them. I mean, Princess Bebopalula is one of the purple reindeers he acquired, enough said.
Both guys fall for each other over the lead-up to Christmas. Chapters are headed up by a December date. Ferris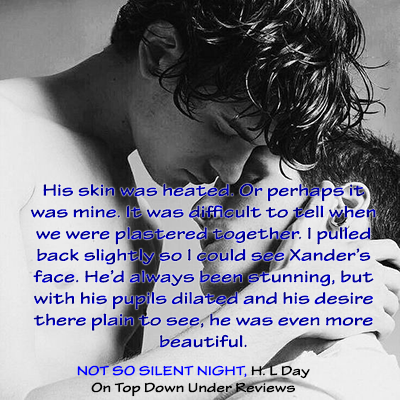 once dated a model and swears no more. Xander is a model and he's never dated a nurse. He's actually never looked too deeply at his relationship before, and because he travels a lot, isn't especially settled, Harvey was convenient. As Xander sees Ferris, how caring he is, and compares the pair, he realises there wasn't much of anything that made his heart involved with Harvey. Nothing close to what's happening with Ferris.
Overview:
I'm not necessarily the sweet Christmas story type. But I am a fan of H L Day. She always delivers a good read and a Not So Silent Night – clever title – adds to her excellent catalogue of books. Once again Day has a cover that is so beautiful and it fits the story. The cover is practical and pretty. I also loved, loved, loved the Christmas decorations between chapters. It's a lovely, thoughtful touch. That this story stayed with me after reading the short novella a year ago speaks for itself. Grumpy Xander and cheeky Ferris are a fun, sweet pair that make you feel a little bit better for having read their sexy and sweet Christmas tale. Ho. Ho. Ho – so weird to say in October – 4 Stars!