9th Blog Anniversary Author Post: Candi Kay, Christmas in Holly Pines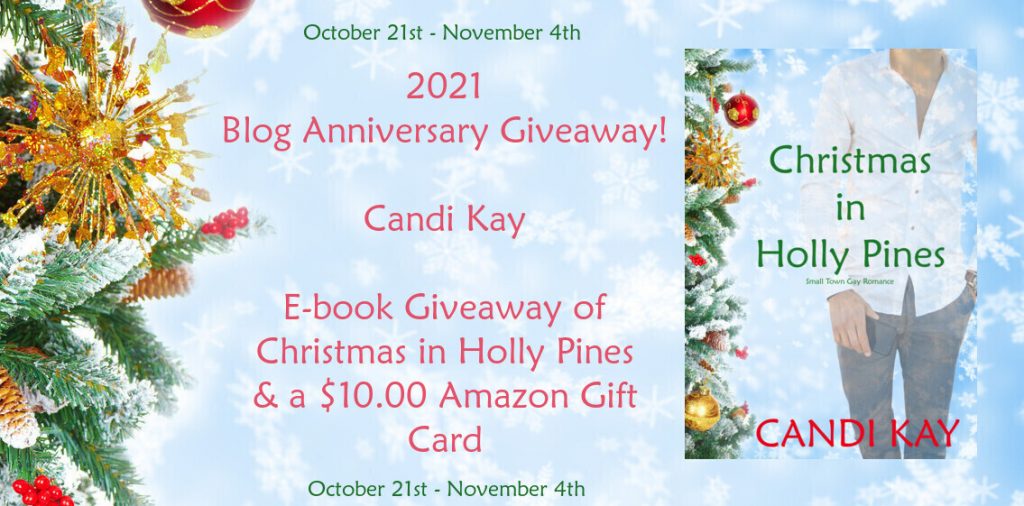 Congrats to On Top Down Under for 9 years!
There's something about small towns where everybody knows everybody. Sometimes that's good. Other times, not so much. I can say from experience everybody knowing everybody's business can get old quick, especially when you're a teenager coming into your own.
I was born and raised in the deep south, but I've also done a lot of traveling over the past few years. One of my favorite places in the world is a small town in Vermont that my husband and I visited simply because we saw a photo of the town's fall foliage on social media.
Holly Pines, home of Jacob and Dustin Knight, was based on this small Vermont town, though I took a lot of liberties in my fictional version. I also took a lot of liberties with Lassiter, Alabama, where Owen and Reese are from. Even so, my descriptions of small-town life – in both my Vermont and Alabama towns – are not much different from small towns all over America.
The excerpt below, told in Owen's point-of-view, takes place a few minutes after he meets Jacob Knight, Holly Pines' chief of police, the first time. Owen has just followed Jacob and his nephew inside an all-night diner so Jacob can check out his story before letting him be on his way.
You can find Christmas in Holly Pines on Amazon here. You can add it on Goodreads here.
To help celebrate On Top Down Under's 9th blog anniversary, I'm giving away an e-copy of Christmas in Holly Pines and a $10 Amazon gift card. Just follow the instructions in the Rafflecopter at the bottom of this post to enter. The giveaway will run from October 21st to November 4th, with a winner being chosen and notified on November 5th. The winner will have 48 hours to respond or another will name will be chosen.
Good luck to those who enter, and again, happy blog anniversary to On Top Down Under!
Blurb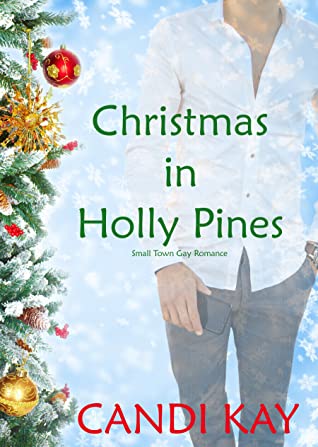 Holly Pines, Vermont, is a traditional small tourist town. In the off-season, there are fewer than two thousand residents. A snow skiing paradise, that number increases dramatically during the holidays. It's been home to brothers Jacob and Dustin Knight their entire lives.
Being the chief of police in a busy tourist town makes it hard for Jacob to find the time to date. Dustin is bisexual and has plenty of options but no interest in anyone in town. He's a single father who knows that anyone he brings into his world has to accept that he and his son are a package deal.
Owen Wells is a professional photographer who plans to snap a few shots of the Christmas lights on Holly Pines Bridge then be on his way. A matchmaking seven-year-old boy has other ideas. When unforeseen circumstances keep Owen in town overnight, sparks fly between the photographer and chief of police. Suddenly, Owen's not so keen on leaving after all.
Reese Wells is a traveling nurse who never stays in one place for long. His older brother may have found love, but he has no plans to follow suit. That changes during a video call with Owen and young Jesse Knight. When the boy's dad joins the chat, all bets are off. Reese is suddenly eager to take a trip to the small town of Holly Pines, Vermont.
Jacob and Owen's relationship runs smoothly from the get-go. Dustin and Reese's, not so much. Between a quick misunderstanding, a jealous nurse, a busybody teacher, and a less than maternal ex-wife, these guys have to work hard to become the family they desperately want to be.
Excerpt
There's an open laptop in front of him, telling me this was his workspace at least at some point this evening. I slide in the booth across from the two as the chief taps the keyboard. He looks at me over the screen a couple of minutes later.
"Your story checks out."
"You sound surprised, like I'd be dumb enough to lie to a small town chief of police when he could easily find out the truth. Why am I really here?" I motion to the computer. "You could've done that in your patrol car."
"He probably thinks you're cute, young man," an older woman says as she sets coffee in front of me and Jacob and hot chocolate in front of Jesse. "So he's stalling to keep you hanging around a little longer."
"Miss Emmie," Jacob says on a sigh. I'm surprised to see a blush creep up his neck. "He was on the bridge."
"Gettin' ready to go swimming with the fishes," Jesse throws out.
"Boy, you watch way too much TV," the woman says with a laugh.
"I was just checking out his story and I didn't want to do it in the cold," Jacob says, ignoring their exchange.
She squeezes his shoulder. "Keep telling yourself that, honey. I'll be right back with some chicken soup for our guest."
"No, I-"
"Don't bother," Jacob cuts me off. "She'll get it anyway and won't let you leave the diner until you finish it."
Unsure of what to say, I lean back in my seat sipping my coffee, giving the chief the same once-over he gave me outside. I'd be lying if I said the man's not drop-dead-please-let-me-suck-you-off hot. My now thawed fingers are itching to run through his thick black hair even if he is a bossy prick. My horny cock doesn't care about all that. I'd be a fool to even hint at any interest, though. He looks like he could break me in half without breaking a sweat.
I have a type. Want to take a wild guess what that type is? Guys like Chief 'Uncle Jacob' are my kryptonite. Big and strong and – holy shit! – in a position of authority.
The man has handcuffs.
Enough said, right?
There's nothing I'd like more than rough sex with a guy bigger than me, one who'll hold me down and fuck my ass without mercy, maybe even cuff me to a bed. Granted, that involves a lot of trust, and I'm not a trusting guy. Needless to say, I've not had my handcuffed sex slave fantasy come to life just yet, but I damn sure have the fantasies.
Wait.
"So you think I'm cute, huh?" I ask him with a grin.
"What are you, twelve?" he comes back at me.
"That didn't answer my question, Chief."
"Uncle J is lighthearted and carefree," Jesse says with a knowing nod. "My dad told me so."
The look Jacob gives him is priceless. "Lighthearted and carefree?" he asks the kid as he closes his laptop and shoves it into a bag next to him.
"Yup."
"He's gay, child," Miss Emmie says with a loud chuckle as she places bowls of hot soup in front of us, along with baskets of steaming soft rolls and crackers.
"That's what I said. Lighthearted and carefree. I looked it up on Merriam-Webster. That's the definition it gave me. It also said gay means happy."
Jacob looks like he doesn't know if he wants to laugh or crawl into a hole somewhere.
"You know what it means, kid."
"It means you like kissing men. Even I know that. But it also means lighthearted and carefree and happy. So that means you're lighthearted and carefree and happy when you're kissing men."
He says it with such a serious expression I have to force myself not to laugh.
"That's one way of putting it," Miss Emmie says just loud enough for us to hear, getting a glare in response from Jacob.
Jesse looks across the table at me. "Do you like kissing men, too? If you do, there's lots and lots of 'em around Holly Pines, especially tourists. They might let you kiss them if you want to. It's not like you're ugly or anything. You need a haircut, but the barbershop opens at nine in the morning, so you've got time to fix it."
"That's enough, Jesse," Jacob scolds. "Let the man eat his soup so he can be on his way."
"Oh, so now I'm going to be allowed to leave right as it starts getting interesting? It is kind of late, and it's pretty cold outside." I motion to the soup. "And this looks amazing."
"You didn't answer the boy's question, young man," Miss Emmie says to me, her eyes sparkling.
I set my coffee down and reach over and take her hand in mine. "Owen Wells, ma'am. It's a pleasure to meet you, and yes, I'm lighthearted and carefree, and this is truly the best coffee I've had in all my travels," I tell her honestly.
"Oh, Mr. Wells, you are a charmer." She looks over at Jacob. "Chief, if you don't snatch this one up, somebody else will when they hear that southern accent."
"I do not have a southern accent," I tell her, to the chuckles of the others.
Jesse points his spoon at me. "Yes, you do. You sound like the men in those TV shows about swamp people and stuff that I watch with my dad sometimes."
"I do not," I tell him, slightly offended.
"Yeah, you kind of do," Jacob says with a grin.
"Is insulting me your idea of hospitality, Chief? If so, this southern boy could teach you a thing or two."
"I just bet you could," Emmie says with a snort. "I hear you young ones have stamina the old guys like Jacob don't have."
"I have plenty of stamina, old woman," he says with humor. "And that's got nothing to do with hospitality."
I smirk and continue eating, thankful when a young couple walks in, taking Miss Emmie's attention away from our table.
"I haven't lived in the South in a half-decade. My accent is long gone."
"Keep telling yourself that," he says, repeating Miss Emmie's words.
"What's stamina, Uncle J?" Jesse asks him.
"Nothing you need to know about." He gives me a pointed look. "So, you're gay?"
"Not that it's any of your business, but yes, I am, as I just said a couple of minutes ago."
"Got a boyfriend?" Jesse asks. He motions to Jacob. "He hasn't had one in a gazillion years, and that one was a bad man. My dad said Uncle J's a grumpy old fart, and nobody can put up with him for too long."
I almost choke on my soup when I laugh out loud. I wipe my mouth with a napkin and set my spoon down.
"No, Jesse, I don't have a boyfriend."
"Is that why you were gonna jump off the bridge and go swimming? Because you don't have one? Are you a grumpy old fart too?"
"You know I wasn't going to jump off the bridge. If I'm clear to go now, I'll be on my way."
I slide out of the booth and pull my wallet out of my pocket. I'm about toss a twenty on the table when Miss Emmie calls out, "Put your money away. Jacob kidnapped you, so he's paying."
"I am?"
"Yes, and now you're going to put this young man up for the night because it's almost one in the morning. He doesn't need to be driving this late. The wind has picked up, and the forecast has called for more snow."
"That's not how it works, Emmie."
"How would you feel, Jacob Knight, if this man had an accident because he fell asleep at the wheel or skidded off the road due to weather conditions when you were the one who held him up? What would your sweet mother say, rest her soul, if she knew you were even considering allowing this young man to leave town this late and in this weather?"
I hold my hand up to stop whatever the chief is about to say. "She's right. It's late. I'll find a motel or somewhere to stay for the night if one of you can guide me in the right direction."
"Booked solid until after the first of January," Emmie says with a shake of her head. "You won't find a vacancy anywhere for another hundred miles or so. It's snow skiing season, and the holidays on top of it."
"I'll figure something out then."
With a nod to Jacob and Jesse, I turn and walk out the door of the diner. The wind almost knocks me down, and I swear the temperature has dropped ten degrees just in the short time I was in there. I've only taken a few steps before Jacob is walking out behind me.
~~~
About the Author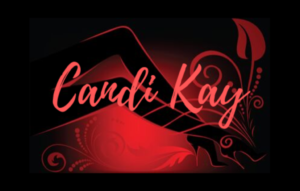 A blogger by day, at night Candi Kay transforms into a writer of various genres, with an emphasis on LGBTQ and erotica. Author of the Willy the Kinky Elf & His Bad-Ass Reindeer series, Candi's books are often filled with humor, lovable, kooky characters, and sweet happily-ever-afters.
You can find Candi on Facebook – Twitter – Author Blog – BookBub – Goodreads – or email her at CandiKayAuthor@gmail.com. She loves hearing from readers!