Blog Anniversary: Mickie B. Ashling – Cover Reveal, Excerpt, & E-Book Giveaway
It's always a pleasure to have Mickie B. Ashling stop by. When she sent us the new cover of Taste, I (Cindi) was blown away. It's absolutely gorgeous. I especially like the little glimpse of lace. If you've read the book (as I have), you know that lace is very important to the story. You can check out my review of an earlier edition of Taste here.
Thank you to Mickie for helping us celebrate our 8th year, the kind words, and for the great giveaway!
~~~
Another year has passed since we celebrated with Cindi and Kazza at On Top Down Under Book Reviews. Considering the unprecedented challenges we've all had to face in 2020, I want to raise a glass to this wonderful duo who have powered through the chaos and continue to support our writing community with their insightful and honest reviews.
The eighth year of marriage (I consider Cindi and Kazza's relationship a marriage of sorts) is a milestone. You've survived the seven-year itch and are steadily moving toward a decade of togetherness. This anniversary is marked by gifts signifying strength and endurance, like bronze or pottery, but also something lighter, like lace or linen.
While everyone can always use a new pot, there's nothing more enticing than a touch of lace. Pair it with leather and you've hit the jackpot! I've had a thing for leather and lace since I wrote Taste back in 2011. I plan to release the second edition in early November (baring catastrophic events) and commissioned a new cover with the wonderfully talented Natasha Snow which I would like to reveal today. Isn't it gorgeous? It's a constant source of inspiration.
*** GIVEAWAY! ***
I'd like to offer the new edition as a giveaway, if you are willing to wait another month or so. A paperback will be offered in the future, but you can count on the e-book if your name is selected. Or you can chose an e-book of the winner's choice from my Amazon backlist.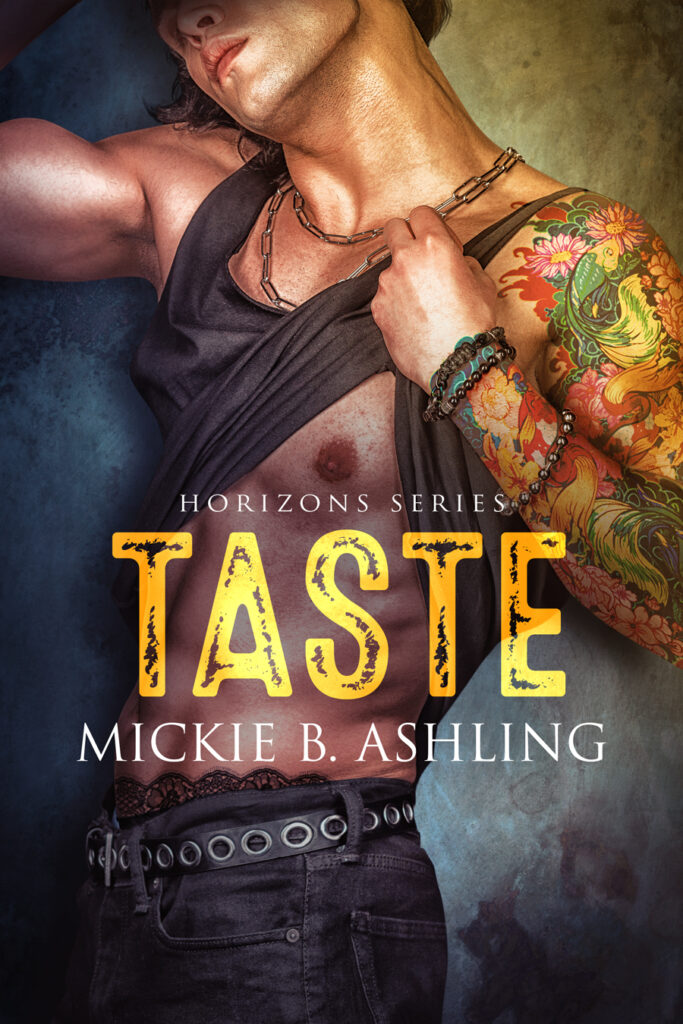 Blurb
What should have been a brief interlude turns into something more meaningful when Lil Lampert meets Grier Dilorio at the Taste of Chicago. He didn't plan to hook up with a younger man but can't resist when he discovers a mutual love for interior design, and a unique sexual kink that keeps Lil coming back for more.
By all appearances, Grier is the quintessential bad boy who loves his Harley, leather, and tattoos, but Lil slowly uncovers another side—selfless, responsible, and tender, especially for Luca, the son he's had to deny.
Suddenly faced with hard choices, Grier has to make a decision. Will he stick with the old plan and coast through life or open the door to a possible future with Lil, one that includes fatherhood and a partner, something he's dreamed of but has never dared to explore.
.
Taste
Mickie B. Ashling © 2020
All Rights Reserved
The bathroom, and the shower stall in particular, was like everything else in Lil's apartment―flawlessly planned and perfect for sharing. There was no fear of elbows banging on tiled walls as they navigated the generous glass enclosure. The aroma of the Neutrogena body wash permeated the air as the room quickly steamed up from the heat of the water that cascaded out of the shiny chrome rain-shower fixture. Lil showed him how the flick of a switch could turn the calming rain function into a self-pressurized spray that would provide a vigorous massage if so desired.
They took their time, leisurely exploring their bodies once again as they soaped each other with tender care. Not surprisingly, the entire process turned into another round of lovemaking, which was completed on the plush Egyptian cotton towels Lil spread out on the marble floor, outside the stall, and away from the pummeling spray.
"Your light fixtures are very unusual," Grier said after catching his breath, following another earth-shattering orgasm.
"This is the strangest pillow talk ever," Lil commented.
"I was going to ask you earlier, but I got distracted." Grier turned on his side to kiss Lil and commented, "You're burning up."
"I get this way whenever you're around," Lil joked.
"Shall I crack open a window?"
"No, we'll catch a cold. The fog's already starting to roll in."
"Cold? You don't know cold until you've experienced a winter in Chicago."
"You're right. It's not high on my Bucket List, believe me."
"That movie made me cry," Grier admitted.
"Me too," Lil exclaimed. "Yet another thing we have in common."
"Tell me about your lighting."
"The LEDs are remote-controlled, and each room has a sensor that will turn the lights off and on as they detect movement. It's convenient, especially when your arms are full of groceries, or in this case a beautiful man. Another benefit is that I never have to change a light bulb."
Grier stood and pulled Lil up. "Give me the grand tour. I want to know everything about your apartment."
Lil wrapped a towel around his waist and followed Grier into the bedroom. The brunet hadn't bothered with a towel, and Lil enjoyed the view of his taut and muscular backside. "What do you want to know?"
"Your bed―I've never laid on anything as comfortable."
Lil grinned. "You have a very discerning body. It's a Hypnos."
"Never heard of it."
"It's a world-renowned British company that makes the finest mattresses in the world, but you won't find them on display at Sears."
"It probably costs more than my Harley."
Lil laughed. "It does."
"Shit… what about the frame?"
"Charles P. Rogers."
"Who?"
"He manufactures custom bed frames. The tufted leather can be quite user-friendly." Lil smiled, thinking of all the times he'd butted his head against the padded leather rather than suffering a minor concussion if he'd had a wooden headboard.
Grier ran his hands over the black leather, admiring the workmanship. "Very nice," he murmured.
"These names will be commonplace when you get into interior design."
Grier snorted. "Pigs would have to fly."
Lil took him in his arms. "You've got to want it bad enough."
"I can't just walk away from my responsibilities."
"Your ability to provide a good future for Luca will increase with a college degree, and why not spend the rest of your life doing something you love?"
"My father would have a stroke."
"He seems like a reasonable man from what I've seen so far. I'm sure he could be persuaded."
Grier maneuvered Lil gently out to the living room to continue his tour. "Your furniture looks imported."
"And you," Lil said as he kissed Grier's parted lips, "have an excellent eye. The leather pieces are from Milan. The coffee and side tables are Philippe Starck designs bought from Cassina USA. The rug is Persian."
"What about the dining room table?" It was a huge slab of round glass resting on a crisscrossed frame of iodized steel.
"That's a Mario Bellini design, also from Cassina."
"Don't you like American designers?"
"I love them all, but the design has to fit the space and the client's taste. Right now I'm into Italian. Next year it may be Oriental or Early Americana. I'm constantly changing. I get bored after looking at the same thing day in and day out."
"Does that include your men?"
"In the past it has."
"How about me?" Grier asked, moving into Lil's embrace. "Will you get bored in a few weeks or months?"
Lil met Grier's questioning gaze with one of his own. "Will you?"
"It's pointless, isn't it?" Grier sighed and pushed Lil away. "I'll be gone in a week, and we may never see each other again."
"Hey." Lil reached out and caught Grier's hand. He tugged gently, drawing the reluctant man back into his arms. Grier was tense and poised for flight. "It doesn't have to end this week."
Author Bio
Mickie B. Ashling is the pseudonym of a multi-published author who resides in a suburb outside Chicago. She is a product of her upbringing in various cultures, having lived in Japan, the Philippines, Spain, and the Middle East. Fluent in three languages, she's a citizen of the world and an interesting mixture of East and West.
Since 2009, Mickie has written several dozen novels in the LGBTQ+ genre—which have been translated into French, Italian, Spanish, and German. A lot of her backlist is "Under Construction" as she slowly transitions from traditional publishing to representing herself. Her goal is to have most of her novels back in the universe by the end of 2021. Audiobooks and foreign translations are still available at Amazon and Audible.
Contact Info
E-MAIL: mickie.ashling@gmail.com