Blog Anniversary Author Post + Giveaway: C.S. Poe
 Victorian History in Mystery & Steampunk
Hello, everyone! My name is C.S. Poe, and I'm so happy to be here at On Top Down Under to celebrate their blog anniversary, tell you a bit about my writing, and leave a handful of prizes in my wake! I've been professionally writing for a little over five years and primarily focus on gay mystery, romance, and spec-fic. I'm probably most well-known for Snow & Winter, a mystery series that follows the lives of an amateur sleuth and his detective boyfriend in New York City, although I have a new steampunk series that's hitting hard, about a magic-wielding federal agent and his gentleman thief lover in 1881.
And that's a pretty good segue into today's topic—Victorian history! Whether the project has a contemporary or historical setting, I always find a way to include a copious amount of curious tidbits from 1800s America. This began as something very intentional with the Snow & Winter series, as Sebastian Snow is an antique dealer and each mystery is set around a famous personality from that time period, such as Edgar Allan Poe, P.T. Barnum, and more. And in Magic & Steam, despite the fantastical additions of magic and technology, I strive for a very accurate historical foundation, from the first elevated train system in New York, to what was really on restaurant menus for dessert.
But beyond these plot-centric uses of historical trivia, it has sort of become that thing I'm now known for, which is great, because I could research Victorian history day and night and never tire of it. I even managed to slip a fact or two about Central Park's invasive species during the 1800s into my latest mystery, co-written with the fantastic Gregory Ashe. He probably noticed, but I really can't help myself. It's an absolutely fascinating time period, full of wonderful and bizarre advances in everything from literature to medicine to architecture, and I hope it's something you enjoy in between the action, romance, and murder themes of my books.
Thank you for having me!
C.S. Poe.
**GIVEAWAY**
This giveaway is now over. Congratulations to Deedee, Kelsy, Zarah. 
Be sure to check out the giveaway being hosted by On Top Down Under! I've got (1) ebook copy of A Friend in the Dark and The Engineer to give away, as well as (1) audio code for Southernmost Murder (US or UK code.)
1881—Special Agent Gillian Hamilton is a magic caster with the Federal Bureau of Magic and Steam. He's sent to Shallow Grave, Arizona, to arrest a madman engineer known as Tinkerer, who's responsible for blowing up half of Baltimore. Gillian has handled some of the worst criminals in the Bureau's history, so this assignment shouldn't be a problem. But even he's taken aback by a run-in with the country's most infamous outlaw, Gunner the Deadly.
Gunner is also stalking Shallow Grave in search of Tinkerer, who will stop at nothing to take control of the town's silver mines. Neither Gillian nor Gunner are willing to let Tinkerer hurt more innocent people, so they agree to a very temporary partnership.
If facing illegal magic, Gatling gun contraptions, and a wild engineer in America's frontier wasn't enough trouble for a city boy, Gillian must also come to terms with the reality that he's rather fond of his partner. But even if they live through this adventure, Gillian fears there's no chance for love between a special agent and outlaw.
Based on the short story, "Gunner the Deadly." Entirely revised, newly expanded, and Book One in the exciting new steampunk series, Magic & Steam.
Rufus O'Callaghan has eked out a living on the streets of New York City by helping the police put away criminals as a confidential informant. But when Rufus shows up for an arranged meeting and finds his handler dead, his already-uncertain life is thrown into a tailspin. Now someone is trying to kill Rufus too, and he's determined to find out why.
After leaving the Army under less than desirable circumstances, Sam Auden has drifted from town to town, hitching rides and catching Greyhounds, until he learns that a former Army buddy, now a police detective in New York City, has died by suicide. Sam knows that's not right, and he immediately sets out to get answers.
As Rufus and Sam work together to learn the truth of their friend's death, they find themselves entangled in a web of lies, cover-ups, and accelerating danger. And when they witness a suspect killed in cold blood, they realize they're running out of time.
Aubrey Grant lives in the tropical paradise of Old Town, Key West, has a cute cottage, a sweet moped, and a great job managing the historical property of a former sea captain. With his soon-to-be-boyfriend, hotshot FBI agent Jun Tanaka, visiting for a little R&R, not even Aubrey's narcolepsy can put a damper on their vacation plans.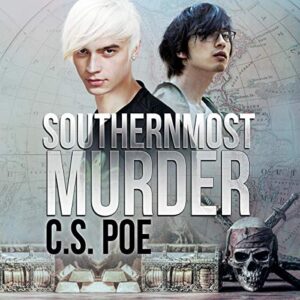 But a skeleton in a closet of the Smith Family Historical Home sure does throw a wrench into the works. Its identity drags Aubrey and Jun into a mystery with origins over a century in the past. They uncover a tale of long-lost treasure, the pirate king it belonged to, and a modern-day murderer who will stop at nothing to find the hidden riches. And if a killer on the loose isn't enough to keep Aubrey out of the mess, it seems even the restless spirit of Captain Smith is warning him away.
The unlikely partnership of a historian and special agent may be exactly what it takes to crack this mystery wide-open and finally put an old Key West tragedy to rest. But while Aubrey tracks down the X that marks the spot, one wrong move could be his last.
Author Bio:
C.S. Poe is a Lambda Literary and two-time EPIC award finalist, and a FAPA award-winning author of gay mystery, romance, and speculative fiction.
She resides in New York City, but has also called Key West and Ibaraki, Japan, home in the past. She has an affinity for all things cute and colorful and a major weakness for toys. C.S. is an avid fan of coffee, reading, and cats. She's rescued two cats—Milo and Kasper do their best to distract her from work on a daily basis.
C.S. is an alumna of the School of Visual Arts.
Her debut novel, The Mystery of Nevermore, was published 2016.
Say hi to C.S. Poe:
| Website | Facebook | Twitter | Instagram | Blog | Goodreads | BookBub | Newsletter |