10th Blog Anniversary $50 Amazon Gift Card Giveaway: Tell Us About Your Favorites!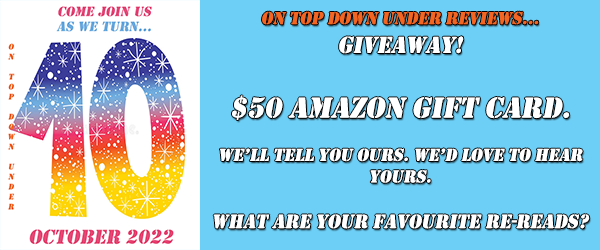 We all have our comfort reads, books we reread over and over. We keep going back to the same books because they're written by a favorite author, or they make us feel a certain way when we read them. Some make us sad. Others make us smile or even laugh out loud. What they have in common is they know how to pull the feelings out of us in just the right way. With our favorites we keep going back because they have the special something that brings us back when we need them – maybe other books aren't cutting it or we need a break and don't need to overthink anything with our comfort read in our hands. We know we'll always go back to this book or that when we want something familiar, they're like beloved and comfy slippers.
To help us celebrate our 10th year, we want to know about your favorite go-to rereads. It doesn't matter what genre. Just tell us all about your favorites.
By joining in the conversation on here, you'll be entered for a chance to win one of two $50 Amazon gift cards we're giving away to help celebrate a decade of reading to reviews at On Top Down Under Book Reviews. Just follow the instructions in the Rafflecopter below. We'll even throw in 10 bonus entries if you tell us why you keep going back to those books.
You can check out ours below.
As with all giveaways, all entries will be verified, with all invalid entries being deleted.
You have to comment on this post for any entries to be valid.
Good luck, and thank you all for helping us celebrate our 10th year!
Cindi:
The books below have been reread by me so many times over the years that I know most of the lines by heart. The first two were introduced to me by my late sister, with my youngest son being named after the main male character in Perfect. The top three listed aren't in the M/M genre but will always be all-time favorites.
I love books that make me laugh, so there's a lot of humor in my rereads. I also love books that give me 'aww!' moments and even a few that make me shed a few tears. These cover all the bases for me.
With the exception of One Of Those Days by Zathyn Priest that's available for free on Smashwords, the links take you to the individual book/series pages on Amazon.
High Energy by Dara Joy. I want a Tyberius Augustus Evans for myself. 😉 This is one of those 'don't judge a book by its cover' books.
Perfect by Judith McNaught. Dated but still an all-time favorite and frequent reread.
Born In trilogy by Nora Roberts, especially Born in Ice.
The Curtis Reincarnation and One Of Those Days by Zathyn Priest.
Frog by Mary Calmes.
The Missing Butterfly by Megan Derr.
More by Sloan Parker.
Firm Hand and Gentle Hand by Nora Phoenix, for when I need something a little more emotional.
Kazza:
All of the books below are on high rotation on my Kindle. I reread every single one of them often and love being back with the characters every time. Links are provided to Amazon for those that are still available otherwise it's to a review.
More, Sloan Parker. The best gay ménage book ever written.
A Fostered Love, Cameron Dane. My first in the genre. It's Cameron Dane.
Falling, Cameron Dane. Nice and brooding as only Cameron Dane can do.
The Alpha's Warlock, Eliot Grayson. THE best snarky PNR. Ever! Love it as an e-book. Love it as an audiobook. Love the series. Chris Chambers OWNS this series in audiobook narration.
The One Decent Thing, Eliot Grayson. Fabulous heartstring-pulling contemporary gay romance. Wonderful storytelling. I want to cuddle Aidan and Sebastian every single time.
A Very Armitage Christmas, Eliot Grayson. My god, the fun, the shenanigans, the zombies, and clever use of snowblowers. *Note. If you are looking at grabbing a copy, you really need to have read the first two series books.
A King Awakened and A King Undone, Cooper Davis. The latter finishes up the romance arc between King Arend Tollemach and Julian Baribeau. Sumptuous alt-historical gay romance.
The Dangerous Seduction, A N Bond. Ooh, what a guilty, morally ambiguous pleasure.  *No longer available in e-book format
Bone Rider, J Fally. Sci-fi gay romance brilliance. * I'm not linking to it as I'm unsure whether the author has been paid.
Vampire With Benefits, E J Russell. Fun PNR with the best characters. Casimer and Rusty *Sigh. Love it as an e-book. Love it as an audiobook.
The Vampire Academy Series, Richelle Meade. YA 6 book series with my favourite female lead of all time, Rose Hathaway. This one is a mother-son favourite. We do an annual buddy reread.
Arctic Absolution, Lynn Kelling. Dark. Compelling, pure Lynn Kelling. My Book of the Year in 2014. How I miss her. *Don't buy this book until Lynn gets paid/her rights back.
Raphael and Jabril, Vampires in America books #1 & 2, D b Reynolds. PNR het romance. Just wonderful world building and MCs. Full of action and powerful vampires. The latter book finishes up the original romance arc between vampire lord Raphael and Cynthia Leighton
The Thieves Series, Lexi Blake. PNR that starts out as a het couple, then ménage, then a bi ménage. The best world building. Adventure for daaayys. Humour up the wazoo. So much entertainment.
Beyond Complicated, Mercy Celeste. One hot mess contemporary quasi taboo sandwich, and I love it to this day. It was my first blog Book of the Year.
When All the World Sleeps – Lisa Henry and J A Rock. Dark. Disordered. Beautiful. Gay romance but more a love story – yes, there is a difference. Love it as an e-book. Love it as an audiobook
Paradise at Main & Elm, Barry Brennessel. Gay coming of age/romance/gay genre fiction. All the feelings. My Book of the Year in 2013.**No Longer available in e-book format
**You have to comment on this post to be eligible for this gift card giveaway**