Blog Anniversary: $50 Amazon Gift Card Giveaway: Tell Us About Your First Time!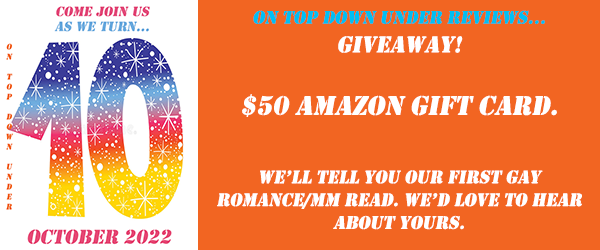 We all remember our first time. Our first time reading a book in the gay romance or MM genre, I mean. 😉
To help us celebrate our 10th year, we want to know what book was your first in the genre. Don't be shy. We really want to know! Also, by telling us about your first gay romance book, you'll be entered into one of our $50 Amazon gift card giveaways. Just follow the instructions in the Rafflecopter and you'll be entered. We'll even throw in 10 bonus entries if you tell us why you chose that particular book, and what had you checking out the genre when you'd never read in it before.
You can check out ours below.
As with all giveaways, each Rafflecopter entry will be verified, with all invalid entries being deleted.
When On Top Down Under was born, we never dreamed we'd still be going strong 10 years later. We came together over the love of the same book. Before long, two total strangers, from two different continents, were collaborating on a review site that goes far beyond books. We also became the best of friends who consider each other family.
We also know we wouldn't still be doing this if it wasn't for our followers and the authors who write the books. Thank you to all of you who have stuck with us. We appreciate you all.
Good luck with the giveaway!
*You have to comment on this post for any entries to be valid.
Cindi: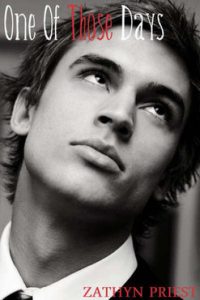 The very first book I read in the genre was a freebie by Zathyn Priest, One Of Those Days. It wasn't long after before I'd read everything he'd put out, and counted down the days until another book or short story was published. He's still one of my all-time favorite authors. The story is short, but a lot is in those few pages. I didn't end it feeling like it wasn't finished or that I'd missed anything. There's a lot of humor – which I love – and even a couple of serious moments. I don't remember how I found that story specifically. I just remember being curious about the genre after reading about Blay and Qhuinn in J.R. Ward's Black Dagger Brotherhood series. While I ended up giving up on her and that series, I never looked back when it came to gay romance. According to Goodreads, I've read over 1,200 titles since.
Note that the cover has changed a few times since the original story was published. I believe the one I'm using was the first one used. For that reason, and because it's probably this cover that caught my eye originally, I'm using it in this post.
Kazza: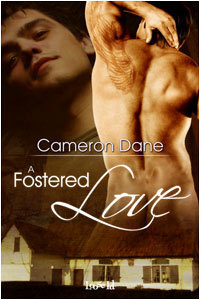 The first book I read in the genre was A Fostered Love by Cameron Dane. That led to a great deal more Cameron Dane books for me. Then I fell into gay romance in a big way. Christian Sanchez and Jonah Roberts were full of passion and hurt/comfort and lust and love and desire. The "bad" guy in the book, David, got his own book quite a few years later in the rather angsty Brokedown Hearts. Cameron Dane has always been the Queen of Purple Prose. And her sex scenes could last for pages and pages… and pages. I've read her entire back catalogue and tend to re-read it every year. She has written both het romance as well as gay romance.
I'd love to hear the name of your first book in this genre and what you thought about it in the comments section below, good or bad. Thanks for stopping by our 10th blog anniversary celebrations and good luck with the $50 Amazon gift card.
**You have to comment on this post to be eligible for this gift card giveaway**