Blog-Versary Author Post: Harry F. Rey, The Line of Succession 3: Interregnum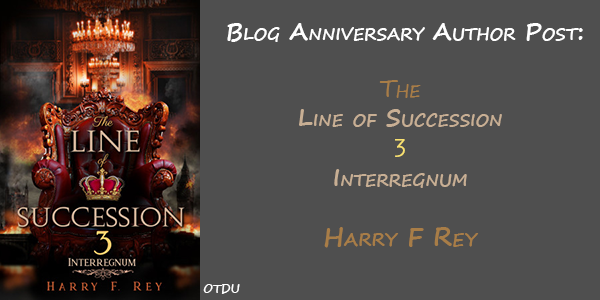 Happy birthday On Top Down Under!
What an achievement to make it seven years of reviewing books. Indie authors like me simply wouldn't be able to function without review sites like On Top Down Under – so thank you for everything you do, and the readers who keep on reading!
I'm Harry F. Rey, a British born author of gay fiction. I love writing about everything gay. Gay men, gay women, the experience of growing up gay, coming out, falling in and out of love – all of it.
Like many people, I felt the oppressive heterosexist culture growing up. LGBTQ lives were written out of the mainstream. Our stories were not told on screen, on stage, on TV, or in books. Even if they were, our lives were so often written about with one dimensional disdain.
I always wanted to do it differently. I wanted to tell stories about gay people, no matter the genre. Sci fi, contemporary, romance, horror, thriller, fantasy, you name it – I want to write about it.
My first book was published last July – The Line of Succession. It's a contemporary gay royal romance series about the heir to the British throne, Prince James and his best friend, press secretary, and secret lover Andrew. Fifteen years ago, Prince James's father, Prince Richard, was killed in a princess Diane-esque mysterious helicopter crash, along with his secret Irish lover. The young James became heir to the British throne over his twin sister, Princess Alexandra.
With Queen Victoria II now turning ninety, James's personal life, as a confirmed thirty-year-old bachelor, has come more into the public spotlight as he's expected to marry and produce an heir. Known for his playboy lifestyle, he'd gladly accept that reputation to hide the truth that he's gay and in a secret long-term relationship with Andrew.
His twin sister Alexandra knows his secret and plans to use it to create a scandal that will help her take the crown for herself and her husband Faisal, a Saudi Prince and their mixed-race children. Thus, she's an even less attractive candidate to the establishment. But Alexandra's plans rely on trust and treason, a dangerous combination.
There's essentially a three-way standoff between institutional racism, sexism and homophobia. Who deserves what? Who is more oppressed and why shouldn't people change the rules to get there?
The strongest create their own realities, while others live in the confines of society's walls. Society is trying to box in Alexandra. She's seen as unpalatable given her choice of husband. But she's banking the popular press and society at large will think the same of James, if the only knew he was gay.
But others prefer to blow the whole thing open. Lizzie is a Trojan horse, a fifth column deep inside the royal orbit with her own reasons for hating the monarchy and wanting to tear it all down. She wants chaos. Calmly, thoughtfully, and meticulously, she's doing everything she can to tear down the walls of the Palace and create her own reality.
The Line of Succession series will span six books in total. The third, Interregnum, is out today! I've been working
on this story for almost a decade. I remember watching the real-life royals William and Kate get married back in 2011 and thinking wow, isn't that convenient the heir to the throne chose a white Upper-class woman to marry. It got me thinking what if the heir wanted to marry a man? Or someone of a different skin colour? Would the county be so tolerant?
We don't need to look very far to see our answer. Meghan Markle has been subject to torrents of abuse and disdain from the right-wing press and racist establishment. Now imagine if Harry was next in line? How would the press react?
Scandal and monarchy go hand in hand, however. The real-life royals are never far away. Prince Charles had substantial gay rumours. Prince Andrew was named as an abuser by a victim of Jeffrey Epstein, and of course the Princess Diana imbroglio. When I'm planning the twists and turns in the series, sometimes I wonder if the truth isn't stranger than fiction after all.
I'm a TV fanatic. My husband and I love nothing more than spending the weekend binge watching whatever Netflix throws our way. That's always how I wanted my books to feel; like strapping into the next wild ride box set, where every scene, every chapter, contains more and more unfolding secrets and scandals
My favourite character in The Line of Succession series is of course the main man himself – Prince James. James is a dick. He's selfish, he's insensitive, he's spoilt and is the product of unlimited power plus zero responsibility. There's an entire institution dedicated to covering up his mistakes. But his entire life has been a ticking time bomb. The moment his grandmother the Queen eventually dies, he'll be thrust into a gilded cage of which there is no escape.
That's what The Line of Succession is really about. People fighting against the societal boxes of their circumstances and becoming who they want to be, not the roles they were born to act. Whether that's Andrew learning there's life outside James, Alexandra taking on institutional racism and sexism, and even their cousin Lizzie who'd rather be a violent revolutionary republican than a member of the inner circle. I love characters who have to fight tooth and nail to be themselves, and The Line of Succession is full of them.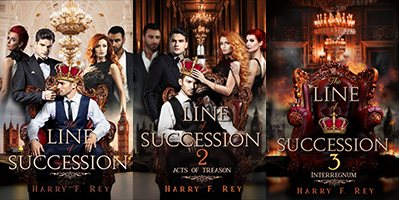 Author Bio: 
Harry F. Rey is the author of The Line of Succession series published by Deep Desires Press. Book 3 – Interregnum, is out today. He is also the author of the queer space opera series The Galactic Captains published by Nine Star Press.
 Follow him on twitter: @Harry_F_Rey
For readers who want to know more, all of Harry F Rey's The Galactic Captains series books to date are reviewed on this blog – or our older one – as is The Line of Succession series – Interregnum's review is here.