The Line of Succession 3: Interregnum, Harry F Rey – Podcast Review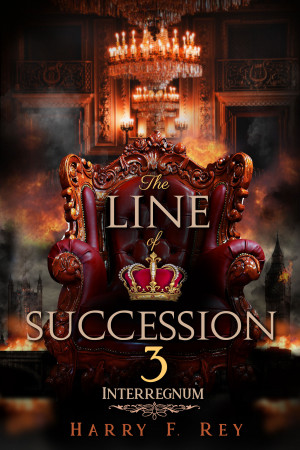 Rating: 5 Stars
Publisher: Deep Desires Press
Tags: Royal Drama/Soap Opera, Political and Regal Machinations, Romance and Erotica, Gay MCs in Ensemble Cast, Series (Not Standalone)
Length: 187 Pages
Reviewer: Kazza
Purchase At:  amazon, Deep Desires Press
Blurb:
The Queen remains steadfastly in a coma. James is adjusting to his life as prince regent, helped by new eye-candy Samuel, while Andrew faces up to the reality of working for the opposition—James' twin sister Alexandra. Andrew and James now find themselves on opposite sides of the war of succession.
With Alexandra's bombshell article due to shock the monarchy to its core, she must seek out political allies to take the throne while keeping her restless husband Faisal in check. But the establishment is fighting back, and they'll use even the most diabolical means to ensure James will produce an heir.
The powerful forces behind Operation Rex face a greater threat—Lizzie's plans to expose the monarchy's deadliest secrets to the world. Her pact with the IRA may finally avenge her parents' murder… and truly enthrone a reign of chaos during this interregnum.
Review: 
Well. Um, the shit got real in this book.
This story is told in a non-linear perspective with a two month separation of information, vital for the events that unfold. Andrew and James are truly apart for the first time in fifteen years and they both miss one another. James feels like he's been betrayed, Andrew thinks he's working toward making their relationship better, one where they can actually be together. Alexandra has made Andrew promises that takes time for him to see them for what they are. Faizal, Alexandra's husband whom Andrew has been having a clandestine 'affair' with, for wont of a better word, has always seemed the devoted husband and doting father, but could it be more than that? While the sex is as hot as sin, that Faizal sought Andrew out all those years ago in the Eton locker room now appears like it could be both sinister and calculating. Lizzie is Andrew's friend – definitely more than she seems – and is in the middle of some dastardly developments. Some people are fodder, collateral damage.
The coldness of pretty much most of these people, the need for power, the organisation that is the Monarchy… it's all rather mucky. The belief in a figurehead and a way of life and a system, pitting siblings and the people in their orbit against one another at all costs is chilling. The depths they will sink to for a lifestyle they have become accustomed to, no matter what, shows how people's behaviour changes around money and position.
The Line of Succession 3: Interregnum is intelligent. Interesting. Drama-filled. At times kinky and saucy. Grab your poison of choice for a few sips, and pull up a comfy chair for a flies eye-view of this deliciously dysfunctional royal family that resembles many Halls of Power and the British Monarchy. Great writing. Great reading. Bring on book #4, Rex v Regina.
.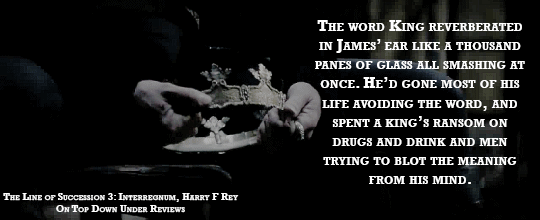 .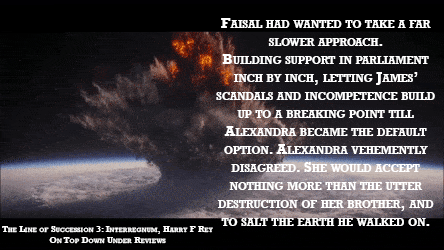 .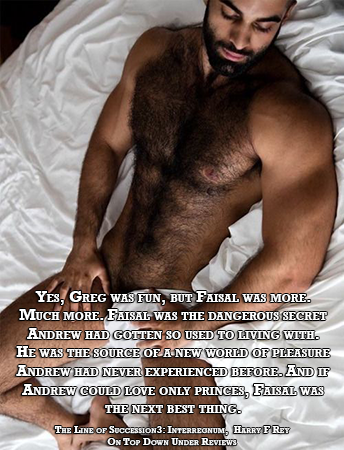 .