The Line of Succession, Harry F Rey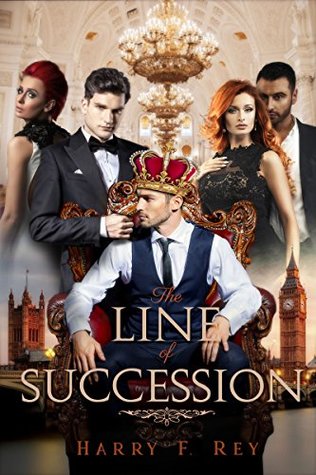 Rating: 4.5 Stars
Publisher: Deep Desires Press
Genre: Gay Romance
Tags: Drama/Soap Opera, Royal Family Reimagining, Contemporary, Serial/Series 
Length: 118 Pages
Reviewer: Kazza
Purchase At: amazon, Deep Desires Press
Synopsis:
Families are built on secrets, but when it's the royal family, the stakes-and the secrets-can be deadly.
Fifteen years ago, Prince James's father, Prince Richard, was killed in a mysterious helicopter crash, along with his secret Irish lover. The young James became heir to the British throne over his twin sister, Princess Alexandra.
With Queen Victoria II turning ninety, James's personal life, now that he's thirty, has come more into the public spotlight as he's expected to marry and produce an heir. Known for his playboy lifestyle, he'd gladly accept that reputation to hide the truth that he's gay and in a secret long-term relationship with his best friend and press secretary, Andrew.
His twin sister knows his secret, and plans to use it to create a scandal that will help her take the crown for herself, but her plans rely on trust, and she will soon learn her allies are not as trustworthy as she thought. Will James win his throne, while keeping the love of his life? Or will the monarchy topple in the face of naked ambition and public scandal?
The Line of Succession is a 38,000 word erotic romantic drama. If you love TV's The Crown or The Royals, then you'll love this deliciously sly royal drama filled with sex, secrets, and lies.
Buy The Line of Succession now and dive into a royal family of secret gay lovers, ambitious lusts for power, passions for revenge and hidden secrets that will shake the monarchy to its very core. This isn't your real-life fairy-tale wedding; this is a royal family at war.
Review:
Well, this was all rather delicious –
Modern day and fifteen years prior intersect via death, wheedling, duty, agendas, and more in this royal drama, but exactly who will come out on top?
The current heir to the throne, Prince James, is in a relationship and in love with his best friend… who happens to be another man. How is that going to fly with the royal family and the monarchists?
There are two primary threads that weave throughout this book. Prince Richard dying fifteen years ago in a helicopter crash, and the ongoing ripple-effect of that day. There were letters written to his twin children, then fifteen-year old Princess Alexandra and Prince James: Richard expresses to Alexandra that she should be the one to ascend to the throne because she is technically the oldest, that she is smart with an innate love of and understanding of the Crown.  He also felt the line of succession based on gender wasn't fair and was attempting to change the rules around it. James is the one who will ascend through the system because he's the son. The letter Richard wrote to James was that he felt James was probably inclined to a lifestyle that would not suit his heart from the highest heights within the Royals. He wanted to spare him the difficulty of what that meant, while still making sure he had all the benefits of the  family name.
The other primary thread is current day and the looming thirtieth birthday of James and Alexandra. What that means for them both. While James is in all the papers and magazines for partying and being a good-time prince, Alexandra is married to a Saudi royal and has two children. The popular consensus is that it's time for James to settle down and help produce an heir, however, when all is said and done, they prefer James over a woman being on the throne, one who is also married to a well connected middle eastern man and has interracial children with him. Princess Alexandra also has definite geopolitical opinions, especially in regards to Syria, something the royals never voice.
"And with the public still very much divided over the possibility of having royals with Saudi heritage in the line of succession, don't you think Prince James' private life is of national importance?"
Queen Victoria II, in all ways the family matriarch, is ninety and wants James married and ready to succeed her when she steps aside, as is tradition, but he needs to marry and have an heir, and soon. She has no time for any changes to the monarchy and its historical structure.
Andrew Hodes is James' press secretary and his lover of fifteen years. He's cornered on a television program after another of James' wild nights at a local club and asked a few questions – why haven't there been any significant women in the Prince's life? Ones introduced to the family? What does it mean for James with his thirtieth birthday in a few days? Is there someone they don't know about? Andrew is ruffled because James' thirtieth is also hanging over his head like Damocles Sword. He knows there is a finite time on his relationship with James but he doesn't have to like it. Andrew has made sure to be the good press secretary, the loyal friend, lover, subjugating his own desires for a public relationship with James for the good of the monarchy. He gets in a tangle on air and uncharacteristically says that there is someone special and she'll accompany James to the thirtieth birthday gala. It sets a series of personal quandaries and underhanded events in motion.
Bits and Pieces:
If you like a bit of drama, particularly a royal one, this is one entertaining read with plenty of characters to sink your teeth into.
I liked Andrew and James. Liked when they could grab snippets of time just for them. It isn't a stock standard "MM" romance, but theses characters have a depth of feeling and connection that speaks volumes. I have my fingers crossed for them but I have no idea how it will work out.
The book's storyline is non-linear – there are jumps between fifteen years ago, twelve years ago, a year ago, a month ago, etc., – between the current timeline. There are also multiple POV throughout. I'm not generally fond of a non-linear story or narrative but the author makes it work.
This is an alternate British monarchy storyline which I enjoyed because there are similarities between Princess Diana and Charles and Camilla, and Princess Diana and Dodi Fayed. The children who are left behind after a royal parent dies. There's a feel of the conspiracy theories around Diana's death, some still say the reality. This is a fictionalised fly-on-the-wall view of The (Royal) Firm. The ageing Queen hanging on tenaciously to life and power, awaiting the successor she wants. The names of characters and their position within this world made me smile wryly – Lizzie Windsor, Charles, and so on and so forth.
There are numerous people who have secrets and vested interests that will impact others, but this novella is part one of the overall story to be told. Slowly people's likely motives behind several situations are being peeled away with more blood and thunder to come.
The sex in this book does not dominate plot, but when it occurs it's highly erotic. James and Andrew have a way of hooking up with others without anyone knowing who James is. Is that a bit far-fetched? Yes, but it really  suits this story – and it's intensely fun and sexy.
My only niggle with this novella is the use of American English for a British story. I am a firm believer in the correct spelling of the language in conjunction with the setting.
In the End:
There's drama, tears, devotion, plotting, love, anger, and a good old time to be had reading The Line of Succession. I'm blown away with how this author mixes up his writing. I've been enjoying the Galactic Captains series (sci-fi) so I thought I'd give this more contemporary tale a try. I'm so impressed. This was fun, different, it stirred emotion and connection, and it had an engaging yet dramatic vibe within gay fiction. All of this based loosely, but with an air of believability, around the British Monarchy. I must mention that that cover is also gorgeous and fits the story perfectly. I thoroughly enjoyed leaping into this entertaining world. More please. 4.5 Stars!