Any Old Diamonds (Lilywhite Boys #1), K J Charles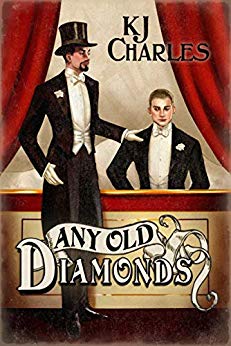 Rating: 5 Stars
Publisher: KJC Books
Genre:  Gay Historical Romance
Tags: Historical – 1895 – Mystery, Robbery, Humour, Series
Length: 229 Pages
Reviewer: Kazza
Purchase At:  amazon, K J Charles
Synopsis:
Lord Alexander Pyne-ffoulkes, the younger son of the Duke of Ilvar, holds a bitter grudge against his wealthy father. The Duke intends to give his Duchess a priceless diamond parure on their wedding anniversary—so Alec hires a pair of jewel thieves to steal it.
The Duke's remote castle is a difficult target, and Alec needs a way to get the thieves in. Soldier-turned-criminal Jerry Crozier has the answer: he'll pose as a Society gentleman and become Alec's new best friend.
But Jerry is a dangerous man: controlling, remote, and devastating. He effortlessly teases out the lonely young nobleman's most secret desires, and soon he's got Alec in his bed—and the palm of his hand.
Or maybe not. Because as the plot thickens, betrayals, secrets, new loves, and old evils come to light. Now the jewel thief and the aristocrat must keep up the pretence, find their way through a maze of privilege and deceit, and confront the truth of what's between them…all without getting caught.
Review:
How ought one dress to hire a thief?
I've never read K.J. Charles before but when I saw that cover on Twitter and then I read that blurb on Goodreads I knew I had to read this book.
Alec is looking to hire the Lilywhite boys to do a job for him – steal the family jewels. Jerry Crozier has written off the Duke and Duchess of Ilvar for theft previously because of the remoteness of Castle Speight and because of the state-of-the-art safe they have the jewels in. Suddenly, here is Lord Alexander – Alec – offering them something both challenging and lucrative. Why does he want his own father's jewels robbed, and is he on the up-and-up about the reasons? Do they do this job? Does Alec have the stomach for the type of family betrayal this requires?
"Are you going to tell us why you're doing this?"
"Well, the money—"Crozier's eyes narrowed sceptically, as well they might. Alec scowled. "And because he's a terrible person and he deserves something terrible to happen to him."
"Well, that's us," Lane said. "We happen to people, don't we, Jerry?"
"Better than having people happen to us. When's the house party?"
The scene is set, the Lillywhite boys will do the job in several months time at a party the Duke and Duchess are holding, but there needs to be an invite. Alec and his siblings are all estranged from their god-awful father and step-mother but Crozier needs him to get them in. So, the long-game plan is set in place to ingratiate Lord Alexander back into society, especially in the good graces of the Duke and Duchess. Jerry needs to be seen with Alec, and in all the right places, so it isn't suspicious that he would be a plus one to the event at Castle Speight. Of course, this simply means the two MCs will spend a large amount of time together, getting to know one another in many ways.
Alec is likeable from the outset. He's the 3rd son of an incredibly wealthy, titled man, one who does (worse than) as little as possible for his children. Alec makes a living as an illustrator and asks for no money from his older brother, George, the Ilvar heir, who is barely keeping his head above water as is. George takes on the responsibility for his other siblings as well as his own family with little in the way of a trust to make do. Still, he has to keep up appearances for now and for the future. Alec is also stuck in the awkward position of not doing anything that could make waves for his oldest brother and his family name in society but still be able to make a living. Having a title but nothing monetary to back it up is not an easy task.
I can't talk further about plot without giving anything away and I certainly don't want to do that. It's best to go into this book having only read the blurb.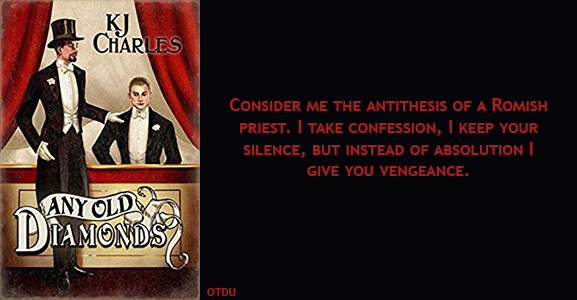 What I loved:
First and foremost, the characters are beautifully drawn. Even though we only get Alec's POV it's hard to feel like you miss anything regarding Jerry because his body language, his expressions, his actions, especially his dialogue, are all adroitly written. He becomes a more interesting character seen through Alec's eyes anyway, and yet, most interestingly, you can still see his personal version of Alec as plain as day.
Alec is surprisingly caring of others, kind, empathetic, in spite of his upbringing in an extremely dysfunctional household. Jerry uses threats in a very civilised manner, for the most part, to make a point, although you certainly learn that you would not want to cross him or his associates. But he is cultured and clearly well educated, also incredibly certain that the ends justify the means, so I kept thinking, this dichotomy – who are you really, Jerry?
"Uh, Jerry? Ought we not to, to…"
"What?"
"Send help? I think he might need a doctor," Alec said, with some understatement.
"Any fuckster who tries to blackmail me may think himself lucky not to need a mortuary." Jerry spoke with a certainty far more alarming than any threat.


.
What I found to be most amusing is the fact that Jerry is this 'dangerous man', a criminal, but I remember looking at the percentage I was at on my Kindle, it wasn't half way, and I knew Jerry was already a goner on Alec and how that meant something to a man who did not believe in worrying about anyone or anything.
This really is quite the romantic story, and very sexy. Alec likes to lose control and Jerry likes to keep a firm hold of it. A match made in intimate Heaven. When Alec can't seem to fathom how or why someone as bold and alive as Jerry is can be keen on him, because he thinks he may well be, Jerry always has the best words and actions at hand. In fact, Alec has long been the one who worries about everyone being so okay that he's lost a sense of what he might need. Jerry is just what the doctor ordered.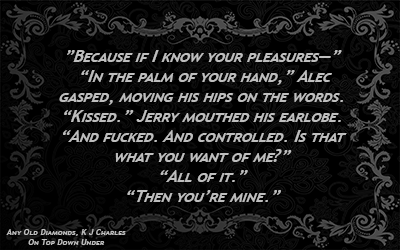 There is more to this story than what appears to be the case at a superficial level. The MCs alone are so perfectly nuanced, their banter witty and well measured, double meanings littered throughout, it makes them completely mesmerising as they develop. The writing is clever, it has great historical bones and authenticity without ever beating you over the head with it. There is a sadness underpinning the story that makes you hope for bad deeds done to bad people. Having said that, the book is uplifting. The characters are delightful, the story utterly engaging, delivering the utmost satisfaction, and the writing is of the highest overall calibre. I voraciously read this book in one sitting and loved it.
In the End: 
Any Old Diamonds is moving, it's romantic, sexy, with a bit of a kick, the MCs are multi-faceted, the period feels alive and affords the characters and the reader a great backdrop, the writing is stellar, the plot is gripping until the very end, the humour is perfect. That cover is a delight, the little artistic flourishes at the beginning of each chapter a lovely touch. Do yourself a big favour and grab a copy of this book. 5 Stars!