Pros & Cons of Vengeance (Pros & Cons #1), A.E. Wasp, May Archer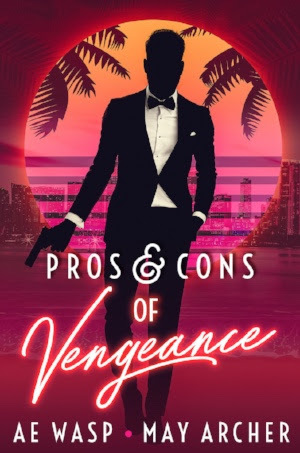 Rating: 5 'Hurry Up And Publish The Next Book' Stars
Publisher: Self-Pubbed
Genre: Gay Mystery and Romance
Tags: Contemporary, Humor, Mystery/Suspense, Twins, Series
Reviewer: Cindi
Purchase At: Amazon.com
*** This Review is NSFW. ***
Blurb –
*FIVE JOBS. FIVE CHANCES FOR REDEMPTION. One thing's for sure: these men are no angels.*
There's nothing like being blackmailed by a dead man to really bring a group of cons together. And what a group we are: a hacker, a thief, a con artist, a thug, and a Federal agent with an axe to grind. The deal is simple, we do the jobs and Charlie's lawyer wipes the slate clean for each of us, one at a time.
Since job number one calls for some muscle, it looks like I'm up first. I'm Steele Alvarez, ex-Special Forces Close Protection Specialist (aka, a bodyguard for some not so nice guys).
After learning what the job is — taking down a seemingly untouchable senator with a penchant for beating up young male prostitutes — I'm in. No questions. A bullet ought to do the trick.
Then I met Senator Harlan's latest victim: Breck Pfeiffer, the gorgeous hooker with a heart of gold and the soul of a fighter. One look at him and I'm gone. That kid laid me out harder than any punch ever did. I'll do anything to protect Breck, even kill for him. But Breck doesn't want the senator dead, he wants vengeance.
If we're going to find a way bring down the slimebag and get the blackest mark on my record erased, I'm going to need all the help I can get.
Like it or not, we're all in this together.
Review –
Pros & Cons of Vengeance starts at a graveside service for Charlie. Wanda, Charlie's attorney and friend, is standing with a mystery man dressed as a priest. Charlie was a renowned thief and 'information collector.' When he dies five men are blackmailed into attending his funeral and a meeting at his place after.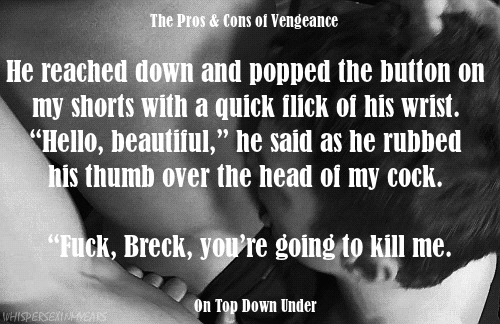 These guys weren't chosen at random. Charlie had info on all of them – the kind of info that could destroy them if it were to get out. Each one has to do a specific job. When those jobs are completed their slates will be wiped clean and they can go on with their lives. The big catch? These men – all five of them – have to stay in Charlie's huge house as the jobs are being completed and they have to use their unique skills to work together.
"These men are not here to pay their respects to Charlie Bingham. They're not here out of some prurient curiosity. They're here because Charlie had dirt on them, because you invited them, and because I threatened to expose them if they didn't show up and play nice."
They're all as different as night and day.
Leo's an FBI agent who has spent most of his career trying to catch Charlie and always being one step behind. Ridge is a thief. Wes is a hacker. Carson is a man of many faces. And then there's Steele, former Special Forces who has no problem stepping outside the law to get certain things done. Steele's also a southern boy from Georgia who can bring out that 'good old boy' persona at will. I adored him immediately.
The first 'job' is Steele's because it requires muscle. Steele is a big man (think Jason Momoa big) and can take care of himself and everybody around him. He's to take down a corrupt senator. No problem, right? One bullet and it's over. Wrong. Ridge's twin brother Breck has gotten tangled up with the man. Not only will Breck need protection, but there's more to Senator Harlan than political corruption. He has a habit of beating up rent boys and using blackmail with others who don't follow along with his agenda.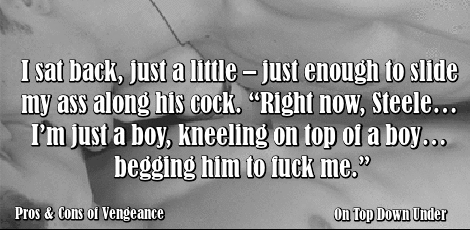 Breck was supposed to be in college, not selling himself for cash. Ridge had made sure the funds were available to pay tuition and living expenses. All the money now… gone. Breck has his reasons for doing what he does. He didn't just drop out of college on a whim and blow the fifty-grand that was in the account. His goal, once the money was gone, was to earn it all back so Ridge wouldn't be the wiser. Unfortunately, Senator Harlan wanting to kill Breck and another rent boy – that would be Danny, who is also important to the story – blows all that out of the water.
One glance at each other and Steele and Breck are goners. Sure, Steele had thought that Ridge (aka Angel-Face) was hot when he first met him at Charlie's house, but his twin is something altogether different. He wants Breck in a way that could be dangerous. No, not just wants Breck. He's obsessed with the need to jump in and save him from everything bad in the world and then never let him out of his sight.
This is the start of what looks to be an excellent series. I don't know what had me picking this book up, but I'm really glad I did. Pros & Cons of Vengeance gives the reader a good idea of who each of the five men are. They don't like each other much but there's mutual respect and they work well together to bring the senator down and to protect Breck and Danny.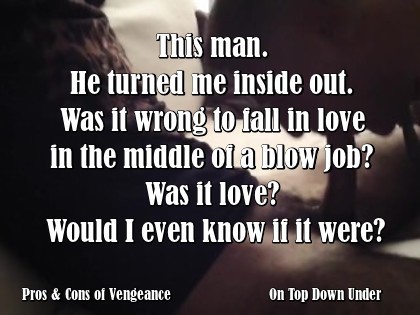 When I was done I went back and reread the Prologue, something I almost never do. I'll just say this… I'll be anxiously awaiting Leo the FBI agent's book. Pros & Cons of Vengeance may be Steele and Breck's story, but there are hints for Leo that start on the very first page, with more scattered throughout the book. Normally I don't want to figure specific things out so far in advance. In this case I really hope I'm correct. I also know that if I am correct Leo's will probably be the final book in the series. 🙁
I absolutely loved this book. There's a lot of humor that had me grinning throughout. Charlie's housekeeper Josie is a blast. You know there's a lot more to her than meets the eye. Until you figure out what it is you'll be entertained. Steele, who's not always politically correct, is awesome. He's this big man who just wants to wrap his big arms around Breck and protect him from the big, bad world. Breck, much smaller than Steele, is no pushover. While being protected by the big guy is hot and all, he can take care of himself, thank you very much. Breck and Ridge (they're from Colorado – Breckenridge – get it?) are typical siblings. I cracked up at Ridge's anger over watching his kid brother (by 13 minutes) be touched by Steele, a man who could break him in half without blinking.
Parts are super unrealistic but I didn't care. The story was fun, the characters were entertaining in their own way, and the sex between Steele and Breck is pretty hot. No slow and sweet for these guys. 😉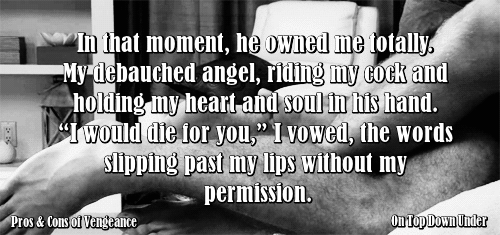 The next book belongs to Wes, the hacker. I can't tell you how eager I am to read it. He's a bit of a jerk but his love interest is one of those characters that brings out my mom instincts. I just want to hug him. I can't wait to see how things work out between them, as well as getting to know the other guys (and Josie) better. I'll also be paying more attention to hints that will hopefully confirm what I mentioned earlier about Leo and his future love interest.
Highly recommended if you like humor and don't mind taking a step back from reality a bit.
It all became clear to me at that moment what Charlie's ultimate motivation had been. These weren't personal vendettas or petty crimes he wanted to be solved. He wanted justice, the kind he couldn't get from inside the system.