Santa Claus & His Unexpected Mate, (Willy #7), Candi Kay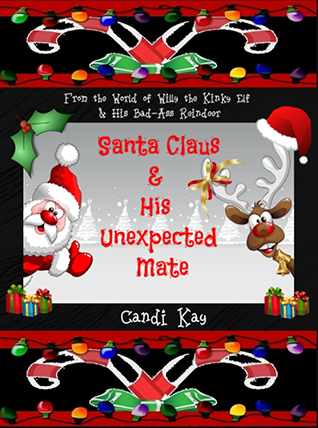 Rating: 4.5 Stars
Publisher: Self Published
Genre:  Gay Romance
Tags: Christmas Theme, Humour, Goofiness, Drama, Mates, Paranormal, Series Finale 
Length: 332 Pages
Reviewer: Kazza
Purchase At:  amazon, Candi Kay
Blurb:
From the World of Willy the Kinky Elf & His Bad-Ass Reindeer.
The North Pole isn't exactly as it appears in fairy tales. It has the elves and Santa and his reindeer, but Santa and Mrs. Claus aren't the jolly couple the world believes them to be. The reindeer are all shape-shifters who transform into gorgeous beings in human form and are respected by all.
Santa Claus has everything except the one thing he craves most – a mate of his own. Forever told it wasn't in the cards for him, he goes about his days longing for something he knows he can never have. Maybe Andrew Lanzer isn't his fated mate, but he knows what he feels for the reindeer goes far beyond simple attraction.
Drew sees how Santa looks at him, but he's not stupid. Santa's wife may be gone now, but history has proven she'll be back. Time and again. He's hoping one sexual encounter will be enough to get him out of his system. What he doesn't expect is for it to open the door to so much more.
When Mary Claus demands to be heard, the entire North Pole is thrown into chaos. With the man he loves and his newfound son by his side, Santa must fight harder than he's ever fought before to rid the North Pole of her conniving presence once and for all. Along the way, he may even discover that what the Fates have always led him to believe might not be true after all. With help from Willy the elf and a few new allies, Santa Claus may finally get the happily-ever-after he's only ever dreamed of.
Santa Claus & His Unexpected Mate cannot be read as a standalone. The finale of the Willy the Kinky Elf & His Bad-Ass Reindeer series, it contains characters and stories from each book that will be confusing to readers who have not read the series.
Review:
η αγάπη μου για πάντα
I'm going to start by saying that I'm not really much of a seasonal book reader but for 7 Christmases I've enjoyed this wacky, goofy, crazy series with the weirdest titles, this year's is tame in comparison. I'm sad to see it end on one hand, on another I also don't "do" series for long so I'm also glad the author didn't drag it on. "Santa" was a fitting finale, and what growth the actual Santa had along the way. It also has a fitting HEA to wrap up the entire series.
I don't recommend this for anyone other than those who have read the series. You really do need to have read the previous series books. Everyone from prior books make an appearance and you just won't know who this cast of characters are or where they fit if you start here.
Candi Kay has placed letters to Santa in between some chapters and they are cute and funny to read. I thought this was such a nice touch. The titles to the stories in The Gazette are funny too.
Willy is off the chain in his exuberance to rid the North Pole of Mary Claus with the elegantly named Operation Rid-A-Ho. He's also up to his matchmaking ways… with not so much success this year. But most of all, Santa has done what the Fates said would never happen, he's found a true mate.
Bye, Willy and Co. May you all live long and enjoy your days of love and eternal Christmas in the beautiful – and gossipy – North Pole. Wait for me (you have great quarantine in place) I'm packing my bags to come and meet you all post COVID.
.