Rescue My Heart, Jerry Cole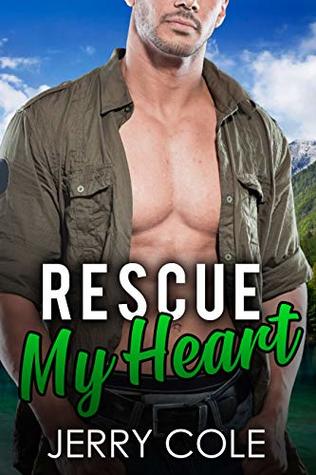 Rating: 4.5 Stars
Publisher: Jerry Cole
Genre: Gay Romance
Tags: Contemporary, Age Gap, Damaged Characters, Off-Page Animal Abuse
Reviewer: Cindi
Purchase At: Amazon.com
Blurb –
There isn't much going on in the sleepy little town of Grand Lake, Colorado. It's a tourist spot with easy access to Rocky Mountain National Park, and it is beautiful, but in the winter when the tourists go home, it is left to the locals. Quiet and secluded were just what Jensen Gotterman wanted when he left Denver, and his abusive ex-boyfriend, behind. He's finally figuring out who he is, what he wants and is putting his life back together. Late one evening he spots a box outside the coffee shop where he works. Inside, he finds a bird in need of help, and more drama than the little mountain town needed. He didn't think of himself as a pet person, but meeting the town's grouchy resident veterinarian may just change his mind. Blake Renoir is not an exotic vet, does not want to be an exotic vet, and isn't keen on being woken up in the middle of the night to deal with emergencies, but as the only veterinarian in town with any bird training at all, he's stuck helping the bird, at least for one night. He really didn't intend to immediately fall for the bird's redheaded rescuer.Blake and Jensen find themselves helping a lot more birds than they bargained for, and start to forge something new and a little terrifying in the process. Please Note: This book contains adult language & steamy adult activities, it is intended for 18+ Adults Only. Novel, approximately 32,000 words in length. HEA (happy ever after ending). Does not end with a "cliffhanger." Themes include: Holidays, Animals, Pets, Parrots, Veterinarian
Review –
Rescue My Heart tells the story of two men some might call broken. Blake in the literal sense as he was injured years prior in an accident. Jensen by an abusive ex. Each one has their reasons for being leery of new relationships. A bird named Ginger changes all that.
It all starts when somebody leaves a box outside the coffee shop where Jensen works. He's shocked to discover there's a cockatoo inside – a pitiful cockatoo. It has obviously not been taken care of and appears to be near death. Police are called and the bird is taken to the town vet, Blake Renoir.
Blake, who's forty, is a grumpy sort. He has a bad hip as a result of an accident a decade prior and often has to use a cane to get around. He's not exactly thrilled when somebody wakes up up from a sound sleep with a sick bird. He's very adamant about not being an exotic vet but he knows he's the only one nearby who can give it the immediate care it needs. He jumps into action trying to save its life. In the process, the bird rescuer – that would be Jensen – has him feeling things he's not felt in a very long time.
Jensen, twenty-six, has his own issues. He's only been in town for a year or so after running from an abusive boyfriend in Denver. When he sees Blake something stirs inside him and he's suddenly seeing picket fences and domesticity when he's not seen or felt that since before his break up with the ex.
Blake is shy and I did mention grumpy. 😉 He finally musters up the courage to ask Jensen over for dinner. It doesn't take long into the evening before things are getting hot and heavy between the two men.
It kind of goes from zero to sixty pretty quick but it works in this story.
It's not just about sex with Blake and Jensen. Each man wants a long term relationship. Sure they have issues they need to overcome, but they know the other one is worth it.
Along with Ginger, who Blake has decided to keep, there's evidence of a bird mill in a nearby town. It's believed that this is where the very sickly Ginger came from. After a bit of wrangling (and arguing from Blake) it's decided that Jensen will be the one to help them finally take these bird abusers down.
I won't say more than that or I risk spoiling the story.
There's not really a whole lot of buildup between Blake and Jensen. But honestly, the story didn't need it. The issue with Ginger and other birds helped make it where things didn't quite appear to be going as fast as they were.
There are other characters I liked. From Jensen's boss at the coffee shop, to Blake's receptionist at his veterinarian office, they were entertaining. Ginger, however, stole the show. What a little diva! My blog partner is the bird expert, not me, but I have to say I learned a lot by reading this story.
I love books with characters who have substantial age differences. There are fourteen years between Blake and Jensen, though things said throughout the book make it appear that Jensen was older that twenty-six.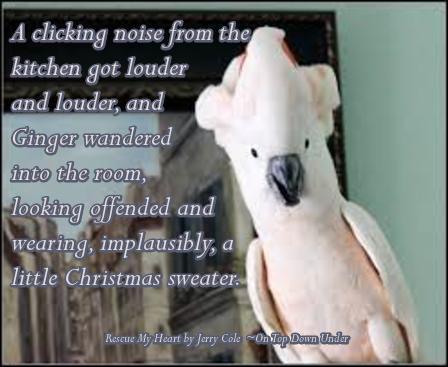 Blake and Jensen aren't your typical perfect males that you see all over romance covers and in books. That's not saying anything against those perfect characters. I'm just saying that it was nice reading about men who wouldn't exactly be front and center on GQ magazine. In other words, normal men like you see every day.
I really enjoyed this. I only had a couple of issues with it.
One, while I didn't have a problem with how fast things moved in the beginning with Blake and Jensen, I did have a problem with how fast things moved after. I felt that the ending was a little rushed. Don't get me wrong, everything was all tied up neatly, but I would've liked to have had a little bit more.
Two, there's a lot of talk throughout the story about Jensen's abusive ex. That's all it is – talk. I would've liked to have seen more in regards to him. I kept waiting but it didn't happen. I see it as a missed opportunity.
Otherwise, a very enjoyable read by an author I don't think I've read before. I admit to picking this book up because of the setting. I spent close to three months in Colorado in 2018. It became my favorite place in the world. I enjoyed reading a story set there.
I look forward to reading more by this author.