Blog Anniversary Author Post + Giveaway: Clare London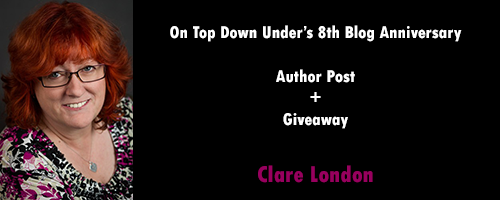 Writing in a pandemic, or … Cutting myself some slack.
2020 has caught us all unawares. Though, let's face it, how could we possibly have prepared for a pandemic? None of us has lived through such a thing before. And so, we haven't got the strategy or plans to deal with it. But life goes on around us, regardless!
I work from home full-time, with both accounts work and my writing. I assumed things would be less of a struggle for me in Lockdown, compared to some people's battles. But I've still been on a horrible emotional rollercoaster since March, and it's affected my performance and my productivity as an author.
I've needed to take myself in hand on several occasions, or I'd start throwing plates and wailing to the moon! Here are a few of the thoughts I've had.
Accept
Even when I think very little has changed, I have to accept that it HAS. Even when there are no outside signs of strain, there's a bubbling current of worry and uncertainty running underneath everything. I have to accept my feelings as genuine and (to be honest) expected. I have to stop beating myself up about how things WERE. Instead I have to concentrate on going forward, what they CAN be, and what I can control (however little).
Take care
I have to watch my health, not only to be aware of virus symptoms, but to see how I'm reacting to life. I'm extra-tired, easily irritated, scared of things I used to take in my stride, confused, over-eager, lonely at times. I need to tell myself it's okay to feel like that, but look for ways to release any tension, or address the worries. I look for things that delight me, whenever I can, however small. Re-read a book I always loved, catch up with a friend, open a new notebook. Or just soak in a good, hot bath!
Adapt
I don't need my writing income to survive, but it's still worrying if I slow my pace. So I'll look at other ways to keep sales going – Create box sets? Re-promote backlist titles? – and allow me to take that break. I'm joining fellow authors' promotions, sharing news of their books, dropping in on group takeovers. It allows me to stay in the writing world, and strengthens friendships. If I can't meet my daily word total? I won't sweat it! I'll count the time I spend reading or researching as an equally valid product. These are exceptional times, and the old rules no longer apply!
Hug the Muse
Writing's become a real struggle. Book outlines have stalled, my physical energy is sapped, my creative urges are weeping in a corner. But lots of us are in the same position. I need to open my mind to something different, just to refresh myself. I can write a few 100 words on something I love; write a scene for one of my characters, facing something challenging or enchanting; write a letter to someone I love – or even myself. I won't even THINK of publishing it, of seeking a full-length novel, of chasing feedback! It's time now to do only what tickles my fancy. At least it'll keep my writing muscles alert.
No Guilt!
My Muse will return. My readers will (hopefully) still love my work, whether it goes out this month or in 3 months' time. I deeply treasure my family and friends (especially those who've been hanging on in there with me, all through these months!). Priorities have shifted, in that my books – though they're desperately important to me – will need to fit into my coping strategy. And most important of all? I'm determined there should be No Guilt in finding my New Normal!
All of my love – and hopeful inspiration! – for your future words, and joy for both author and readers, from Clare London.
In the week of Mental Health Day, stay safe and well!
And DON'T FORGET to enter the giveaway for a free download of any book from my backlist.
**GIVEAWAY**
This giveaway is now over. Congratulations to Lisa Dark.
Happy anniversary to On Top Down Under Reviews. As part of their 8th blog anniversary, I'm giving away 1 x e-book from my backlist.
This giveaway runs for 10 days from the post date. Enter the giveaway via Rafflecopter or comment below. Good luck!
Here's hoping there's still a need for sexy, romantic comedy in this challenging year! Visit my series of MM romances here

Author Bio:
Clare London took her pen name from the city where she lives, loves, and writes. A lone, brave female in a frenetic, testosterone-fuelled family home, she juggles her writing with her other day job as an accountant.
She's written in many genres and across many settings, with award-winning novels and short stories published both online and in print. She says she likes variety in her writing while friends say she's just fickle, but as long as both theories spawn good fiction, she's happy. Most of her work features male/male romance and drama with a healthy serving of physical passion, as she enjoys both reading and writing about strong, sympathetic, and sexy characters.
Clare currently has several novels sulking at that tricky chapter-three stage and plenty of other projects in mind… she just has to find out where she left them in that frenetic, testosterone-fuelled family home.
Say hi to Clare:
Clare loves to hear from readers, and you can contact her on all her social media-
Website
Newsletter
Facebook
Twitter
Goodreads
Amazon