Blog Anniversary Author Post + Giveaway: Felice Stevens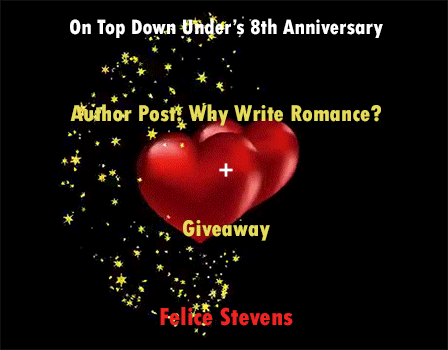 Hello! I'm Felice Stevens and I want to thank On Top Down Under Reviews for letting me be a part of your 8th anniversary! Wow. Eight years in the blogosphere is incredible and I remember being a newbie author and so excited and grateful when a blog picked one of my books to review. Here's to many more years of fabulous reviews.
***
I decided to focus my post today on—why write romance? And my answer over the years hasn't changed too much.
Why not?
In a world where we can't open a newspaper or turn on the television without seeing chaos and despair, now, more than ever we need something beautiful to hold onto.
"But," some might say. "Aren't you giving people an unrealistic view of relationships? Life isn't all about two people meeting, falling in love and living happily ever after. Life, especially now, is rough."
And I say this.
"You're absolutely correct. Life is not always sunshine and roses. Life is messy and imperfect. It can be filled with hurt and loss. Life is so damn hard. But, and this is a very big but, romance isn't supposed to be about real life experience. A Romance—with a capital R—is about creating a joyful experience for the reader. A reader of romance might love their heart ripped out on page one hundred, but they expect it to be pieced together by page 250. A Romance can have the lovers ripped apart by whatever machinations the author chooses to use but we know that couple best be together by the end of the book, or series.  Romance should take people away from the hardship of their lives, even if only for a while, so they can become immersed into a world where they know that they can count on their two main characters falling in love and staying there for that happily ever after.
And if it makes the reader happy then we, as authors, have achieved our goal. Romance is hope. Romance is joy. Romance is magic and we need to celebrate the power that love has in our lives.
My favorite part of a romance novel is the first kiss. I don't think there is anything more sensual than the anticipation and tension that builds between the characters.
In Couldn't Cheat Death, the first book of my Paul Monroe Mysteries, which I started writing as A.P. Eisen, Paul Monroe is a closeted detective in the fictional town of Thornwood Park. He is reunited with Cliff Baxter, his brother's childhood best friend while investigating a murder at a hotel. Cliff isn't sure about the mixed signals he's receiving from Paul and during the investigation, Cliff invites Paul to his house for dinner one evening.
**GIVEAWAY**
This giveaway is now over. Congratulations to Lisa H
For our 8th blog anniversary, Felice Stevens is generously giving away 1 x $10 Amazon gift card  + a reader's choice of 1 x e-book of the author's fantastic backlist. To enter simply use this post's Rafflecopter or leave a comment below. This giveaway ends 10 days from post date. Good luck!
Excerpt of Couldn't Cheat Death:
"When I'm lucky enough to make it home at this time, I'll take my dinner outside so I can catch a glimpse of this."
To his shock, Paul ignored the deck with its patio furniture set, and lowered himself, suit and all, onto the grass, then tipped his head up to gaze at the darkening sky. "It's beautiful. I can honestly say I don't think I've ever stopped what I was doing and taken the time to appreciate it."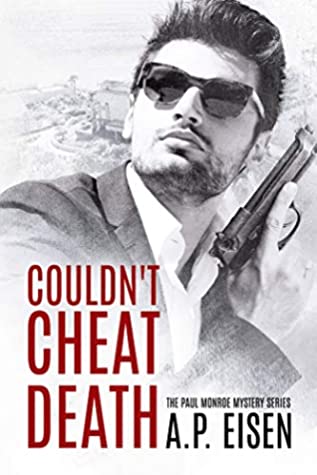 Cliff joined him on the ground. "Makes everything else pretty insignificant. Like we're here only for a minute and we should grab every second we can while we're able."
A soft breeze stirred the leaves, an errant bird chirped, but otherwise it was silent except for their breathing, something Cliff found hard to do in Paul's overwhelming presence.
"What if you don't know how?" Paul murmured, still gazing up at the sky.
"I guess you keep trying? I don't know, but I'm damn glad the sun rises and sets each day and I'm around to see it."
They were close, so close that if he turned his head, his lips would touch Paul's rough cheek.
So he did. And froze when instead of Paul's cheek, he met his lips. Hard, warm lips brushed his, gently at first, then harsher, signaling an almost desperate need to connect. Paul's hand slipped to the nape of his neck and held him steady while he took control. His tongue pushed past the seam of Cliff's lips, and he accepted the smooth, hot glide of it into his mouth.
Relentless and with surprising skill, Paul took him apart with a single kiss, rendering every dream Cliff had ever had of him since his teenage years laughable in its ignorance. His heart pounded loud in his head, drowning out the embarrassing noises he made, and he grabbed on to Paul's suit jacket, balling the fabric tight in his fists as he molded his lips to Paul's, drinking him in. Their lips clung while their tongues slid together in a silky, velvety slide of heat.
Paul murmured incomprehensible sounds, his kisses turning softer, almost sweet in their light touch. That broke Cliff apart even more than the fierce, hot kisses that left his lips wet and tingling.
They separated, foreheads still touching. Cliff attempted to regain his equilibrium but found it difficult with Paul's harsh breath stuttering against his cheek. A bit shaky, he released the hold he had on Paul's jacket.
"I'm afraid I might've wrecked your suit." His feeble attempt at humor was met with Paul's unflinching dark gaze. He felt naked, stripped raw by its intensity.
"That's the least of my concerns," Paul said in a gravelly voice Cliff wanted to hear across his pillow in the morning.
Author Bio:
Felice Stevens has always been a romantic at heart. She believes that while life is tough, there is always a happy ending around the corner, Her characters have to work for it, however. Like life in NYC, nothing comes easy and that includes love.
She lives in New York City and has way too much black in her wardrobe yet can't stop buying "just one more pair" of black pants. Felice is a happily addicted Bravo and Say Yes to the Dress addict and proud of it. And let's not get started on House Hunters. You can find her procrastinating on FB in her reader group, Felice's Breakfast Club. Newsletter 
Say hi to Felice:
Reader Group: Felice's Breakfast Club