Blog Anniversary Author Post: Low-Angst Reading For Difficult Times, Noah Steele

Happy 8th anniversary, On Top Down Under!! While I haven't been active as a self-published author for very long, I've been around books in one way or another my entire life. Even as a teen volunteer for the Toronto Public Library, before I'd really decided to make books a career, it was easy to see how integral book bloggers have always been to author life. Word of mouth is so powerful, and I'm really happy to be celebrating 8 years of On Top Down Under. That's 8 years of passionately helping readers find the right books for them! AMAZING!
Speaking of readers, that's exactly who I spoke to about putting this post together. It's no secret that 2020 has been…well, it's been. We all know how it is. In the spirit of romance reads as escapism, I asked readers in my Facebook group a question: what are your recommendations for feel-good low-angst M/M romance books? And here's what they had to say! I hope at least one new book on this list makes you smile and brings you back to a place of optimism.
Literally anything by Jayda Marx
An absolute queen of low-angst instalove reads! Jayda's books are light, sweet, and delicious. Not only are they hopeful palate cleansers between really angsty reads, they're uplifting and full of joy all on their own! If you're looking for a great place to dive in, try HEAD OVER WHEELS, the book that sent one of my readers deep down the Jayda Marx rabbit hole!
Head Over Wheels promises one man in need of all the love in the world, and one man who's more than willing to give it alongside a healthy helping of sass and laughs.
https://www.amazon.com/Head-Over-Wheels-Jayda-Marx-ebook/dp/B07VGSVS3F/
Too Close to the Flame by Ryan Taylor and Joshua Harwood
The authors themselves (who are wonderful) describe this book as being a dark-to-light romance. It does contain specific memories of physical abuse from a main character's past, but is very much about the happily ever after that Brandon finds with Devin in the present. Ryan and Joshua know how to hit your heart, and this book resonated with my readers because of its powerful message of trust, courage and love.
https://www.amazon.ca/Too-Close-Flame-Ryan-Taylor-ebook/dp/B08CY9VXYH/
Secret Admirer by DJ Jamison
My readers had three things to say about this book: heart, humor, and sweetness! And on top of that, what a great brother's best friend book to pick up when you're in the mood for something yummy and heartwarming. This isn't the only great low-angst read you'll find from DJ Jamison, either! I think this is a great book to pick up when you're looking for some hope, too, because it's got such a beautiful theme of seeing things that are around you all the time in a different light—and in this case, it just happens to be two gorgeous guys!
**This book has been reviewed on On Top Down Under Reviews here
https://www.amazon.com/Secret-Admirer-DJ-Jamison-ebook/dp/B08BCPPJNL/
Throwing Hearts by N.R. Walker
A smooshy, fluffy read about a man who's sure being single is the right choice and another who pushed dating to the side for his career..until they meet! Throwing Hearts comes recommended alongside a few other low-angst N.R. Walker books my readers were happy to share: Galaxies and Oceans, Finders Keepers, The Weight of it All, and Upside Down.
https://www.amazon.com/Throwing-Hearts-N-R-Walker-ebook/dp/B085WNKGRW/
The Otter Bay series by Sean Ashcroft
Okay, this one is coming from me. I love Sean. I love this world. The men are dreamy and funny and hot and cute. If I could live in these books, I would. You want feel-good and fun? Then you definitely want to start with Melting, which is exactly what you'll do when you dive into Hayden and Wes' journey to an HEA. And then you can jump into Grinding, about childhood friends accidentally faking a relationship! Two of my all-time favorite things in the universe.
The Cut to the Feeling series by Noah Steele
If you've read a lot of the above but you're new to me, good news! I think you're gonna have a great time with my instalove Cut to the Feeling series. It's light with just a drop of heavy, daydreamy, and perfect for making your heart leap at the way my guys fall for each other and figure out whatever mess might come out of it. Spoiler alert: it's a bunch of swoony HEAs and steamy fun! The best place to start is at the beginning, with Racing into Love.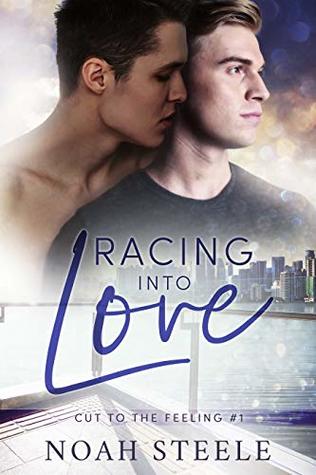 Aiden Reed is stuck in a major boy rut.
Every date ends in something worse than disaster—boredom.
That is, until star racer Derrek Luna crashes the end of a terrible date at Aiden's cozy bookstore. Derrek's confident charm and killer good looks throw Aiden's quiet, cautious world into chaos when he says he wants a shot at Aiden's heart.
Derrek is sure Aiden is different. He's sure Aiden won't just vanish without a word. Not like the others did. But the closer Derrek gets to the man who charmed him without a word from across a crowded room, the more his life on the track threatens to keep them apart.
Aiden is ready to take the risk—he thinks.
What if Aiden's panic attacks scare Derrek away?
What if Derrek's ghosts come back to haunt him?
…what if it doesn't matter because they're already in love?
Racing into Love is a gay instalove romantic drama ready and waiting to take you from zero to sixty with every turn of the page. 
https://www.amazon.com/Racing-into-Love-Feeling-Book-ebook/dp/B07L8YTDHT/
I want to send a HUGE thank you to my wonderful readers for helping me put this list together and sharing what they love about the books and authors above! Happy reading, everyone <3.