Audiobook Review: When all the World Sleeps, Lisa Henry and J.A. Rock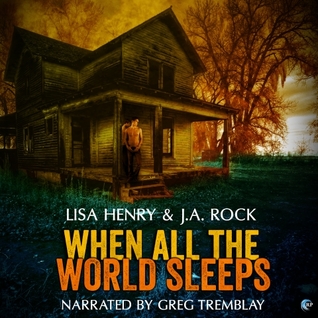 Genre/Tags: Gay Romance, Hurt/Comfort, Psychological, Emotional, Potential Triggers – Bullying, Self Harm 
Author: Lisa Henry & J.A.Rock 
Story Rating: 5 Stars
Narrator: Greg Tremblay
Narrator Rating: 5 Stars
Length: 12 hours and 11 minutes 
Audiobook Buy Links: Audible
Daniel Whitlock is terrified of going to sleep. And rightly so; he sleepwalks, with no awareness or memory of his actions. Including burning down Kenny Cooper's house – with Kenny inside it – after Kenny brutally beat him for being gay. Back in the tiny town of Logan after serving his prison sentence, Daniel isolates himself in a cabin in the woods and chains himself to his bed at night.
Like the rest of Logan, local cop Joe Belman doesn't believe Daniel's absurd defense. But when Bel saves Daniel from a retaliatory fire, he discovers that Daniel might not be what everyone thinks: killer, liar, tweaker, freak. Bel agrees to control Daniel at night – for the sake of the other townsfolk. Daniel's fascinating, but Bel's not going there.
Yet as he's drawn further into Daniel's dark world, Bel finds that he likes being in charge. And submitting to Bel gives Daniel the only peace he's ever known. But Daniel's demons won't leave him alone, and he'll need Bel's help to slay them once and for all – assuming Bel is willing to risk everything to stand by him.
Review:
Tis the season to be jolly, fa la la la la, la la la la. Ahhhh, but I joke. I've gone seasonal dark. I've been rereading Arctic Absolution for the millionth time (I advise to not buy that book until Lynn Kelling has her rights back), just read/reviewed The Parable of the Mustard Seed (Lisa Henry), Call me Daniel (Laura Lascarso) and A Long Way Back (Barbara Elsborg), review pending. I also recently reread When all the World Sleeps and then I saw it had an audiobook version. I was nervous but I gave the sample a try and liked the sound of it, so I bought the audio. I was right to trust my gut instinct.
This was a powerhouse story in written word, it's even more dynamic in audiobook. The narration by Greg Tremblay is a tour deforce. He nails Bel and Daniel and they each have a POV. He brought two beloved characters to life with the intensity and depth and respect they thoroughly and utterly deserved. That means a lot to me as someone who loved this book from the first time they read it. All the depth of feeling that Henry and Rock gave the storytelling and characters in the original book – the isolation, claustrophobia, pain, anxiety, fear and dread, the hypocrisy, the hatred, youthful awakenings, one young man a pariah, another on a precipice – develop potently into so much more through Tremblay's narration.
With my earbuds in I swear I experienced every emotion humanly possible as I listened to the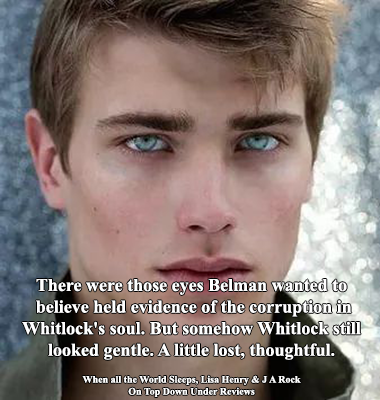 narrator. My heart felt like it was going to leap out of my chest with sorrow, fear, white hot anger, care, love, hope…. The words were given tangible, visceral life by Tremblay. I felt like I could reach out and touch Bel and Daniel, see their expressions, their movements, their motivation. Their small moments of humour were so personal and private it made me feel like I was privy to something special. Daniel's hurt, his worries were palpable things. Bel's upgrading of his belief system was something I savoured. That fact that the Harnee's Kid finally learned the guy he had youthful fantasies about was so much more layered than he could ever imagine, so different to everyone else, not a bad thing, and that he wasn't what he – other people – believed. Honestly, it was a revelation to listen to. I could literally hear the wheels turning in Bel's head, and I was cheering. Bel may not have always understood, but what he didn't know he made up for in sheer effort, kindness, and validation at key times – 'you belong here, Daniel, this is your town too.' 'You're the toughest motherfucker in Logan.' Bel, this reader wants to tell you (again) that you're awesome!
That there is no particularly easy way of dealing with the dissonance of growing up 'different'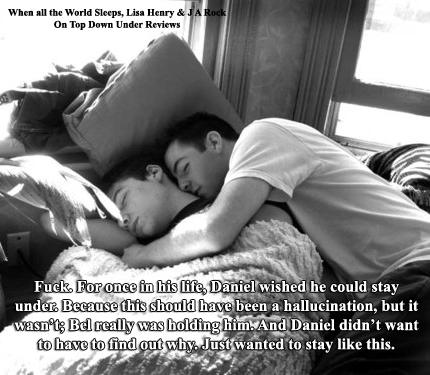 in a small town is so well portrayed. Being gay and with something nobody (wants to) understand, his parasomnias,  creates monumental obstacles in Daniel's life. He's always the problem – What did you do, Daniel? His thoughts, his fears, his trauma at the hands of others who consider him an aberration is hard reading. It may be difficult for some to understand Daniel, yet I think his unrelenting fear juxtaposed against his inherently gentle nature makes him decent and kind. Knowing he has a serious mental disorder compounded by trauma, a lack of parents and people in his life who care, makes you wish for a break to go his way. Love and understanding would be a bonus. Thank god for Joe Belman. I'm not a hugger and it's all I want to do for Daniel and Bel whenever I visit their story.
I've gone from an 'I never listen to audiobooks' reader to enjoying them so much. They also take pressure off my aging eyes. I've been lucky thus far that the small amount of audiobooks I've picked out have been brought to life in the best possible ways by the narrators. This is one more book I already loved that I got to experience in another way, through the spoken word. The personal connection that the perfect voice can give characters through audiobooks really does help add an extra dimension. I loved this book, these characters, all over again thanks to the brilliant narration. I mean, when Daniel texts Bel at 2.30pm I bloody well cry. I listen to and help people with all manner of issues every day, and I'm stoic, but this book breaks my heart. Every. Time. This is a good thing for me. I need passion and I need feelings. Seeing people working toward an outcome and then getting to live their best lives is so satisfying. That doesn't mean it's a perfect life. It doesn't mean the sweep-you-off-your-feet kind of ending for me. I'm not against them, when I'm in the mood for nice, they're lovely. I just prefer my books edgier and more true to messy life. This book is for those who love grittier, psychological writing, human nature, for character obsessives, for those who also enjoy eroticism, and who don't mind angst, because there's a lot of angsty-McAngst-angst in When all the World Sleeps. 
If you're tossing up whether to go the e-book or the audiobook route for When all the World Sleeps, and both are good, I'd say the audio is something else. Henry and Rock delivered the powerful words and Greg Tremblay took them and delivered the full emotion-immersion experience.