Call Me Daniel, Laura Lascarso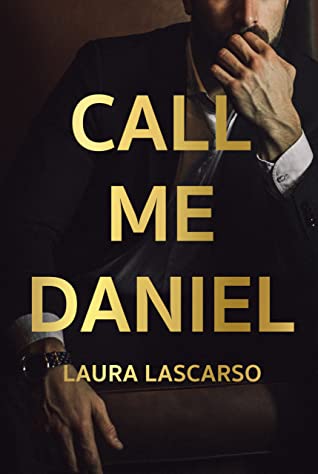 Rating: 5 Stars
Publisher: Self Published 
Genre: Gay Romance  
Tags: Stalker-y/Obsessive, Psychological – Red Flag Roulette, Humour/Irreverence  
Length: 33,000 Words
Reviewer: Kazza
Purchase At:  Laura Lascarso (*Freebie as at Nov 2020)
Blurb:
The new regular at Rise n' Grind is handsome, sophisticated and miraculously, interested in Lake. Lake accepts Everett's invitation to dinner while wondering what a down-on-his-luck barista has to offer this charming and successful older man.
Everett Shaw has regrets and sees in Lake Fellows an opportunity to rectify his past mistakes. Even better, Lake seems to crave the structure and discipline Everett provides. Their compatibility in and out of bed is a rare gift and one that Everett intends to nurture.
As their relationship develops, Lake's luck begins to change overnight. Is it his newfound confidence or Everett's subtle influence opening doors that were formerly closed? Lake can't tell if he's finding or losing himself in Everett's arms, whether Everett's impression of him is real or only make-believe. But Lake is determined to be the man Everett needs and the man he desires, even if they're only playing pretend.
This 33,000-word novella is available for free in exchange for signing up for the author's newsletter. See Laura Lascarso's review on Goodreads for the claim link or search by title at ProlificWorks.com. (Contains mature content.)
Review:
I have humour as one of the tags on this review. To most readers that may not be the case. I may seem absurd for tagging that. I'm known to be absurd with a wicked sense of humour, and my son and I were having a chat about that and the book over the phone at the time, nothing new here. So I found parts of this book freaking funny. The 'therapist' sessions for one. They're clever but they are also delightfully irreverent. Loved it. Marie Antoinette's head. The disappointment Lake felt at not being able to ride away on his bike with a satisfying roar of the engine at a sad moment… because it's been mangled! Nothing to do but climb uneventfully into a sensible Subaru. My son and I enjoyed it. A lot. We're fucking evil.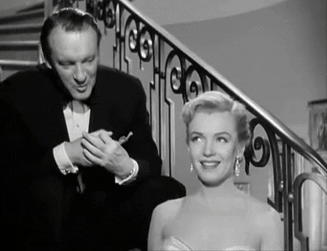 However, for the most part, Call Me Daniel is about two men who have disparate lives – Everett is wealthy, elegant, owns his own business. Lake is broke. He's from a family of chaos. His mother has addictions and contacts him  when money is needed, not that Lake has much. His "cousin" Daisy, really his ex foster house best friend, lives with Lake and makes sure he gets a job as a barista with her. Now he's trying to save so he can go back to school to complete his qualifications in set design.
Lake has no sense of self-worth. As a matter of fact he is one of the least self confident characters I've ever read. He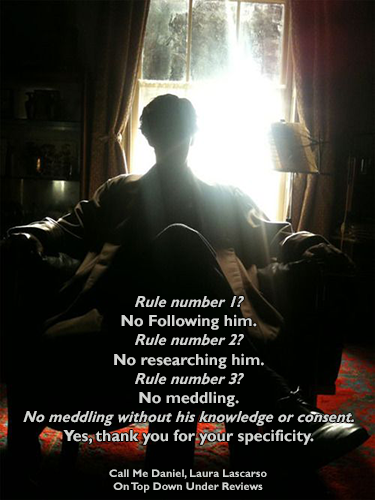 also has very little filter either. It makes him interesting in that he's like a sitting duck for the wrong person to enter his life. This is written by Laura Lascarso, she's good at making sure the wrong-right people find each other. Enter Everett. He's noticed the young barista across the road from his office. He's very good at noticing things. Everett's husband, Daniel, died a while ago. Daniel was only twenty-three when he passed. Thirty-seven year old Everett likes a type, and Lake is younger still at twenty, kind of like a frozen-in-time Daniel. He has an innocence, a keenness about him. Lake is willing to play games with a man he sees as  chic, classy, and so definite about what he wants and needs; the polar opposite of himself.
Lake's burning question of why someone like Everett would look twice at him is on conscious high rotation. But he is. Looking twice. Everett's interested in him. Shows him a nice time, has sex – with Everett in charge – and bit by bit Lake learns about Daniel. Wouldn't it be nice to be Daniel and have someone look at him like Everett would? He has a painting of Daniel in his home. Keeps Daniel's suits mothballed in a cupboard. That's devotion. That's special. That would make you be someone significant, wouldn't it?
I can't say a lot about this book because I'll spoil it. I have my own take on things as well, I've already told you I found elements devilishly funny. What I will add is that there is a dual nature to both of these characters. More than I can voice in my review. A wouldn't it be nice if psyche that is delicious. I mean, Everett is the captain of his own ship, according to someone who speaks to one person's duality. Learning to be flexible can have its rewards as well. Maybe not. Maybe I'm reading something different to what others read and thus the twisty, mindfuckery author that is Laura Lascarso interests me as a deliverer of the nonmundane.
Extra bits:
It's currently a freebie if you pop onto the author's site. (See note at the end of blurb.)
To enjoy this book you need to be okay with "red flags," and a power imbalance. It's meant to be exactly as it's written. It's what I call "sweet but." I have that shelf on Goodreds for books that contain an overall sweetness to them but they also have teeth or an edge or a twist, an ambiguity. So yes, there's a sweetness to it… but in a controlling way, and that's quite deliberate. It has its romantic charm… for the right readers.
This story contains some fabulous dirty talk. Yes indeedy.
It's a very well written novella, both technically and creatively. It's clever and intriguing.
There are some books we would like to see more of – the characters, the world, the overall story, and yet they can still stand alone beautifully in a smaller format. Call Me Daniel is all of the above. I could have read more but you can pat me on the back and call me well satisfied after I devoured the contents of this story.
Whilst most books are derivative of something, this novella is pretty happy being its own little divergent self.
Laura Lascarso is becoming an auto-buy author. She's very good at being Laura Lascarso, standing out with lovely prose, fascinating characters, and never seeming to be afraid to take the road less travelled. 5 Stars!