Make Snow Mistake (Snowed In – Valentine's, Inc., #1 – Iron Heretics MC Universe), Michelle Frost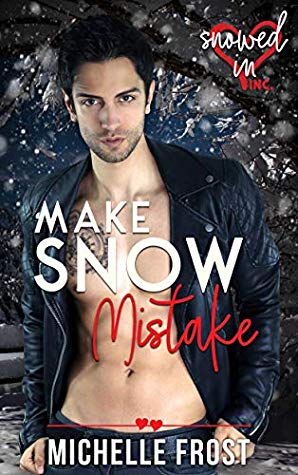 Rating: 4 Stars
Publisher: Michelle Frost
Genre: Gay Romance
Tags: Contemporary, Bi Character, Daddy Kink (Mild), Disability, Motorcycle Club, Opposites Attract, Romance, Series, Slow Burn, Small Town
Reviewer: Cindi
Purchase At: Amazon.com
Blurb –
Unable to make people see past the scar on his face and the teenage mistake that put it there, Cody feels stifled in his small town. When his high school crush, who never knew he existed, blows into his family diner in a swirl of biker leather with a white-out storm on his heels, they end up trapped alone. With Eben's dark eyes on him, can Cody be brave for the first time in years and take a chance at the life he wants or will he allow everyone else's limitations to bury him—heavy as the falling snow.
Make Snow Mistake is a novella featuring a first-time Daddy, a boy learning to stretch his wings, and a HEA. All of the Snowed In – Valentine's Inc. books are stand alone.
Review –
Cody is working at his family's diner. Both his mother and father are down with the flu so it's up to Cody to run the place for the time being. When a sudden snowstorm hits, and customers start clearing out before the roads get where they aren't passable, he's about to close early when a customer walks in. Not just any customer but a former high school jock who Cody had a serious crush on back when he was a freshman and the man was a senior.
Eben's nothing like he was in high school. He went from being a jock to being a bad boy in a motorcycle club. And doesn't all that leather get Cody all hot and bothered? *snort* Cody is super shy and nervous. One of the reasons is obvious. Eben was his high school crush. Another is that Cody has a bad scar on his face as a result of an accident during his senior year of high school. There's also an issue with the vision in one of his eyes. He needn't worry because Eben immediately goes out of his way to put him at ease.
Over a few cups of coffee and food Cody and Eben kind of get to know each other. During high school, Eben didn't know Cody. Cody only knew him from afar.
Knowing that neither can risk leaving in the snow, they spend the night inside the diner to wait out the storm.
Then we meet Cody's mother.
I couldn't stand her. There's being concerned over your (grown) child. There's being protective over your (grown) child because of the accident years before. Then there's Cody's mother. Well, and his father, but he basically stayed in the background. He was still a jerk but he let her do all the talking. And man, did she talk. She was so rude when she met Eben the first time. There was no coming back from that for me.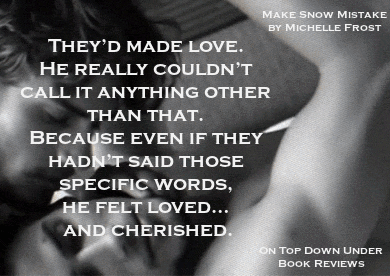 Slowly, Cody and Eben start a relationship of sorts. It was a lot different from other MC books I've read where the couple usually starts with sex and then works on the actual relationship after. Cody and Eben slowly work their way to the intimacy as Cody makes decisions about his future – with Eben's help, of course. Once they do have sex there's a little bit of daddy kink happening, that I thought was really sweet. The sex was worth the wait.
Eben was just perfect. Seriously. He's one of those characters that you fall in love with immediately and love more when the story ends.
There are other characters I really liked. All the MC guys were amazing. They accept Cody without question. There's a bad guy in the story – isn't there always? – but thankfully the issue with him is resolved rather quickly.
This is part of series. It's listed as Snowed In – Valentine's, Inc., part of the Iron Heretics MC Universe, and the Criminal Delights series has at least one book with characters in Make Snow Mistake. I wasn't aware of the last two when I downloaded the book, but it doesn't matter. From what I understand (though I could be wrong) is that the Snowed In and Criminal Delights series are written by different authors and aren't related except by prompt. While I would've liked to have known the back stories of the MC guys before reading this, as at least the MC club is introduced in Iron Heretics MC Universe and, as I said, one book with some of the MC is in a Criminal Delights book, I was easily able to read it as a standalone.
The only issue I had with the story, and I wouldn't call it that much of an issue, is that Daddy was said sometimes five or six times on one page. I know that's par for the course with 'Daddy' books but it seemed excessive here. Even so, it (or 'pretty boy' being said often by Eben) didn't take away from my enjoyment of the story.
Nice story. I look forward to going back and learning about the other guys.