Paper Snowflakes (Snowed In – Valentine's Inc. #2), Sammi Cee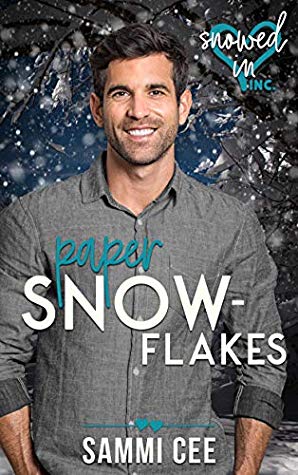 Rating: 4.5 Stars
Publisher: Sammi Cee
Genre: Gay Romance
Tags: Contemporary, Age Gap, Bi Character, Family, Humor, Kid, Romance
Reviewer: Cindi
Purchase At: Amazon.com
Blurb –
Who knew a white-out could bring two men clarity?
Cameron – There's something about an older man that drives me wild, but when he's an amazing father too… swoon-worthy. After avoiding my secret crush for months, Mother Nature steps in and gives me a nudge—the question is, am I brave enough to take my shot?
Ryan – Raising a kindergartener at forty-eight leaves me no time or energy for emotional attachments, just random hook-ups. At least that's what I think until I get snowed in with the luscious—much younger—teacher.
While snowflakes are falling, there's a dog to be walked, a snowman to build, and a fire to snuggle by. Maybe finding forever isn't as complicated as they thought.
Paper Snowflakes is a standalone book in the Snowed In – Valentine's Inc. series, which are only connected by the same writing prompt.
Review –
This book checked all my romance reading boxes. There's an age gap, a child, humor, and an outstanding cast of secondary characters. Of course, there's an amazing romance as well.
Cameron is a twenty-five-year-old elementary school teacher. When his school is forced to close early due to a snowstorm, Cameron is tasked with waiting with the kids until their parents can come pick them up. He doesn't mind. He lives the closest to the school and has less distance to drive to get home. The problem? There's only one child left and that child's 'Pops' is Cameron's latest fantasy, Ryan Hill. Cameron has always had a thing for older men. He's only spoken to Ryan once but that's all it took. Since that day, he's mostly avoided him so he won't make a fool out of himself by drooling in front of the guy. 😉
Ryan is forty-eight and has his own secret fantasies about a certain teacher. When he's running late picking up his grandson (who Cameron originally believes is his son), he's not disappointed that it's Cameron waiting with the child.
Stuart, the little boy, is five. I can't recall loving another child in a book like I did Stuart. I'll come back to him.
By the time Ryan, Cameron, and Stuart get bundled up to leave the school, Cameron's car is completely covered in snow. Ryan offers to drive him home. By the time they get to Cameron's place the snow is so bad there's no way Ryan and Stuart can turn back and drive to their house. Cameron, being the nice guy he is, offers them his guest room until the storm passes. This turns into two days with the three of them in Cameron's apartment. Before the two days and nights are over, the attraction both men feel for each other comes out in a big way. They make plans to continue seeing each other, though Ryan has a serious issue with the age difference between them.
Then comes Katy, Cameron's best friend and fellow teacher, and Cecilia, Ryan's ex-wife. There's a little thing they call Operation Honey Trap. You'd have to read the book to understand what I'm talking about. 🙂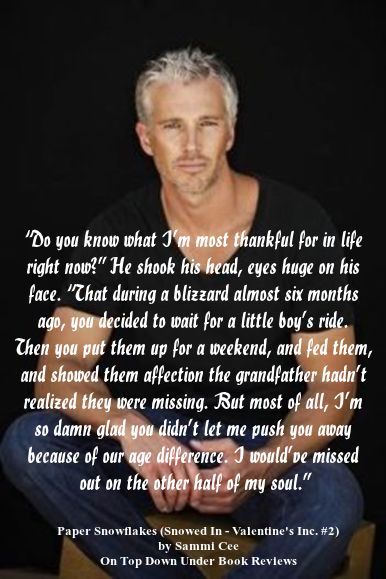 Over time, the two men work up to a nice relationship, even if Ryan does still freak out a bit over the twenty-three years between them. Cameron adores Stuart and Stuart adores him. The three of them are starting to become a family. But Cameron doesn't always open up about things, not wanting to bring his so-called younger man problems into the relationship. And of course Ryan doesn't want to bring his so-called older man baggage into it either. It takes a matchmaking friend, an ex-wife, and a intelligent-beyond-his-years little boy – and a dog named Miska – for them to see that they're meant to be together for the long haul.
Stuart is five going on fifty. He's very intelligent but he's also hilarious. Cameron calls him C.M. – aka Criminal Mastermind – because the kid is able to reason through things in ways some adults can't. He does it with his childlike humor and innocence. He sees a lot of things the two adults in the relationship don't. He has what's considered a sacred ritual of a "tract between gennelmen" – that would be a contract between gentlemen – that's important. If you shake hands in agreement that's a contract and you can't back out. Of course, this doesn't work with his Grams, Cecilia. 🙂
"You called Stuart C.M. What did that mean?"
"Oh. Well, he's already tracking to be smart enough to be President, but I figure he'll aim a bit higher and shoot for Criminal Mastermind. The potential is definitely there."
"Unbelievable."
He leaned into me as we stood side by side at the sink. "You know I'm right."
Cameron adores Stuart so there's no jealousy of the time Ryan spends with him or anything. That was very nice to read. When Cameron falls for Ryan, he falls for the whole family, and that includes Stuart and the ex-wife.
The voice in the back of my head kept reminding me that I was treading on dangerous ground flirting with Stuart's teacher, a man who was so much younger than me, but he was like a breath of fresh air. He joked and teased Stuart, then laughed when the kid gave it back. Cecilia and I had both found adults tended to get annoyed at our grandson's wit, especially if he one-upped them, but Cameron rolled with the punches.
One of the things I seriously loved about this book is how the females are written. No token bitchy females here. Usually the best friends of characters annoy me. I've seen some good ones but a majority seem to want to control the other person's life and decisions. Not Katy. I loved her. And Cecilia… where to begin with her? She's Ryan's ex-wife – Ryan is openly bi – and absolutely amazing. There's a bit of a back story with her, Ryan, and Stuart that comes out little by little. You can't help but feel for all of them and cheer on Ryan as he seeks happiness with Cameron.
Overall, an outstanding read. So, why 4.5 stars instead of 5? Just a couple of little niggles… One, I felt that the Operation Honey Pot thing, while cute, went on a little too long, especially when it was no longer necessary. Two, the lack of communication between Ryan and Cameron kind of bugged me. Even so, it was minor so it didn't take away from my enjoyment of the story.
I can't not mention the title. It's perfect. You'll have to read the story to know what I mean.
I really enjoyed this. I look forward to reading more by this author.