The Barkeep And The Bro (Single Dads Club, #3), A.J. Truman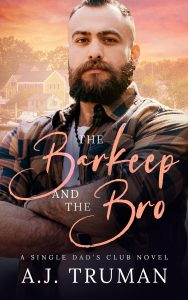 Rating: 4 Stars
Publisher: Truman Books
Genre: Gay Romance
Tags: Contemporary, Age Gap, First Time, GFY, Opposites Attract, Romance, Series, Small Town
Length: 293 Pages
Reviewer: Cindi
Purchase At: Amazon
Blurb – 
I'm his boss. He's my daughter's ex-boyfriend. This has nope written all over it.
For twenty-five years, I've been in an exclusive, all-consuming relationship with Stone's Throw Tavern, my family's local bar.
I don't need a boyfriend. What I need is a new bartender.
And what I get is Charlie, my daughter's old college boyfriend, a guy who still acts like he's chillin' at the frat house. He was canned from his Wall Street job and escaped to small town Sourwood for a fresh start.
He knows bupkis about bartending, but he makes up for it with his cocky charm…and the tight shirts he wears, which secretly drive me wild. Now I'm making up excuses to hang by the bar during his shifts.
There's a pile of reasons why I can't cross the line with an employee. Especially this one. He's twenty years younger than me, and I'm a foot taller than him. Even on a purely mathematical level, this can't work.
And yet…
The growing heat between the fratboy and me burns like a shot of whiskey. I just need to keep my beer can in my pants, or else I could lose my business and my daughter.
The Barkeep and the Bro will serve you up a glass of age gap, size difference, boss/employee, grumpy/sunshine, small town romance goodness, garnished with humor and lots of heat. And it won't even ask for ID. This is the third book in the Single Dads Club series, but can be read as a standalone.
Review –
I've read the first two books in the Single Dads Club and really enjoyed them. The series is funny, sexy, and sweet. The guys have to work for their HEA but it's worth it in the end.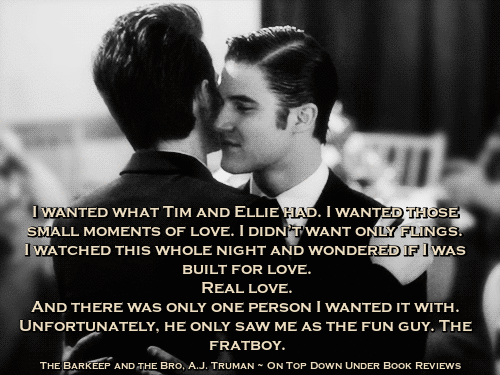 Mitch has owned Stone's Throw Tavern since he took over from his parents twenty-something years ago. He's been part of it for over three decades. Mitch was introduced in the other two books. Somewhere in his forties (I don't think the author gave his exact age), his entire life is keeping the tavern going so he can have a comfortable enough life. A lot little serious, maybe a little grumpy, his only goal is to keep his head above water. Keeping customers coming to the bar helps do that. A single father to Ellie, he's worked hard to be successful.
Ellie's grown now, and will be getting married soon.
Charlie, somewhere in his twenties, dated Ellie four years before (I think?) and broke up with her for reasons that come out in the book. Charlie's doing well working at an investment firm in New York. He's making a lot of money, and has had the perfect relationship with Serena for a couple of years. Life is good, until suddenly it's not. In the blink of an eye, Charlie loses the high-paying job, the girlfriend, and the apartment he shared with her. Almost broke, single, and basically homeless, he checks with his friends on social media for a place to stay temporarily. Only one friend, Amos, who he'd not even seen in years, comes through with a room in his condo. A couple of hours from New York in Sourwood, he jumps at the chance. It's not like he has a choice. The so-called friends he had when he was making a lot of money suddenly disappear in his time of need.
In other words, they're not friends.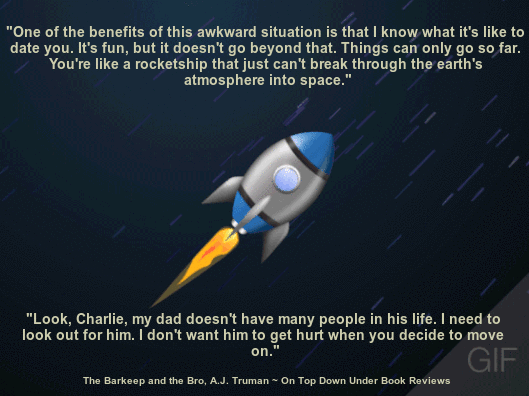 Moving in with Amos is good from the get-go. They get along real well. Now he has to find a job. Amos throws out that Mitch needs a bartender at Stone's Throw. There's a bit of history between Mitch and Charlie, as I said above, but Charlie's desperate and applies for the position. He knows nothing about bartending other than how to order drinks for himself and his former freeloading friends. Mitch is understandably hesitant – Charlie broke his daughter's heart – but he takes a chance. Thankfully, Charlie's a quick learner. He also has an outgoing personality. He's not bad to look at either, though Mitch tries his damnedest not to look at him at all.
Daughter's ex-boyfriend, remember?
Over time there's a bit of flirting and accidentally/on purpose rubbing against each other behind the bar, with both men lusting after the other. Charlie's always identified as straight so it's beyond strange that he's lusting after a much older bear of a man. Mitch has been out of the closet for years, but he knows better than to be lusting after his daughter's ex. Not only is it wrong for obvious reasons. Charlie is also his employee, and surprisingly, a quick learner, and a damn good employee at that.
Ah, but love gets what love wants.
I will say that it was really hot, even a little funny later, how exactly Charlie figured out certain things. That's all I'll say about that. 😉
A drunken phone call and some hot phone sex leads to something neither man is really prepared for. It takes forever quite a while for them to finally get their act together as a couple, but when it happens, it's sweet.
One thing I really liked about Charlie was how he didn't spend the entire book fighting his feelings for Mitch, even though he'd only ever been with women before – one of them being Mitch's daughter.
And here lies my only problem with this book —> Charlie had been in a relationship, had slept with, Mitch's daughter, Ellie. No big deal because it's been years, and I'm damn sure not a prude, but I kept coming back to that. For some reason, it bugged me.
Speaking of Ellie… I wasn't a fan. While I understood her point in a way, her delivery left a lot to be desired. She was very rude to Mitch about Charlie, and later, to Charlie about Mitch, the latter of which bugged me the most.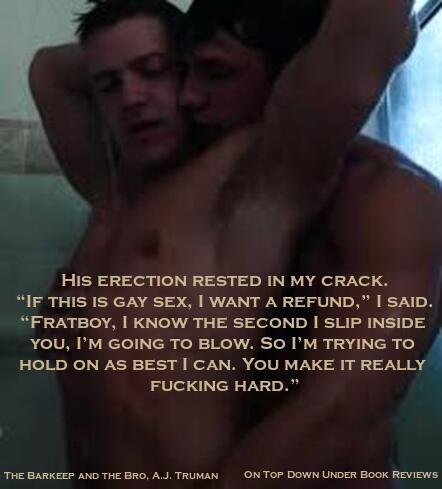 Ellie and Tim, her future husband, are in the middle of wedding planning. Because they were more into Instagram likes and having the perfect Pinterest wedding than ensuring they hired the best people to put their wedding and reception together (vendors, caterers, etc.), they have a major emergency a week before the big day. And guess who has to jump in and fix it? Mitch, of course. Not that he minds. It's what us parents do. What I did mind during that particular conversation Mitch had with his daughter was how she talked about Charlie. Yes, they dated in the past, and yes, they broke up and she got her heart broken. I get all that. I understand all that. What I didn't understand was how hateful she was to Mitch about him, how bossy she was with her dad about how he shouldn't have hired Charlie. Thankfully, Mitch didn't take any crap from her, daughter or no.
The thing about all that with Ellie is that she had absolutely no problem asking Charlie to help her dad fix her and her future husband's screwup. She doesn't like him much, calls him flighty, but 'make sure you jump in and work your ass off because I was too incompetent to ensure that certain things were in order for the biggest day of my life.'
The following week is crazy for everybody at Stone's Throw as they work together to make sure Ellie's wedding goes off without a hitch. Mitch and Charlie end up being forced to stay in the same hotel room (of course they do), so you can imagine what happens. All of that was pretty hot because they didn't just fool around in the room. There's also some 'inside a van' action happening outside the venue. 😉 Even so, Mitch has a bad habit of pushing Charlie away when it counts.
Thanks to Mitch, Charlie, and Natasha (Mitch's assistant manager), the wedding happens without any problems, with the exception of a few of Charlie's old frat brothers who were obnoxious, snobby jerks. It's the day after that didn't go too well when Ellie again decided to throw her unwanted opinion out, not caring who she hurt in the process.
As much as I tried, and as much as I understood where she was coming from, I never liked Ellie. She came across as a spoiled brat when I know she wasn't raised that way.
Something also happens with Ellie's mother's slimy husband, Vince. The way that was handled was perfect.
Overall, this is a good book, just not my favorite in the series. I liked both Mitch and Charlie. I'm all about age gaps, though I don't think the author gave the exact ages of either one. I love opposites attract. Mitch and Charlie are as different as night and day. Since I grew up in a small town, I love the small town vibe, so that's another plus. I loved seeing the other guys from the first two books, and I'm really looking forward to Amos' story, though I normally avoid jock/nerd books like the plague.
I'm really enjoying reading this author. There's a lot of humor, just enough drama to keep the stories interesting, great sex, and always the perfect HEA.
4 stars.