A Scandal for Stratford, (Lords of Bucknall Club, #6) J A Rock & Lisa Henry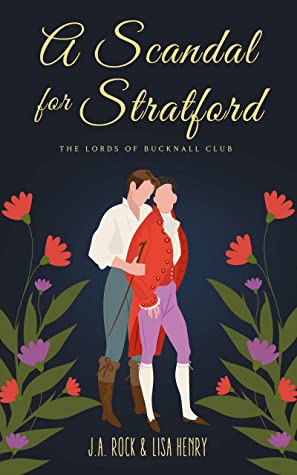 Rating: 4.5 Stars
Publisher: Self Published
Genre:  Gay Romance
Tags: Regency Romance, BDSM, Hurt/Comfort, Humour, Series
Length: 317 Pages 
Reviewer: Kazza 
Purchase At: amazon
Blurb:
He has all he could ask for.
James Lewis, the Earl of Stratford, has precisely what he wants: a quiet existence on his family estate, a thriving horse trade that leaves him plenty of time to work on the final volume of his anonymously published opus, The Maiden Diaries, and a deeply committed albeit unconventional relationship with his stablemaster, Harold Granger. While the shy, awkward earl can barely manage a word in London society, with Harold, he can share anything.
He wouldn't change a thing.
Harold Granger knows what he and James risk by loving one another. James's reputation as an eccentric recluse would be twisted into something far worse if anyone learned he was carrying on an affair with a servant. Worse still if anyone learned that Harold puts the earl on his knees and delivers the welts and bruises James begs for. But when it's just the two of them, everything feels so perfectly right, and Harold is determined to remain a safe harbour to James no matter what.
But a storm is fast approaching.
Their determination to protect each other is put to the test when James's volatile younger brother, Frederick, returns from a decade abroad, nursing grudges from the past. When Frederick stumbles upon James's secrets, he sees a means to rid himself of his brother and reclaim his own place in society. His scheming forces James and Harold from their idyllic life and into a web of treachery that can only be untangled by the Bucknall Club circle–if the two can let themselves trust these newfound friendships the way they trust each other.
A Scandal for Stratford is the sixth book in The Lords of Bucknall Club series, where the Regency meets m/m romance. The Lords of Bucknall Club books can be read as standalones but are best enjoyed in order.
**SPOILER REVIEW**
Review:
It was nice to finally meet the author of the salacious The Maiden Diaries that has had the ton all a twitter throughout this series. The antics of Lord Slyfeel are covertly overtly pondered in every series book. The risqué Slyfeel has no preference as to who he fucks, anyone will do, he's an equal opportunity debaucher. The saying of 'it's the quiet ones you have to watch out for' definitely describes The Earl of Stratford. James lives away from London at Eavesmore, the family estate where he raises horses that befit the Stratford brand. Even more than that, James doesn't live in the grand house, instead choosing the property's groundsman's cottage more often than not, sharing it with Harold Granger, the estate's stable manager and James' lover. So the earl's lover and significant other is a servant, James writes a scandalous book series, and is very much into rough and raw sex. Harold is the dominant to James' submissive but there are some very hard edges to the sex, including hooks up the arse and riding gear adapted to O rings and gags. It's pretty clever use of equipment that seems crude but fits the era.
"I ache," James said frankly, because Harold did not abide lies or attempts to obfuscate. "I feel there is something very wrong with me, with the way that I was made, because I like to ache. It reminds me of the attention you have paid me."
"Nothing wrong with how you were made," Harold said, his voice taking on a gruff note. "You were made just right for me."
James is a very difficult person to get an emotional bead on. Hiding things that are still problematic for many in 2022 definitely keeps him shut down in 1818. Sometimes he feels like a man and sometimes she feels like a woman and it is absolutely dependent on James' mood, not the clothes being worn. Harold is not only accepting of this, he fully supports his Jamesey. He buys dresses with James in mind. They are an absolute pair. I can't describe one fully without the other being involved. They've loved and cared for one another since teens. At the same time as we are learning about James, and James and Harold, James is trying to introduce a strong gender fluid character to The Maiden Diaries, the publisher doesn't agree unless the character is used as comic relief, something James won't hear of. So James fights for this as they fight personal emotions. Fights past made present.
While James and Harold have created Eavesmore as an oasis from prying eyes, Frederick, James' younger brother,  comes back after a decade or so away, having been been sent to live with their Aunt Berenice. Their parents died when they were both young, James had to take on an estate and a title at sixteen, as well as Frederick being seven years James' junior. James couldn't handle the personal grief, Frederick's emotions, and everything else required to be the new earl, hence Frederick being sent away. Both are affected by the period's inheritance structure and an era where someone had to grieve very quickly, very quietly and very stoically. Harold is not immune to loss either. And it's not easy being the help when your love is of a different station.
Harold thought of James and wondered how his reunion with Frederick was going. It was at times like these, when he could not be at James's side, that he felt the gulf between their stations most acutely. But there was no use dwelling on it, for it was what it was, and nothing could change it. James Lewis was the Earl of Stratford, peer of the realm, and Harold Granger tended the earl's horses.
I've enjoyed this series from the first book I read until the last, which I believe this is. It was so delightful to see all the past characters on page again. Every one of them helping James and Harold. Chant and Warry and Hartwell are particularly supportive, how I applauded that. Chant's understanding of family dysfunction and sadness made him kind and compassionate. Warry loves horses, Hartwell loves Warry so much he buys him horses, and Hartwell can't help but try to bring someone shy into company. James has seemed like he needed a little friendship when he rarely appeared at the Bucknall Club. Oh, and Becca is back from the Continent and was her bold, secure self, giving advice on how to not just weather a scandal, but embrace it with the utmost gusto. Morgan and Loftus were their usual well meaning but not so well actioned selves. How I adore them.
A Scandal for Stratford has a different feel to the books that precede it. The others were somewhat lighter with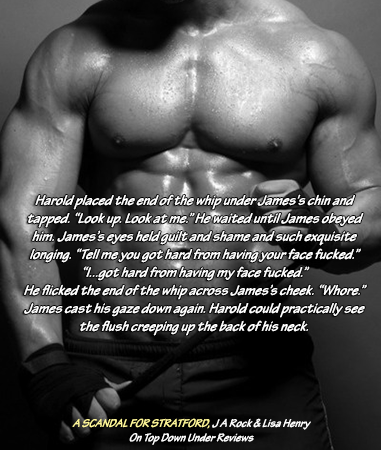 occasional dips into darker feelings or past tragedy. They were also light on sex, but A Scandal for Stratford has past hurts plus on page complexity. It also has more sexual contact than the others. Even the chapters are heralded in by racy little snippets from The Maiden Diaries. It's perfect for the tone of the book. The sex in this book is that of a Dominant and a submissive, with some aggression and humiliation. I'm not a fan of humiliation but James likes it and Harold delivers it as needed. The play overall is very dependent on what mood Harold can read in regards to where James' head is at. A 'no' can be a definite 'yes', trying to get away can mean 'hit me harder, hurt me more'. So while it's all consensual, and the relationship is such a loving one, the sex is not sweet per se, and you need to be okay with that.
Overall:
This is a sassy, often amusing – inserting shallots is the running gag in this book – alt-Regency period series that also pays homage to era-correct events or people while taking delightful liberties. The writing is of a high quality and remains incredibly entertaining from book #1 through to book #6. The characters, while intertwined, are all very different from one another and it addresses that differentiation of individuals within common humanity so very well. It all makes the series a standout in the genre. Nothing has ever been cookie cutter. I'm going to miss the Bucknall Club and it's fabulous attendees and their lovers, but I can always reread my favourites, can't I? 4.5 Stars!