Borrowing Blue (Made Marian #1), Lucy Lennox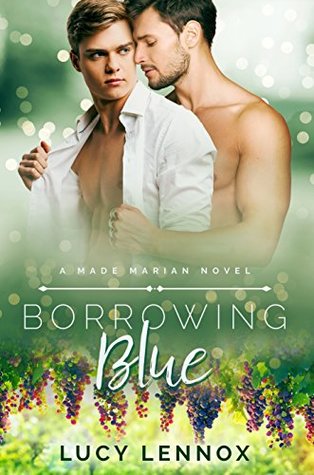 Rating: 4.5 'Crazy Family' Stars
Publisher: Lucy Lennox
Genre: Gay Romance
Tags: Contemporary, Crazy Family Drama, Humor, Insta-Love, OFY, Romance, Series
Reviewer: Cindi
Purchase At: Amazon.com
Blurb –
Blue: When my ex walks into the resort bar with his new husband on his arm, I want nothing more than to prove to him that I've moved on. Thankfully, the sexy stranger sitting next to me is more than willing to share a few kisses in the name of revenge. It gets even better when those scorching kisses turn into a night of fiery passion.
The only problem? Turns out the stranger's brother is marrying my sister later this week.
Tristan: I have one rule: no messing with the guests at my vineyard resort. Of course the one exception I make turns out to be the brother of the woman my brother's about to marry. Now we're stuck together for a week of wedding activities, and there's no avoiding the heat burning between us.
So fine, we make a deal: one week. One week to enjoy each other's bodies and get it out of our system. Once the bride and groom say I do and we become family, it'll all be over between us. Right?
Fair warning: Blue and Tristan's story contains smoking hot scenes of man parts touching, pee-in-pants descriptions of grannies cursing, and the sweet improbability of two strangers finding their happily ever after when they least expect it.
Review –
What do you get when you throw in three naughty old ladies who have no filter, two hot strangers getting drunk together, a couple of exes, a lot of wine, a few crazy family members, and a not so loyal dog named Piper?  You get Borrowing Blue, the first book of the Made Marian series.
Bartholomew – aka Blue – is at a vineyard in California for a week of wedding festivities for his younger sister Simone. He'll be leaving shortly after to move to London after getting a major promotion. He's sitting at the bar at the resort when he's approached by a handsome man and asked if he's having a nice time. He says not really. 🙂 Blue's apparently already had a few drinks so he has no problem telling his sorrows to the hot stranger when asked. Just when he thinks it can't get any worse, he spots his most recent ex with a hot twink. Bad enough, right? Worse? The hot twink is wearing a wedding band. Blue and Jeremy just split up six months ago. Blue knew Jeremy was invited to the wedding, but he wasn't exactly expecting the man to have a date, much less one wearing a wedding band. The stranger, whose name is Tristan, plays pretend boyfriend for a few seconds when he leans over and kisses Blue like he means it. It's done to make Jeremy jealous but when the kiss is over, Blue's thinking, "Jeremy who?"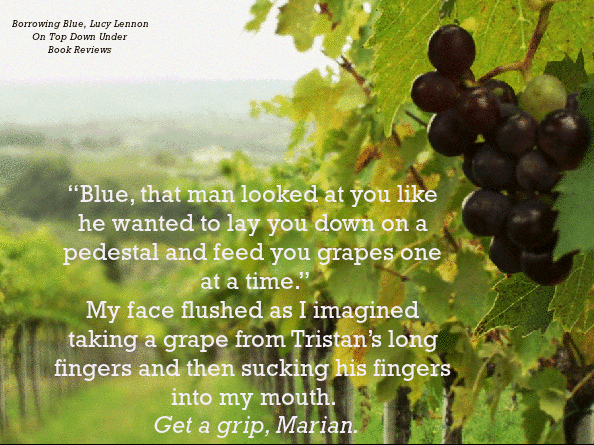 Yeah, so was Tristan.
Tristan had mentioned an ex-wife so Blue's wondering what the heck just happened. But then Jeremy walks over and Tristan kisses him again… okay, so maybe he's not as straight as Blue thought he was. 😉 They end up back in Blue's room and have some serious naked time. What Blue doesn't discover until he's meeting the family the next morning for breakfast is that Tristan owns the vineyard. Not just that. Tristan's brother John is marrying Simone, Blue's sister. They've never met before and John and Simone have always referred to John's brother as Alex. The reasons for that come out later. Blue had no reason to even consider that the man who was in his bed just a few hours before was practically family – the same man who had to borrow one of Blue's tees so he wouldn't be doing the walk of shame in front of his employees with a cum stained shirt. The t-shirt he happened to grab of Blue's? One from a family reunion with Made Marian on it. Yeah, it was pretty obvious where he spent his night. *snort* It didn't matter, though. Tristan immediately introduces himself as Blue's boyfriend, a major shock to his homophobic mother and those on Blue's side who had no idea Blue was even seeing anybody. It's something that was kind of planned the night before when they talked about how their families were constantly trying to set them up with people. Of course, when the pretend boyfriend thing was joked about neither knew who the other one was.
"Dude, when we do get pretend married, that shit is going to rock. I'm having T-shirts made for us that say something totally cheesy. Yours will say, 'This Wedding is So Gay.' And mine will say, 'He Said He Was Straight Until He Came In My Ass.' You know, something like that."
It may have started out as a pretend thing for the sake of Blue's ex but there's nothing about Tristan and Blue's relationship that's fake.
This was not a gay-for-you story. Tristan had played around a little with guys in college before he married a woman. The only reason he stopped was because of a bad experience that's described in the book. He's always been attracted to men. He just never acted on it.
Blue's forced to listen to John go ballistic over Tristan 'pretending to be gay just to ruin the wedding' and then having to deal with the ex-wife who was summoned by Tristan's mother and John. We can't forget how Tristan's bitchy mother looks right through Blue. Oh, and then there's Jeremy and his cute twink Brad, who I really felt sorry for. With all of that, Tristan never pulls back from Blue, acts uncomfortable, or pretends they aren't a real couple. It's only been a few days but it doesn't matter. They are a real couple and are quite vocal about it, not giving much of a damn what others think, especially John, the ex-wife, and Jeremy.
There are pervy old ladies who speak their minds pretty loudly, a slew of Blue's hot brothers who have their own stories, and a bunch of naked time and innuendos. Throw in some family drama, Tristan and Blue trying not to think about Blue having to leave for London when they just found each other, and even more family drama, and get one hell of an entertaining read. I can't forget the humor. I've read reviews where some thought the naughty old ladies were a bit much, maybe even offensive. They didn't bother me. They actually had me laughing a few times. It's probably because I live in the South and you can't go to a southern family reunion without seeing at least one elderly person just like these women.
I loved Tristan and Blue together. It's totally insta-love but it didn't matter. They just knew and they weren't shy about it. Both took a little while to say the words but when they did it was sweet.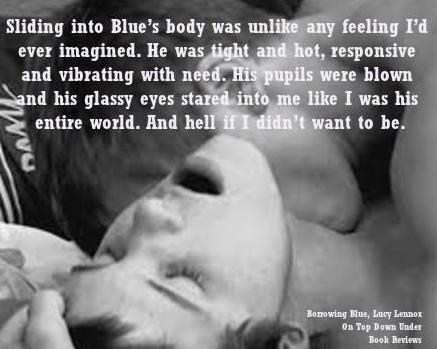 They're forced to separate a little earlier than planned due to a medical emergency and when the above-mentioned family drama reaches its peak. My heart broke for these guys but it came back together when they did.
This made me laugh out loud a few times. The families were both nuts, especially the the old women, Aunt Tilly, Granny, and Irene. Blue and Tristan also had humor between them that kept me smiling.
A really fun, entertaining book.