The Alpha Experiment (Mismatched Mates #5), Eliot Grayson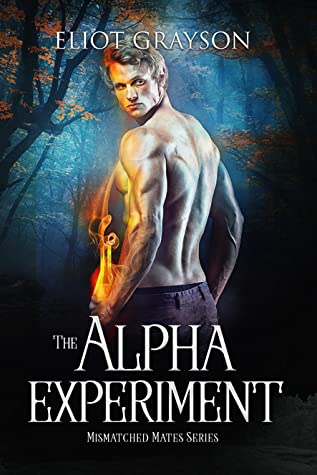 Rating: 4 Stars
Publisher: Smoking Teacup Books
Genre:  Gay Romance
Tags: Friends to Lovers, Kinseying me About, Paranormal, Knotting, Series (but definite standalone reading) 
Length: 219 Pages
Reviewer: Kazza
Purchase At: amazon
Blurb:
Studying shifter genetics takes brains, patience…and sometimes simulating mating rituals with your alpha-werewolf bestie. You know, for science…
Brilliant geneticist Newton McEwen, the only human in a family of werewolves, has devoted his life to researching the scientific key to shifter magic. Now he's being blackmailed and his life's work is threatened if he can't produce results.
Alpha werewolf Colin Kimball is a newly-minted pack leader with a mountain of responsibilities, but when his lifelong best friend tells him he needs help, Colin drops everything to run to his aid. But Newt's not just looking for a brawny bodyguard to watch his back—he needs help with an experiment, one he can't carry out alone.
Out of academically approved methods, and desperate to accelerate his research, Newt's trying a last-ditch approach, with himself as the test subject. And the very alpha Colin as the catalyst.
Determined to succeed, Newt's willing to get up close and personal with Colin as many times as it takes. Only feelings weren't a variable logic-minded Newt took into account. Now not only is Newt's career on the line, his most important relationship is at stake. Can they outwit Newt's blackmailer and move on from their experimentation…or will they lose the friendship that means everything to them?
The Alpha Experiment features not-so-scientific mating rituals, magical handcuffs, some very inappropriate outdoor activities, knotting, and a guaranteed happily ever after. Even though it's number five in the Mismatched Mates series, it can be read as a standalone. The series does not contain mpreg.
Review:
While Amazon lists this book as book # 5, there are technically two main books in the series before this – The Alpha's Warlock and Captive Mate – however, there are two other books in this world, including the brilliant Christmas addition, A Very Armitage Christmas,  and the very good First Blood but I feel they're really .5 books.  Most importantly, you can read The Alpha Experiment as a true standalone because there is one mention of a shaman (Arik) from the Armitage pack and that's it. I've been spoilt by the snarkery and shenanigans of the first books and I missed Nate and Ian and Arik and Matthew. I missed the pack and brutal, hilarious banter and pettiness of the previous pairings – Newton is sweet, with a drop of pettiness, and Colin is laidback, but oh so wonderfully alpha-ery. I wonder if Eliot Grayson will have them all meet up because that would be something. *Sighs
Dr Newton McEwen is a scientist who is a university lecturer. He's a human son of a werewolf father and human mother. All his siblings have strong werewolf/alpha tendencies, like his sister who is one of only nineteen female alpha werewolves, and Newt feels less-than. He's pretty down on himself. feels he's unattractive, weak. His self image is not healthy and I wanted to shake him because he gets a tad whiny about it. The people who count in his life (all except him) see his good qualities while he's sure he's just so 'basic' in amongst the high achievers. This forms a huge part of the 'why' of his research into possible latent shifter genes and triggering or stimulating those genes. But the intensive research scientist part of himself overrules the human aspect and believes this is all about the science when this reader knew it was all about the intrapsychic. Maybe, he tells himself, it will attract a Nobel. Pffft. More like a growly alpha. At first he believes he needs a werewolf, an alpha, who can scare the latency out of him. Or maybe, just maybe, fuck him full of semen that will also trigger concrete responses, and I was here for it. I was very happy for both parts of that hypothesis to eventuate. Chasing and knotting and whatever.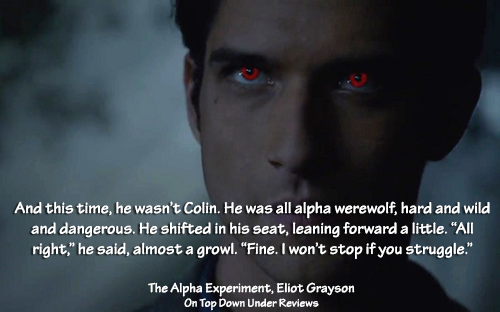 It seems Newton isn't the only person looking at his research. There appears to be someone in the background, lurking. Newton has been receiving emails that can be described as overzealous at least and stalkery at worst. After the latest concern, and when Newton's family calls him and his sister home from the university to the protection of the pack, Newt decides he can't up and leave his important work behind. Enter Colin Kimball to be Newt's own personal, very alpha bodyguard.
I knew a little about Colin from the first 2 series books as part of the infamous Kimball pack. Colin has been Newton's best friend for seventeen years, since they were thirteen. They've grown apart a little over the last few years as Newton's scientific work and Colin's new role as the Kimball pack's alpha has mostly gotten in the way. However, they still see each other on major holidays, talk on the phone, and have each other's backs if and when needed. Now would be one of those 'when needed' times.
Some of my thoughts-
Colin has been with guys as well as women. In this world werewolf = sexual fluidity and I very much like that. But Newton has never thought about a man or men before. Never. So this is what I refer to as Kinseying Me About. I'll be honest, while a lot of people in the genre like it, it's not my crack. But I read some dark shit. So… each to their own. Anyway, this book worked for me because Eliot Grayson makes me really like her characters. She writes humour that I enjoy, and she also writes from the heart – and that works for me. Every. Time.
There's some face-melting scientific experimentation sex in this book. The scene in the forest was smoking hot, and that was followed up with more creations. I like some dirty-talking domination from one and apprehensiveness or nervousness from another of my characters…and, mm-mmm, did I get that. I wished they'd repeated the forest situation again for science because I love reading the edgier side of sex. But with quotes I can pull like below, I was invested.  Oh yeah, puns involved now – knotty but nice.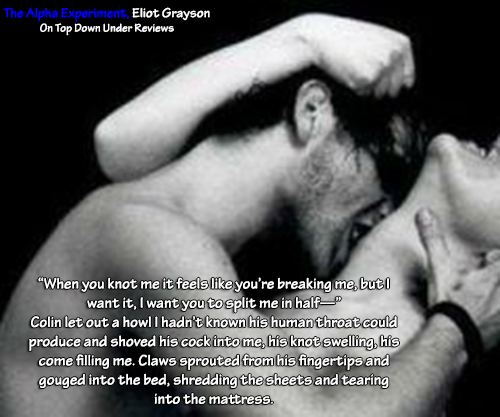 Like all of the other series books thus far, The Alpha Experiment is told through one POV, and that is never the alpha's. So Newton has the narration duties. I'm putting it out there that this book would probably have been 5 stars if Colin had a POV, even if he had 4 or 5 chapters that were his POV. Like never before I really, really wanted this particular character's voice. He was my main addiction in this series book. I adored Colin. I had an interest in him from books #1 and #2, the enigmatic but decent alpha from the Kimball pack. You knew he felt for Newton but I wanted to feel that outside the dialogue he had, which had me rivetted to him. When Colin reacted the way he did to something, I can't say what here, I wanted to be with him and be in his head.
There is a mystery element going on in the background. Newton's friend and colleague Meredith is involved in that, while Colin provides moral support (sexperimentation) and is the protective and gorgeous muscle. Together they all hope to thwart who they believe is behind it. It's more fun than drama but it provides some interest and pushes Newton to take a leap. I also like some payback. So I was good.
While all Eliot Grayson books have good, strong character development, this book leans much more heavily on being character driven than the others preceding it. I missed the more paranormal/magic world and action of books #1 and #2, etc. I do love PNR and UF, and when it's mixed with gay romance? Well, I'm a happy reader. Especially when I get good writing that combine all those elements, and Eliot Grayson is a good writer. This is a mighty fine series.
I'm not terribly good with ongoing series but I'm a fan of this writer and these mismatched mates. I've not only read the books, I've listened to the audiobooks available as well. The Alpha Experiment was another very enjoyable, moreish read in this world and I'm now seriously looking forward to where the next series book takes me. 4 Stars!