The Alpha's Warlock (Mismatched Mates #1), Eliot Grayson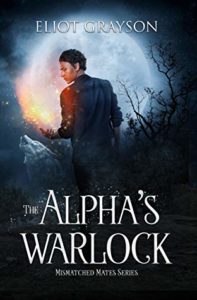 Rating: 4.5 Stars
Publisher: Smoking Teacup Books
Genre:  Gay Romance
Tags: Paranormal – Werewolf. Magic, Humour, Snark, Enemies to Lovers (kind of), Knotting 
Length: 172 Pages
Reviewer: Kazza
Purchase At: amazon, Eliot Grayson, Aussie Amazon Link 
Blurb:
Cursed, mated, and in for the fight of their lives…
Warlock Nate Hawthorne just wants a cup of coffee. Is that too much to ask? Apparently. Because instead of precious caffeine, all he gets is cursed by a pack of werewolves who want to use him for his magic. Now the only way to fix the damage is a mate bond to a grumpy and oh-so-sexy alpha in the rival pack, who happens to hate him. This is so not how he wanted to start his day.
Ian Armitage never intended to take Nate as his mate. The Hawthorne family can't be trusted. Ian knows that better than anyone. The fact that he's lusted after the way-too-gorgeous man for years? Totally irrelevant. Ian's just doing what is necessary to protect his pack. This whole mating arrangement has nothing to do with love and never will. That's his story and he's sticking to it.
Nate and Ian will have to work together if they have any hope of staving off the pack's enemies and averting disaster. That's assuming they can stop arguing (and keep their hands off each other) long enough to save the day…
The Alpha's Warlock is an explicit M/M paranormal romance featuring a snarky warlock, a brooding alpha werewolf, knotting, enchanted socks (long story), and a guaranteed happily ever after.
.
Review: 
No audio/podcast review today because I've all but lost my voice. I have (what I simply hope) is a cold playing havoc with me right now.
.
At the beginning of The Alpha's Warlock, Nate has been kidnapped and cursed by a shaman on the land of a neighbouring pack to the Armitage werewolf pack. He's able to get away and crawl to seek refuge with Matthew, the Armitage Alpha. Nate has a past with this family. He grew up around them and later had a relationship with their cousin, Jared. His father used to be involved with his magic skillset for them, although his father has always been an opportunistic bastard. Nate envied how close Matthew and Ian always were as well, particularly with him being an only child.
When Nate ends up in Matthew's house being questioned about what's going on, why he's so sick and crawling onto their land, he has no clue, other than someone from the Kimball pack was involved with some shaman and it's something to do with Nate being bonded to a were. It's like he'll be a Trojan Horse in the Armitage pack.
Long story short, Ian ends up mate-bonded to Nate to save his life, nothing like a bit of magical knotting dick, and let's just say that this starts a very, very snarky affair between a warlock and a werewolf, a pair who bicker and fuck and fuck and bicker and try to find out who did what to Nate and exactly why. Can the Armitage brothers trust Nate? Does Nate trust them? Especially Ian, and who's behind what's going on between packs?
This is a little different to some of the other shifter books I've read in that the Armitage pack are not prosperous. They can't afford proper wards or magic on their boundaries. Ian lives in the 'shack of solitude', Nate's nickname for what is a very, uh, rustic cabin on basic pack land. I loved the names Nate came up with for whoever or whatever he felt like at the time. Let's face it, without much caffeine most of us are going to be a little pissy.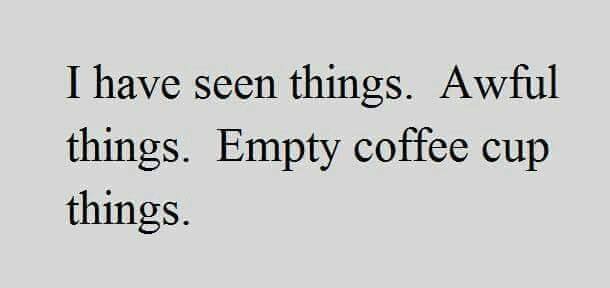 Nate is the product of a mage father and a human mother. He's human but a warlock. His magic is all over the place because his father used and abused him for years. In spite of all of this Nate's a survivor. He cracked me up because he's full of humour and snark and he can be petty. Even though he's out-muscled by the wolves around him, he gives sass and cheek by the bucket-load. He's also clueless about Ian's feelings. I mean, Ian can be a bonehead about them, so there is that.
Ian is not the loquacious type. He seems sullen at times and Nate thinks he hates him and blames him for Ian and Matthew's cousin's death. Honestly, the reader knows Ian has held a torch for Nate for some time and he bickers because he isn't sure how to handle it any other way. Not only that, Nate is a handful. There's a strong fear of rejection by both of the MCs, although Ian starts out knowing Nate is more to him, Nate finds his attraction growing now as he's forced to spend more time with Ian. Even so, how could the very strong, hot, if not taciturn, Ian love someone like Nate? His own father certainly never showed him any love. Other men have been okay for hook-ups, but never put him first. As he sees things through their mate bond. As he sees that Ian is a protective alpha in his own right. As he hears some of the things Ian tells him… eventually, he realises who Ian is. But Nate won't be anyone's possession and that's where this book is a little different too. The word mine isn't used like I've read many times before. Nate stands his ground on being loved but not possessed. Is he OTT at times? Yep. I loved him for it. He reminded me of someone I know.
This time I ended up with jeans rolled three times at the hem and wrapped almost double around my waist with Ian's one and only belt — I had to punch a new hole in it with a kitchen knife — and a giant sweatshirt. Just great. If the Kimballs didn't get me first, anyone passing by would execute me for crimes against fashion.
Things I really liked:
The contemporary paranormal world building is very good. It sets the scene for further books
I understood and loved the MCs
The snark and sass and crazy back and forth really appealed
The heading for each chapter… I love when authors have headings that tie in with the story, and this book did that really nicely. Who doesn't love quirky headings like Dishonesty is Important in a Relationship? Getting the Last Word? …Plan for the Worst? Especially with this pair as MCs
There is a good ratio of sex to story. I got plot, paranormal world building, and I got sexy times, including knotting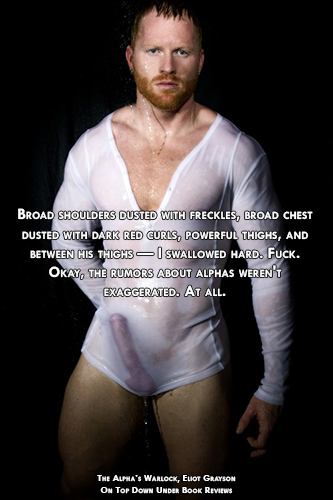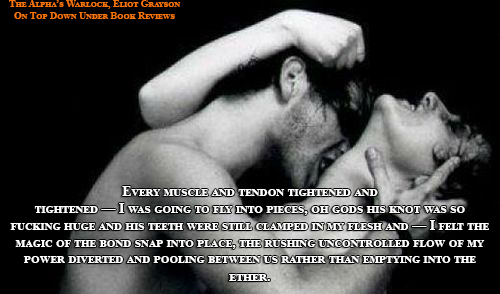 This story grabbed me from the beginning and kept me engaged until the very end. The reason for 4.5 stars instead of 5 is that the weird situation in town, the police being called, wasn't as well executed as it could have been. Even though I understood why this was purely from Nate's POV, I occasionally felt like I missed Ian's perspective.
There were two books I was anticipating the release of in March and this was one of them. I was so very glad the writing matched my expectations. I can't wait for book #2 in this paranormal series now. Highly entertaining and engaging reading. Eliot Grayson delivers again. 4.5 Stars!