Risk Taker (Mixed Messages #3), Lily Morton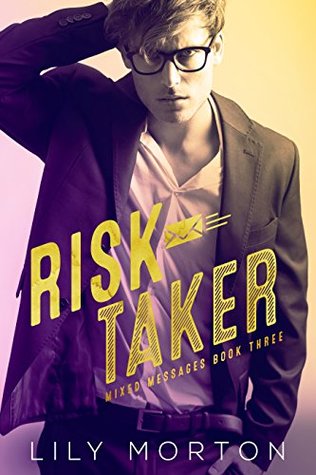 Rating: 4.5 Stars
Publisher: Lily Morton
Genre: Gay Romance
Tags: Contemporary, Friends to Lovers, PTSD, Romance, Series
Reviewer: Cindi
Purchase At: Amazon.com
Blurb –
Being in love with your best friend is hard.
Henry's the odd man out. All his friends are settling down, and his reputation as the Hook-Up King of London seems more like a curse than a blessing these days. Especially when it keeps photojournalist Ivo, his best friend and the brilliant man he's loved since they were fifteen, at arm's length. But that's where Ivo wants him, right? Putting aside his feelings, Henry decides to give up casual sex and look for the real deal. After all, he has no chance with Ivo – or does he?
Henry is everything to Ivo. Best friend, soul mate, the one person who has never let him down. The one person he is loyal to above everything and everyone. But Henry's in a box marked best friend and that's where Ivo's kept him for nearly twenty years, despite steadily falling in love with the gentle man. And besides, why would Henry want to date Ivo? Burned out and injured, he's the walking embodiment of damaged.
Distance has helped Henry and Ivo keep a lid on their attraction, but when they find themselves in the same city for a change—Ivo hurt and needing assistance, and Henry more than willing to provide it—the two best friends grow closer than ever, forcing a realization, and a decision. Risk their friendship for their hearts? Or can they have both?
From the bestselling author of Rule Breaker and Deal Maker comes a tender love story about two best friends who are perfect for each other, and always have been – if only they knew it.
This is the third book in the Mixed Messages series, but it can be read as a standalone.
Review –
Henry, an attorney, was introduced in the first book of the series, Rule Breaker. He and Gabe are good friends and he played a big part in getting Gabe and Dylan together. Well, with a little help from Jude, Dylan's best friend. I didn't learn a lot about Henry but I learned enough to know I really liked him a lot.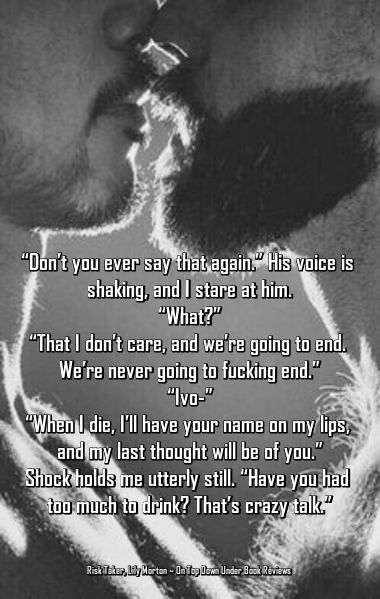 Risk Taker starts with Henry doing what he does best – getting a blow job in the bathroom of a club. Like with most of his recent anonymous hookups, once it's over, he feels flat. He leaves the club and heads home, making a decision along the way. He's tired of hooking up in bar bathrooms. He wants what his friends have, a relationship that lasts longer than the amount of time it takes for both parties to get off.
Henry gets to his house to find his best friend, Ivo, outside waiting for him. He and Ivo own the house equally but Ivo, a photographer, is only home a few months out of the year. He usually works in dangerous war zones. When he comes home this time it's with a recovering gunshot wound.
Henry and Ivo have a special relationship. Henry's abusive father married Ivo's gold digging mother when both men were fifteen. They've been close ever since. The house was willed to both of them kind of as an eff you by Henry's father. You'd have to read the book to understand it.
Henry's been in love with Ivo for as long as he can remember but he won't act on it. He tried that once and ended up getting hurt when Ivo put a stop to it because it could destroy their friendship. It wasn't Ivo being mean or even rejecting Henry, though Henry doesn't see it that way. Ivo just couldn't handle the thought of them losing what they have.
And now Ivo's back home and Henry has to again pretend like he's not head over heels with his best friend. What he doesn't know is that Ivo has always loved him as much as Henry loves him. He just wouldn't risk their friendship.
Ivo may be home now, but Henry knows he'll be on another dangerous assignment soon enough. He always is. Restless, he never stays home for long. His reasons for that come out in the book.
Knowing he can't keep pining for Ivo, Henry gets serious about finding somebody to spend his life with. This is where his friends come in. Gabe, Henry's old college roommate, and Dylan start matchmaking. I laughed so hard. These dates were hilarious. There's the guy who has a screaming fight in a fancy restaurant with his ex and his new man and the guy who has his grandmother's ashes with him on the date, to name a couple. Each one that shows up to pick up Henry gets the evil eye and rude treatment from Ivo but Henry doesn't see it. The dates do, but not Henry.
I laughed so hard at the blind dates. When the one with his grandmother's ashes ends early – Grandma didn't like Henry too much (don't ask) – Henry goes to Dylan and Gabe's. Gabe's not home yet so Dylan and Henry commence to get drunk. Oh, but that's not enough. Dylan's convinced that Gabe needs to relax so he digs out the stash of pot that Dean – mentioned in the last book, Asa's stepbrother – left after staying with Dylan and Gabe for a few days. Sometime during all that, Henry sends Ivo a text. He shows up at the time Gabe gets in from work. What they find when they walk inside the house had me laughing out loud.
In middle of all the craziness with the dates, Ivo kisses Henry, confusing him more than he's ever been. What's worse is that Ivo doesn't mention it again. They finally, finally, end up having sex with each other but things are still weird. Henry's finally with the man he's loved since he was fifteen, but what are they? A couple? Fuck buddies? Henry doesn't know because Ivo refuses to discuss it with him. Every time Henry tries, Ivo uses sex to change the subject.
That got old. The lack of communication, I mean, and I blame that on Henry. He should have forced the issue and thought with his big head, not his little one. Sure, they were together but they really weren't, you know? Too many unknowns. And it also didn't help that Henry knows that Ivo will be taking off to parts unknown – dangerous parts unknown – for his photography as soon as he's able. He's only home now because he's been benched by his boss for being careless in war zones. He also suffers from severe PTSD and has to see a therapist until he's given the go-ahead to get back to taking photos. Every time Ivo leaves for another assignment Henry worries that he'll never see his best friend again.
Ivo is also an artist. I mention that because it's a big part of Ivo when he's home.
It takes a night out with Gabe, Dylan, Asa, and Jude for things to finally come to a head with these two. Well, and a huge argument between Ivo and Henry involving one of their exes.
This is a good book but I got really aggravated over them not discussing things. I understand why Ivo was scared to, but Henry should have pushed it more. And he was so oblivious. Everybody could see how the blind dates were affecting Ivo but Henry couldn't.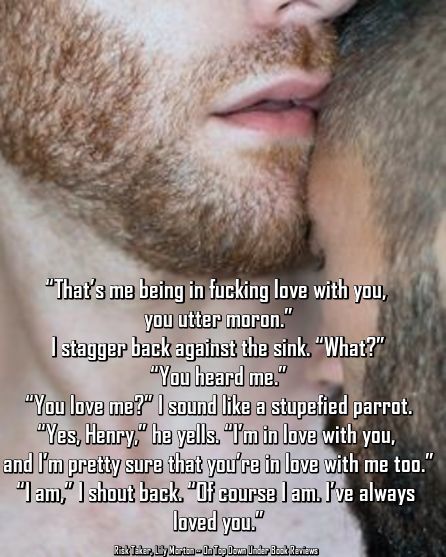 There's a lot of humor in this book but there are also a few sad moments. Ivo's PTSD broke my heart, as did a few other things with him pertaining to his late father and other family. His mother was a gold digging piece of work. There are some flashbacks – which I really hate normally – that gives the reader a better glimpse of things with their parents. I also have to mention Silas, Henry's brother who's bisexual. I've just discovered that Silas has his own story but it's in an entirely different series, Finding Home. This seems to be a pattern for me lately. I think I'm finished with a series only to find out that some of the characters are in different ones. At least this time it's a series written by the same author, not crossovers with two different authors and two totally different types of series. I'm referring to the Made Marian and Protectors series by Lucy Lennox and Sloane Kennedy. There's also the Forever Wilde series by Lucy Lennox that crosses over with Made Marian.
The ending was very sweet. I love how things were finally worked out between Henry and Ivo. I admit to getting a little misty-eyed when they finally got it together. I loved seeing Gabe, Dylan, Asa, and Jude again. I've mentioned many times how I didn't like Gabe in his and Dylan's book. I'm really liking him now. He's a good friend to Henry and becomes one to Ivo. Dylan is just adorable and hilarious. Jude and Asa aren't in this a lot, but even so, it was good to see them again.
A really good book. My only complaints are the lack of communication and I feel that things dragged out a little too long before Henry and Ivo got their act together. Like with the others, there's an extra scene on the author's website, The Lost Weekend. My quickie review for that is below. There's also a deleted scene that takes place between chapter four and chapter five, A Change is as Good As Rest. The author removed this chapter from the book because it didn't flow with the rest of the story. After reading it, I have to agree.
The Lost Weekend
This is set two years after Henry and Ivo have been together, and three years before the epilogue.
Ivo, who isn't exactly known for being the romantic type, plans a weekend away for him and Henry. Henry's kind of a snob (I say that in a nice way) whereas Ivo tends to go with the flow. They end up getting stuck in traffic on the way to their destination, there's a bit of, um, an incident where the rental car isn't drivable, and they're forced to make other arrangements. Those arrangements being Ivo calling an old colleague Max, who just happened to have been a guy he'd slept with years before. I did not like Max at all. But I did love how Ivo and Henry handled him later when he turned into a major jerk. He's one I have no desire to ever see a story for, even if the author did kind of try to redeem him later.
A nice story but not really necessary. Strike that. One part of the story (with regard to Ivo never wanting to get married) was necessary. The rest of it just felt like filler.