Deal Maker (Mixed Messages #2), Lily Morton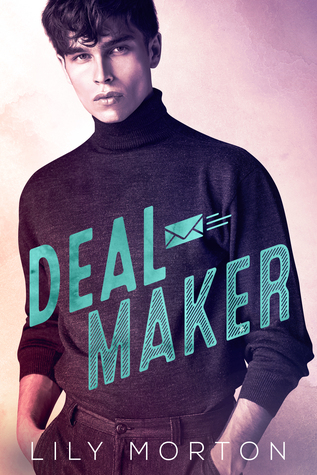 Rating: 5 Stars
Publisher: Lily Morton
Genre: Gay Romance
Tags: Contemporary, Actor/Model, Age Gap, Bi Character, Family/Kid, Humor, Romance, Series
Reviewer: Cindi
Purchase At: Amazon.com
Blurb –
Sometimes your mouth makes deals that your heart can't honour.
Jude is a highly successful model, but a very reluctant one. His life is full of casual hook-ups with pretty men in glamorous locations, but it's still empty. However, circumstances decreed a long time ago that this was his path, so he's resolutely stayed on it and accepted his fate with good grace. He made a deal with himself and his hook-ups. Get in, get out and no ties with anyone.
However, an accident at home one night leads to him making a new deal and accepting the offer of help from an unlikely source. It leads to an unexpected summer of falling in love with a larger than life man and his child.
But by the end of the summer his reasons for not staying are still valid. Will he turn away? Can he?
Asa is a talented actor who has spent time away from the scene to look after his son. But now he's back, and the last thing he needs are complications from the gorgeous man who is staying with him. Scarred from too many betrayals, he has no intention of forming a lasting tie with anyone. However, he can't resist the beautiful man with secrets, and to his horror he develops feelings.
But a deal's a deal and they said it was just for the summer. What can Asa do with a man who has forever in his eyes and goodbye on his lips?
From the Amazon bestselling author of 'Rule Breaker' comes another scorchingly hot romantic comedy.
Review –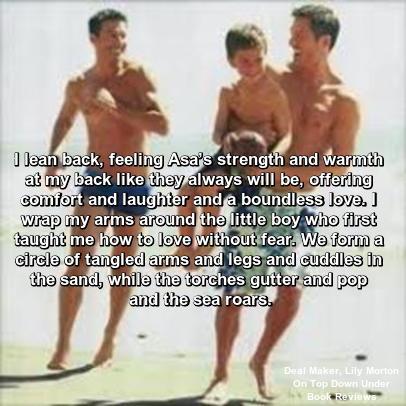 This was so good. I wasn't a big fan of the first book in the series, Rule Breaker, so I wasn't sure what I was getting into with Deal Maker. Jude was Dylan's best friend so I already knew a little bit about him and I really liked him. And I have to say something about Gabe, Dylan's man. I didn't like him much in their book. In Deal Maker, I adored him. This doesn't change my rating of that book nor does it have me making changes in the actual review. What I felt for Gabe in that book was quite valid.
Jude is a model, known mostly for modeling underwear for Calvin Klein. He has the looks, the body, and is a natural in front of the camera. Modeling was never Jude's dream but it became a necessary evil. Unfortunately, he's often clumped in with the stereotype of the models who don't eat and who don't have a lot upstairs. 😉 That's not me saying that models aren't smart. Like I said, stereotype. The man in Jude's bed is that person. Ah, Dean. He was so ditzy he was charming. The upstairs neighbor overflows his bathtub and the bathtub comes crashing down in Jude's bedroom. You'd have to read the book to see how funny all that was with Dean. I adored his naive and airheaded self.
"You alright there, Bruce Lee?" I mutter, grabbing a towel and rubbing at my arms where I can still feel the itching from whatever was in the ceiling.
He stops his elegant movements and looks at me. "You've got my name wrong, babe," he says cheerfully. "It's Dean, not Bruce."
"Oh, no I meant-"
He shakes his head pityingly. "I'm not bothered. We're not exclusive after all. It's just a bit bad mannered not to remember the name of the man who was drilling your arse last night."
"I'm sorry, Emily Post," I mumble, and then hold up a hand when I'm sure he's going to lecture me on the fact that he isn't called Emily.
Now Jude has a problem. The apartment isn't livable and he doesn't have a whole lot of money to spend on another place. He could stay with his best friend Dylan and his man Gabe until the repairs are made, but the thought of listening to the new couple have very loud sex at all hours of the day and night isn't exactly something Jude's wanting to do. Been there, done that, got blue balls as a result. 🙂
Dean has the perfect solution for Jude. Jude should go and stay with Dean's stepbrother who has an empty room. Jude has no desire to stay in somebody's house he doesn't know but what can he do? Yeah, he makes a lot of money when he's modeling, but that money is spent before it's ever even earned. Where his money is going is explained in the book. I won't do it here. So he gets the information from an oblivious Dean and shows up at the stepbrother's address the next day.
Asa is a popular actor who walked away from acting for awhile to take care of his young son. He's now coming back and is need of a new personal assistant. When Jude shows up the next day – after a bit of joking around with Asa's son and getting treated bad by the boy's nanny – Asa's willing to give him a chance at being his PA. This is after Jude explains the situation about Dean and the conversation he supposedly had with Asa about him staying. Of course Dean, being the above-mentioned airhead, neglected to really get things settled.
All is going well with Jude and Asa. Asa's willing to give Jude a chance, no problem. That is, until he tells Asa what he does for a living. Suddenly, it's like all the air has been sucked out of the room. Asa goes from being friendly to being horribly mean. The reader finds out later why Asa's not exactly a fan of models. And he makes it clear to Jude that he thinks models are clueless and don't know how to really work. He implies – rather wrongly, I might add – that Jude is vain and wouldn't know a day's work if it slapped him in the head. This, of course, gives Jude an idea once he's officially 'hired'.
I've been tried, judged, and condemned without even the chance at a defence.
I think over his insinuation that doing paperwork might make my pretty little head explode. Then I smile slowly. If he wants a bird-brained model, I'll give him one.
Asa wants to believe he's a total ditz? Well, Jude can certainly play the part. He's friends with Dean, after all, and he's been around a ton of models who are exactly the way Asa implies Jude is.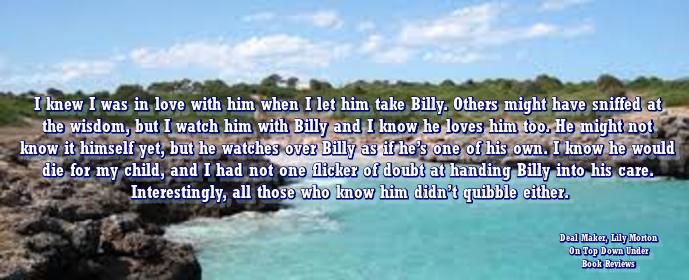 I laughed my ass off at Jude. He's far from being uneducated or stupid. He jumps into his 'job' with gusto, with his first task being answering some of Asa's fan mail. The responses… I can't recall the last time I giggled like that. And then we can't forget Jude at the kitchen table going on and on about calories and skinny jeans and playing the part of ditzy model well. Peggy, a woman who's worked for Asa for years, knows everything Jude is doing is b.s. and she's seen how much he eats. No lettuce leaves and carrots for this model. He can down chocolate cake like the best of 'em.
"I don't know what to say," he finally says slowly. "So far today, you've offended some core members of my fan club, enlightened me on the calorific content of every morsel of food in my house, and introduced my son to a prostate massager. I don't know whether I'm looking forward to or dreading what you'll come up with next."
Dread it, I think evilly as I watch him leave the library, and in my head my soundtrack is a villain's laugh.
Oh, but that's not enough. He has to royally screw up Asa's schedule and planner and he writes outrageous replies to his fans.. I think my favorite thing he did came out much later when it was mentioned how Jude had thrown out all of Asa's old clothes and lectured him on how skinny jeans were the key to a positive aura.
Needless to say, Asa's not stupid. It doesn't take him long to see that Jude's not the guy he thought he was. He can easily tell that Jude's as smart as the next guy, or even smarter.
Then there's Billy the hamster-napper, Asa's five-year-old son. He had me laughing out loud throughout the entire book.
Jude doesn't do relationships. He's actually known as a one and done kind of guy in the modeling industry. It's not that he never wanted a relationship. It's just that the only guys he's ever been serious with have left him when they found out about his other responsibilities that I, again, won't go into here. Nobody sticks around so he doesn't try anymore. He's okay with just sex. Dean is simply one of the rare guys he's hooked up with more than once. Neither want more than to get off occasionally. They don't even really like each other that much.
Asa, who is openly bisexual, gave up on relationships a few years back after being gutted by his last one. He'd been in a long-term relationship with a man named Phillip who was, you guessed it, a model. Asa loved him dearly and thought he loved him back. Phillip even played a big part in helping raise Billy. The reasons why their relationship ended comes out little by little throughout the book. Another thing that comes out is information about Billy's mother. I can't say any more than that.
Jude and Asa, once the truth comes out about Jude not being who Asa thought he was, become friends. Grumpy Asa who hates models is seeing Jude as the educated and well-read man he is. Jude is huge on classic, historical romances.
The plan is for Jude to work with Asa throughout the summer, the amount of time it'll take for his apartment to be livable again. Asa is slowly working his way back into acting and Jude is taking as many modeling jobs he can.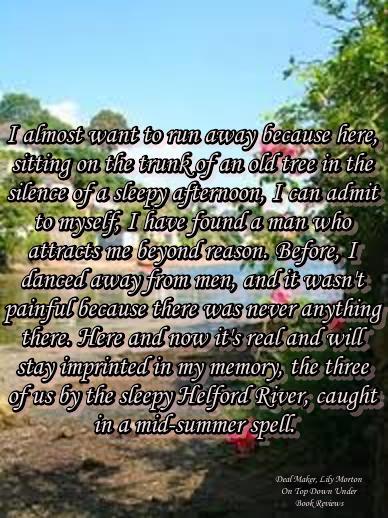 And then every single thing changes between these two. Oh my God, can a man get more romantic than to take Jude to the actual inspiration behind one of his all-time favorite books, Frenchman's Creek, for his birthday? That was so sweet and I don't even think Asa was doing it as a romantic gesture. He did it because Jude had mentioned having his birthday associated with bad memories. Asa wanted to change that and give him something good to remember this time.
This is when, after quite a bit of slow burn, they take their relationship beyond employer/employee or friend/friend to the bedroom. They know it ends when the summer does. Jude stresses that. They keep it away from Billy so as not to get his hopes up about Jude staying.
I loved these guys together. And watching Jude with Billy was amazing. He truly loves Billy and this comes out in a big way when Jude walks into a situation with Billy's nanny. I wanted to reach into the book and hug both of them, especially Billy. Thankfully, Asa arrives in the nick of time to hear things, see things.
Of course, their perfect weekend must come to an end. When it does, they're hit with a scandal that Asa has been expecting and dreading. I loved Asa up to this point, but this? This is when I truly, truly fell in love with him. And it cemented my love as well for Jude and Billy.
I have to stop there or I'll give way too much away.
This is almost the perfect book. There are two lovable main characters with a big age gap – Asa is 44 and Jude is 28.. There's no big misunderstanding. There's a lot of humor. There's amazing sex between the two guys. There's a funny child. All who know me know I love kids in books. And there's a great cast of secondary characters. I already mentioned Dylan, Gabe, and Peggy. I have to mention old man Amos, Asa's driver. He had me laughing every single time he was on page. He's Mr. Downer but in the funniest way possible.
Peggy sniffs. "Well, that's Amos," she says. "He's a caution. Never met a good mood he couldn't spoil. If he found a pot of gold at the end of the rainbow he wouldn't pick it up, in case he pulled something."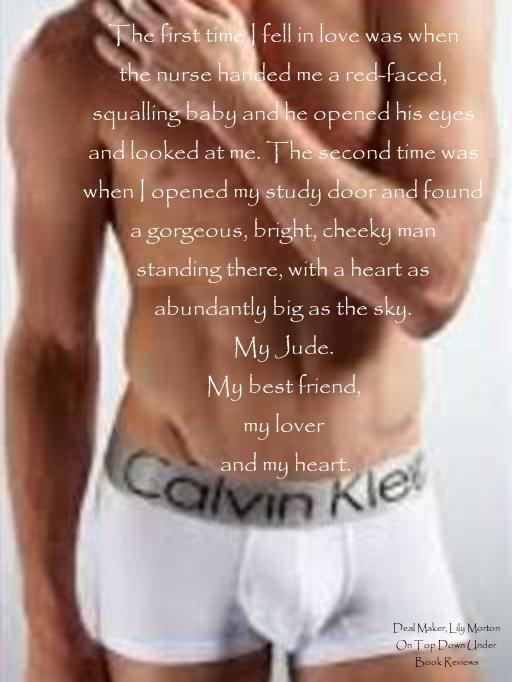 And I adored Jude's parents. But most of all, there's a beautiful romance between two men who are scared but know what they have is worth it.
I really loved this. There's a quick freebie scene from the author's website that takes place between the last chapter and the epilogue, Green Eyed Monsters. I'm glad I read it after Deal Maker instead of before or during. My quickie review is below.
Asa's on location for a series he's starring in. He's been gone longer than normal. He always tries to plan his shooting schedule around Billy's schooling and Jude's schedule so they're not apart for long. He couldn't do that this time. So Jude comes to him.
And it doesn't quite go as planned.
I guess I liked this well enough but I had a hard time with a couple of things that Asa did. I kept asking myself if a man can truly be that oblivious? Even so, everything comes together nicely and Jude and Asa go on to live their happily ever after. There were things that Asa should've shared with Jude before Jude found out in a bad way on his own. Things were fixed quickly so no biggie.
Again, I'm glad I waited until after Deal Maker before I read this. My rating could've possibly changed and that would have been a shame.