A Very Armitage Christmas (Mismatched Mates, 2.5), Eliot Grayson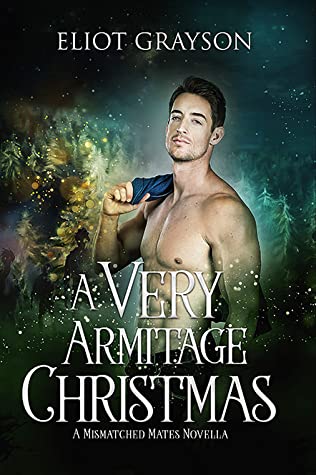 Rating: 5 Stars
Publisher: Smoking Teacup Books
Genre:  Gay Romance
Tags: Paranormal, Fantasy, Magic, Humour, Snark, Seasonal – Christmas, Series Book
Length: 70 Pages
Reviewer: Kazza
Purchase At: amazon
Blurb:
'Tis the season…for zombies?
It's two days before Christmas, and the Armitage pack's getting ready for the holiday. Nate's decorating the driveway with dozens of light-up candy canes (well, bullying Ian into doing it for him, but details). Matthew's sitting through yet another endless pack council meeting.
And Arik's raising revenants in the herb garden.
When a plague of zombies and an infestation of in-laws hits on Christmas Eve, Nate, Ian, Arik and Matthew will need to pick up their machetes, put some Bing Crosby on the record player, and overcome their relationship issues if they want to make it to Christmas morning.
This book follows the same characters and refers to the events of The Alpha's Warlock and Captive Mate, and really should be read in series. Warning: Contains a modified inflatable Santa, a snowblower put to a really unusual purpose…and knotting. Because of course it does!
Review:
This year has been all about avoiding Christmas and happily going full seasonal dark. I've made three exceptions. My usual foray into the kooky North Pole for Willy the Kinky Elf and His Bad-ass Reindeer's finale – Santa's story.  Then Not Over Yet, because I need a bit of Barbara Elsborg magic at Christmas. Now I've had the pleasure of reading about my favourite snarky, misfit pack in A Very Armitage Christmas. Ho Ho Ho. Colour me Christmas done and dusted. I'm officially a very, very happy reader with these three festive books read and enjoyed and reviewed on the blog.
It was fan-fucking-tastic to get Ian and Matthew Armitage's POV. We get Nate and Arik too, but we've had their POV previously in The Alpha's Warlock (Nate) and Captive Mate (Arik). It was lovely to see the brothers come to life with their own words, their own thoughts and feelings. I had notes on my clippings like 'awww, Nate'. 'Matthew, you sweetie' because the Alpha Armitage boys are madly in love, mated, and (hilariously) happy with their respective mates. It must be said there is an emphasis on "madly" because Arik and Nate are snarky and trouble in all the most interesting and crazy of ways. Heard of a green thumb? Well, now there's necromancy thumb. Arik is raising more than herbs this Christmas, and with his in-laws popping in too. Nothing like making a big bang for your introduction.
Don't want to give up the whole story. But my final take is that A Very Armitage Christmas is plenty of all things good.
It's laugh out loud, split your pants funny. My god… Nate and Arik, what a pair. Finger lightening and necromancy combine to show their Alphas that life will never, ever be dull with them in it.
There's the right amount of sexy, including a bit of knotting. Mmm hmm….
This is a novella with a large heart. I adore the Armitage Alpha's love and devotion for their mates, and vice versa. Matthew gets to play "zombie" golf with heads. They're really revenants, but that's semantics when the bastards are trying to eat the pack's PVC Santa. Ian is competitive about how many of them he can kill while being oh so protective. Matthew hits a romantic hole in one, killing an arsehole twice is an act of devotion in my fictional books. So is putting up Christmas paraphernalia, including tons of candy canes.
The novella is a giver of action. It's a paranormal and magical world and Eliot Grayson provided exactly what this reader was looking for.
I also got to see tufty ears again, patting said tufty ears, that made me smile and feel all smooshy. And while this is a sweet book filled with characters I already adore, it was nice to have everyone's feelings on display so we know how much these guys mean to one another, whether that be as mates or a snarky family, one with passive-aggressive mugs still happening. A pack and bond that's growing in size and happiness makes for fabulous seasonal reading. The Armitage pack is definitely now a place that feels like home.
Thank you to Eliot Grayson for letting me revisit my favourite dysfunctional pack with this perfect Christmas novella. It was great to see how my guys are travelling, and their growth.  A Very Armitage Christmas makes me restless and impatient for the next book in the Mismatched Mates series now. If you haven't read this series, first of all, why not?! Second, I definitely recommend you grab a copy of The Alpha's Warlock and start reading. 5 Stars!