A Boy Made of Sunshine, Colette Davison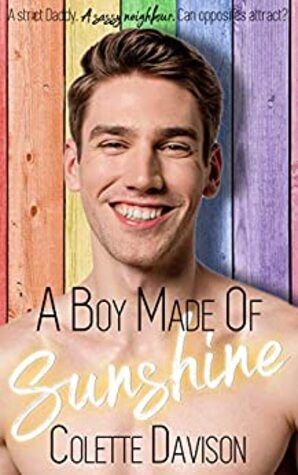 Rating: 4 Stars
Publisher: Colette Davison
Genre: Gay Romance
Tags: Contemporary, Age Gap, BDSM/Daddy Kink (Mild), Opposites Attract, Romance
Reviewer: Cindi
Purchase At: Amazon.com
*** This is NSFW-ish. ***
Blurb –
A strict Daddy. A sassy neighbour. Can opposites attract?
After taking early retirement, Liam is happy avoiding people and tending to his roses. Or he was, until young film star Felix moves in next door.
With his cheeky, persistent, and very naughty behaviour, Felix gets under Liam's skin instantly.
Felix needs Liam to teach him how to behave, but will calling the older man Daddy be enough to bring sunshine into Liam's life?
A Boy Made of Sunshine is a standalone gay romance, with mild D/s play, Daddy kink, a cute Dalmatian puppy, a ridiculous glow in the dark toy, and lots of brattish behaviour.
Review –
Liam is a grumpy former police detective. His actual age is guessed at by Felix throughout the story but it was never given. That irked me. If there's an age gap between the two main characters I want to know the exact ages. Felix is twenty-five. I'm going to go with Liam at least being two decades older.
Liam is content living in his quiet house on a quiet street without any neighbors nearby to bother him. The house next door has been vacant for a few months. Liam likes it that way because it's really close to his house, with it even sharing a fence. One day, he sees a moving truck, and later, the new owner of the house and his puppy, a Dalmation. To say Liam is unhappy over his new neighbor being a young man with flashy things and (he'd learn later) a flashy personality would be an understatement. He judges Felix before he ever meets him. His bright purple couch and life-size painting of a man pleasuring himself doesn't help. It's not covered up when the movers carry it inside the house.
Felix catches him looking and walks over to introduce himself. He calls Liam grumpy bear a lot. I have to say that was fitting. He's a big bear with his big muscles and long beard, and he is rude and unfriendly. Felix, on the other hand, refuses to be bothered by his mean new neighbor. He pushes himself on him (not that way until later) several times over the next few days, not giving Liam much of a choice when it comes to getting to know Felix. Felix is one of those people who's happy and perky almost all the time. Liam has probably never been perky and happy a day in his life.
Felix is an actor who's been working in the entertainment industry in some capacity for seventeen years. He's tired and close to burnout. He's not an A-list actor, but he still gets recognized a lot in public. Buying the house sight unseen probably wasn't the wisest business decision he's ever made, but it's in the perfect, quiet location for him to take a much needed break. The hot and sexy neighbor next door is a big bonus.
His 'taking a break' means absolutely nothing to his agent, Emma. As is told to Felix by a friend at one point in the book, "She works for you, not the other way around." I'm paraphrasing, but that's the gist of the conversation. Emma was pushy and annoying. She was constantly trying to force Felix to read new scripts when all he wanted to do was have some time to himself for the first time since he was a child. After pushing and pushing, he finally agrees to read one script.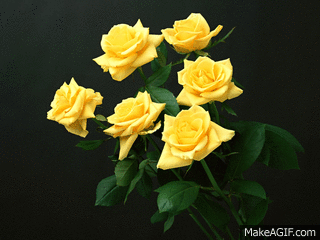 Liam and Felix get off to a rocky start. Felix is always there when all Liam cares about is working with his roses in his garden and living a simple life. His life as a police detective was anything but simple. He won't let an annoying young man take his new life away from him – even if the man is a sexy young thing who Liam would love to bend over his knees and give a good spanking to. 😉  Liam doesn't recognize Felix because he's not one to watch movies or even a lot of TV. I think this was refreshing for Felix because he knew anything that happened between him and Liam – and he was determined to make something happen – wouldn't be because of Felix being an actor.
Felix finally wears Liam down. Liam's a Daddy through and through. Felix isn't ignorant when it comes to the BDSM lifestyle. He's gone to several kink clubs over the years and played around with a few Doms. He's all about being spanked, tied up, and blindfolded. They finally start a Daddy/boy relationship, though it takes quite a while before they actually have penetrative sex. Liam's all about teaching his boy patience. When it does happen the first time, it's pretty intense because they did wait.
Then there's Domino, Felix's cute Dalmation puppy. Liam doesn't exactly come across as a dog person – or a people person, or any kind of person (snort) – but Domino is so cute he can't resist.
They're gradually getting closer but Emma is still being her forceful self. Felix may have agreed to read a script but when it arrives, he puts it off until Liam strongly encourages him to read it. They've already fallen real hard for each other but Liam doesn't want Felix to make any type of decision based on him and their relationship. The script is good so Felix agrees to audition. Unfortunately, the audition is in America when they live in the UK.
I felt so bad for Felix. Emma had been his agent from the beginning and he didn't want to let her down. He's never – in his entire career – said no to her before. Liam encourages him to do what he feels is right for Felix – not Liam, not Emma. When he arrives in America, his horrible agent won't even let him have a nap after the thirteen hour flight. She has the entire five or so days planned from beginning to end, barely giving Felix the time to breathe much less sleep. When he tells her about Liam she makes some pretty rude comments when she's never met the man. It was pretty clear throughout the entire book that all Emma cared about were dollar signs and ensuring that Felix kept bringing the money in.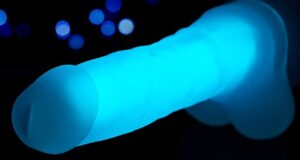 This wasn't all serious. I found myself laughing over Felix's special-ordered Clone-A-Dick. Bright blue, once cloned, it glows in the dark. While the glow-in-the-dark toy is funny, what's funnier is Liam's reaction when Felix insists on him, well, cloning his cock. 😉 Liam is so serious all the time, but he'll do pretty much anything to make his boy happy so he does it, grumbling the entire time.
There's a bit of spanking, voyeurism, and other forms of kink. This is, however, one of the more mild Daddy/boy books I've read. Liam has rules for Felix but they're not set in stone. He doesn't take control of much as far as Felix's life is concerned, though he did push him to read the script and refused any naughty playtime until it was done. He liked to feed Felix but he didn't completely take over his kitchen or anything. I felt that their Daddy/boy relationship was mostly on the sexual side, not the 'Daddy taking care of his boy' type of thing.
There were also a few touching moments in this book. Felix has to leave for the audition in America, leaving Liam and Domino behind for five days. It's obvious he doesn't want to go and that Liam doesn't want him to. I was really happy with how that all played out. My only complaint is that I would've liked to have seen how certain things were handled. Sometimes I just want to see somebody get theirs. There's a nice epilogue that was a total 'aww' moment.
Overall, a very nice story. These guys are as different as night and day but they work. The only reasons I'm not rating it higher is because of Emma and the fact that Liam's age was never given. That might be silly to some readers, but when a book focuses on the age gap between the characters I don't want to be left guessing.
I think this is my first by this author.