Not Over Yet, Barbara Elsborg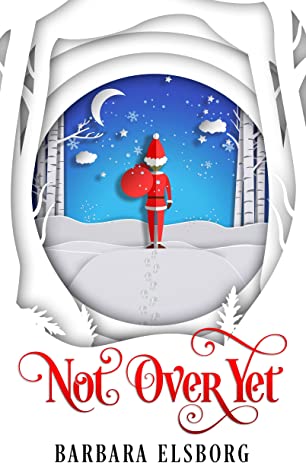 Rating: 5 Stars
Publisher: Self Published 
Genre:  Gay Romance
Tags: Christmas, Supernatural, Humour, Emotion
Length: 118 Pages
Reviewer: Kazza
Purchase At:  amazon
Blurb:
On the seventh day of Christmas, my true love sent to me…
One pissed off Santa…
A whole heap of trouble…
The last thing Phin feels like doing is going to a New Year's Eve party. After a day dealing with sick animals, all he wants is a glass of red wine, some food and his bed. But as he drives home down a steep, snow-covered hill, he skids and hits a guy dressed as Santa Claus.
Maric's not badly hurt, but he's pissed off. He's pretty sure Phin's not the one he's supposed to find, but when Phin takes him to his cottage, and Maric sees no sign of festivities, he begins to wonder if Phin is the one who needs his help.
Much as Phin would like to get rid of Maric, the thickly falling snow makes it too dangerous for Phin to drive him anywhere. The pair are stuck together, which suits Maric just fine. Now all he needs is luck and a bit of magic.
Review:
This is such a magical Christmas novella. That cover is a delight and sets the tone for the whole story. That is Maric.
Maric is adorable. His joie de vivre. His ability to be a one man Christmas creation. Where did this guy in a Santa suit and sack and nothing else come from? And why has he turned up on a lonely, snowy lane in North Yorkshire? How can he be so crazy and chatty and full of life… and annoying? Yet not? Why such a need to be picked and belong with Phin?
Phin didn't like mysteries he couldn't solve, and Maric was the biggest he'd ever come across.
Phin is a nice guy who's had a hard year which has coloured his worldview around Christmas… and love. He is a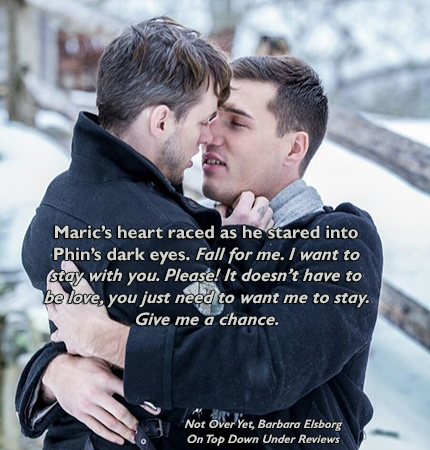 loosely based contemporary version of Scrooge, including no interest in Christmas this year, and no interest in connecting with others outside of his professional capacity as a vet. Then he knocks down the man in the red suit who is younger than he thought, and cute, if only he'd intently stop talking up Christmas and questioning Phin's desire to ignore it.
"Why don't you like Christmas?" Maric asked in a tone of voice that suggested Phin had kicked his puppy.
Two men who need one another find each other during the 12 days of Christmas in the nicely named Not Over Yet and give us a reason to believe and hope. This book is utterly heart warming, adorable, and more layered than you might think. I started out thinking this would be a solid 3 star fluffy Christmas story, I wasn't convinced that I could feel a connection between Maric and Phin other than nice – and that would be okay – and that would be that. Then, like an onion, the layers got peeled away and I understood more than I ever believed I would or could. Then I was head over heels with both men and their story. Then the rating and my investment had grown and grown to the point I was incredibly happy. I remember the exact spot it hit a 5 star rating but I can't share that because I'll spoil the story.
It's the little things that are the sum total of the big. Their love of animals. The alpaca fairy tale. The snow dragon with limes for eyes. The letters. A dog.
Enjoy your magical time spent with Maric and Phin, and if you start thinking this will be a fairy floss read, keep going, it turns into the most delightful and more bites for your buck toffee apple. 5 "Ten Lords a Leaping"  Stars!