Shai, H.L Knight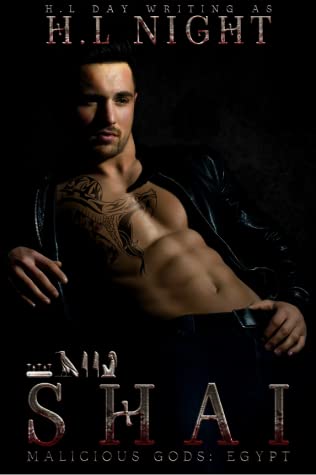 Rating: 5 Stars
Publisher: Self Published 
Tags: Dark Gay Twisted Romance. TW: Non-Con, Snakes, Sexual Paraphilias (TW exist on the look inside of the book)  
Length: 300 Pages 
Reviewer: Kazza
Purchase At:  amazon
Blurb:
How do you play a game when there aren't any rules?
Petty crook and drug dealer Elijah Page's plan was simple. Stay off the feuding crime-lords' radar for long enough to make a quick buck in the city, and then get out. He couldn't have been more naïve. Captured and beaten by McIntyre, he escapes death, only to find himself in the hands of McIntyre's opponent. Shai is an enigma, a man as charming as he is twisted. And he's set his sights on possessing Elijah—body and soul.
Shai will stop at nothing until he's ousted McIntyre. In the meantime, fate has provided him with an interesting distraction in the shape of the stubborn and rebellious Elijah. Elijah's lips may say one thing, but his body says something else entirely. Elijah might think he has what it takes to go up against a man like Shai, but he's wrong. He's nothing but a fly in Shai's web, and Shai will always be two steps ahead.
A game ensues. One that Elijah may not even realize he's playing, or just how big a pawn he is. Everything is at stake. Possibly even his heart and mind. By the time Shai has finished with him, there might not be anything left of the man he used to be.
Let the games begin.
A dark mm romantic suspense featuring snakes as a weapon, a manipulative main character, and a few twists and turns along the way.
Please make sure to check out the trigger warnings on the look inside feature before reading.
Welcome to the dark world of Malicious Gods: Egypt. A collection of standalone modern tales, both magical and non-magical, featuring deities from Ancient Egypt. You'll find reincarnated Gods, assassins, gangs, madness, and different realities. Expect high heat and morally ambiguous themes. Seductive and often twisted, they are not for the fainthearted.
Review:
Shai is part of the Malicious Gods: Egypt series which comprises books written by individual authors. This book takes place in an alt-universe. There are two men who rival one another in Deadwood. McIntyre has run the city for a long time but the newer player is Shai. He wrested part of the city from McIntyre and now runs the northside of town. McIntyre is unhappy about this division of what once solely belonged to him. He doesn't like anyone making money off what he considers his. Elijah Page knows this only too well, he's spend three months having been beaten and tortured by McIntyre and his men after being caught dealing on McIntyre's turf. It's the older man's joy to try to get Elijah to kneel before him and pledge allegiance, something Elijah stubbornly refuses to do time and again. This time is one time too many for McIntyre and he orders Elijah's execution. His enforcers gladly weight Elijah down in a sack and throw him into the Dent River which ironically divides the north and south of Deadwood.
With Shai being on the other side of the Dent, two of his men see McIntyre's men toss a bag of something into the waters and they retrieve it. Obviously the "It" is Elijah. He fascinates Shai from the beginning just by having survived this far after basically being drowned. Elijah is barely alive on Shai's compound's floor, will he live without intervention or will he die? Shai is all about fate and all about being in control of other people's fate, willing it to happen his way – hence the tying in to this particular Egyptian god.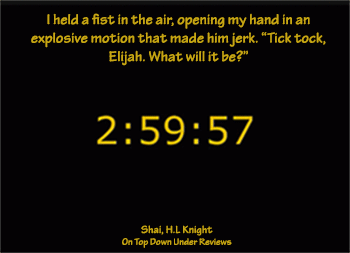 Elijah does make it and this attracts Shai more to what is an attractive, albeit bedraggled, package anyway. Fate has also spoken. But Elijah soon finds that this new compound, whilst opulent, is far more hellish that McIntyre's. Beatings physically hurt but he understood them. Mindfuckery, he's not so sure about. And mindfuckery with venomous snakes attached? Well. it's a whole new level. Everything is a game to the psychopathic Shai. He loves chess and he treats everything like the strategy of a chess game, only he adds far more danger to it than simply moving pieces around a board, and his pieces are human. While Shai is something, his mother is extra. And not just because she claims to have rebirthed an Egyptian god when Shai was born. She's in her 80s and Shai feeds her poison on the regular, but he can't bring himself to kill her. Ahhhh, family. Can't live with them, can't quite kill  them. It speaks volumes.
There's a fascinating psychological story at the heart of Shai. H. L Knight takes her foot off the brake and hits the accelerator. There are some dark and nasty themes, some perverse sex – quite a degree of sex – in various forms. I won't go into it but be warned. Shai is also cruel and twisted but he can make it seem like his attentions, while a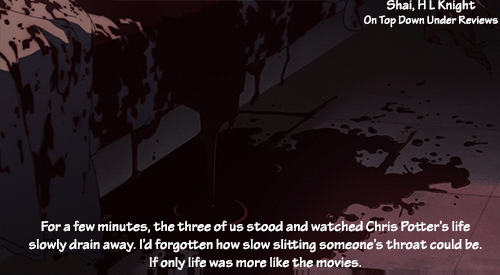 mindfuck, are somehow meant with reasonable intent. It's a Stockholm syndrome style of breaking down and rebuilding and it's written in such a plausible way. It's the immovable psyche of one meeting the (necessary for survival) adaptive psyche of another. It isn't ever Boy A meets Boy B and they fall for one another with a bit of angst or drama. Love is not mentioned and yet a version of it exists. How you feel about it though will depend a lot on what you're looking for and what you see in the writing and the characters. I enjoy dark books the most that give the reader agency in interpretation of certain aspects and H. L Knight does that in Shai. To that point there's a question posed at the very back by the author.
I can't write much more because it spoils the story.
This book is-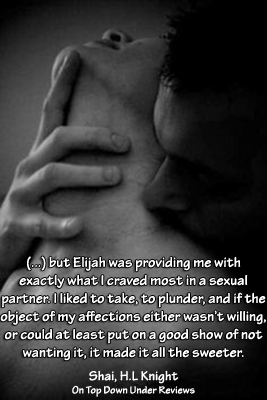 Dark
Perverse
An ophidiophobic's nightmare – there are weaponised snakes 
One of a power struggle over people and a city
Psychological, the characters/behaviours complex and interesting
Full of triggering content
Before I forget, the cover of Shai is amazing. It fits the character of Shai so well. The author always seems to have stellar covers. Kudos.
I love a good dark tale. One with characters who are both interesting and layered. Shai's 'romance' is twisted and atypical and I was here for it. I enjoyed this delicious tale with bite. The writing is compelling, H.L. Night absolutely delivers. I could not put this book down. Are Elijah and Shai lovable?  Not especially, but are they utterly addictive? As addictive as Void? Hell yes! 5 Stars! 
Just for the record, my answer to the question posed by H.L. Knight is – Yes. I believe (…) did.