Furbitten Teacher (Furbitten Falls Alpha's #1), Preston Walker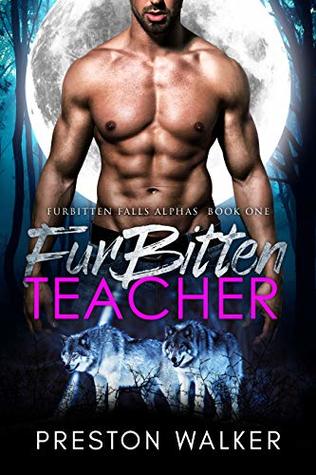 Rating: 4 Stars
Publisher: Equal Love Publishing
Genre: Gay Romance
Tags: Fated Mates, Mpreg, Romance, Series, Wolf Shifters
Reviewer: Cindi 
Purchase At: Amazon.com
Blurb –
A small-town alpha teaching third grade.
An exhausted single dad omega.
A little girl who unites them both. 
Jarrett finds himself dreaming about an omega he mated with several years ago. Were they fated mates? Maybe he's just doomed to be alone. Too bad he never knew the omega's name. 
Brent is an omega father to his alpha daughter, Emery. It isn't easy, but he does his best and loves her fiercely.. He remembers the night she was conceived and wishes, beyond everything else, that he had that alpha there to help out. 
He's about to get his wish, in a backhanded sort of way. 
Jarrett and Brent are back in action, ready to capture your heart once again. Follow them as they struggle to figure out who the other is, and what it may mean for the Furbitten Falls pack. This mpreg wolf shifter tale and every other book in the Furbitten Falls Alpha's Series is rife with passionate scenes and should not be purchased by minors and can be read in any order. No one under the age of 18, please. 
Review –
I started reading this before discovering there was a prequel giving the backstory of Brent and Jarrett and Jarrett's brothers. I was too far into the book to stop and go back so I read it immediately after I finished this one. You can find my Goodreads review here.
Jarrett, a third grade teacher, is having a bit of a problem with one of his students, Emery. Emery's not a bad kid. She's an alpha, like Jarrett, and is having a hard time controlling that side of her. She's only eight so she still has a lot to learn yet about who she is.
Brent, an omega, is Emery's father. On one hand, Emery is a typical little girl. On the other, her alpha side comes through at home with her omega dad. Brent knows she needs an alpha influence but he's at a loss. Emery was conceived via a one night stand and he doesn't even know other father's name. When he discovered he was pregnant, he did everything he could to find the wolf but wasn't successful. An orphan, Brent also has had no family he can go to for guidance.
Jarrett has been having detailed dreams about a man he had sex with eight years before on his 21st birthday. They're so detailed he wakes up sweating and more than a little aroused. He remembers the encounter well. The guy's face and name, however, escape him. Each night the dreams get more vivid and the unknown man becomes an obsession. Jarrett knows that man was his fated mate. He just doesn't know how to find him.
Brent has been feeling off lately. He's tired all the time and gets weird feelings when he goes near Emery's school. He can't explain what he's feeling, only that he's not himself and it's starting to affect his life.
Emery is having a problem controlling her 'wolf' at school and she's getting into a lot of fights, with one little boy in particular, Curtis. After the last incident on the playground where things get a bit scary, Jarrett, aka Mr. Ewen to Emery and the other students, knows he has to bring in Emery's parents for a conference. He digs out the phone number for Emery's father and things get weird. As soon as he hears the voice on the other end of the line he's literally struck speechless. Brent's not much better. After a few weird moments it's decided that Brent will come straight to the school to meet with Jarrett to discuss Emery.
A few minutes later Jarrett knows with complete certainty that his fated mate is in the school. When he walks into the office and sees Brent he knows that not only is he seeing his mate but he's also seeing the father of his child, which happens to be Emery.
I'd not scented my fated mate for eight years and it was taking every little bit of strength I had not to run out of here to track him down.
~
That knot from all those years ago, the only knot I had ever experienced, meant that I had a child I'd never known about.
~
This was it, wasn't it? If he was my fated mate, as I suspected he was, then surely that meant that Emery was… Emery was my daughter.
I loved everything leading up to that moment. Strike that. I loved everything that had led up to that moment and when Jarrett makes an unannounced visit to Brent's home after Emery is already in bed. It was hot and it was sexy as hell. It was also sweet. You'd have to read the book to see what I mean.
They start spending more and more time together. Emery is almost immediately told that 'Mr. Ewen' is her other father. The only problem with that is that she can't tell anybody, no matter how bad she wants to. Jarrett is already not quite on the principal's good side. Adding his child being in his class, and Jarrett having a relationship with the child's dad on top of it, would definitely get him fired.
They live in a small town so you know things don't stay secret long.
I loved these two guys together. Brent was awesome. He was a great dad and had been since the surprise pregnancy. Sure, it was terrifying being a single parent, but he'd done a great job. Jarrett… hmm. He was doing so well… I loved him pretty much throughout the book until he decided to be a bonehead at a time when he really shouldn't have been a bonehead. I love books with kids in them so Emery was a plus, even if she had quite a few bratty moments. They were explained away as her alpha trying to come out to play. Jarrett's two brothers were entertaining, as was Tate, Jarrett's best friend. Tate and Chasen (Jarrett's brother) have their story next.
There are a couple of misunderstandings between Jarrett and Brent that had me shaking my head. It was mostly Jarrett, who chose to be the above-mentioned bonehead instead of having a conversation with Brent. He made good in the end, in an aww! kind of way. He didn't grovel but he damn near came close, so that was good enough for me. 🙂
I really liked this book… BUT…
The editing. I've never seen so many mistakes in one book before and I've read some doozies. The story really sucked me in on the first page, and I'm glad for it because had it not, I'd have DNF'd it after the first chapter because of the editing. It was mostly quotation marks missing or out of place, i instead of I (a lot), some misspelled words, and a couple of inconsistencies (an example: a button-up shirt on Brent turned into a tee on the next page). The problem is that the mistakes were literally on every single page. They obviously didn't stop me from enjoying and finishing the book, but I couldn't type this review without mentioning them. A quick proofread should've caught these pretty easily.
Overall, and aside from the editing, this was a really good book. Like I said, it sucked me in on the very first page and kept me interested until the end.
I really like the cover.