Broken, Colette Davison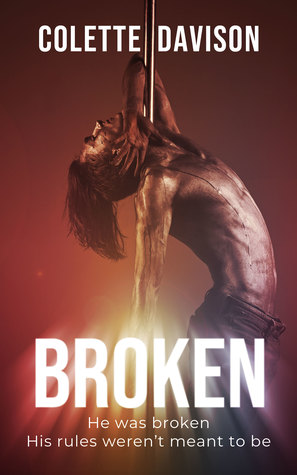 Rating: 2 Stars
Publisher: Self Published 
Genre:  Gay Romance
Tags: Strip Club, Age Gap, Drama
Length: 211 Pages
Reviewer: Kazza
Purchase At:  amazon
Synopsis:
Rule #1: Keep running.
Jag's rules have kept him safe and free since he escaped conversion therapy, but that was before he walked into Heaven and Hell. A no-strings fling with the club owner, Michael, turns into so much more as Jag finds himself breaking one rule after another.
Michael hasn't been able to commit to anyone since his partner died, until Jag walks into his club. Falling in lust with the elfin young dancer is easy, and his heart is quick to follow.
Michael gives Jag a reason to stay, but fear rules Jag's heart more than love. Despite his deepening feelings for Michael, Jag knows he can't stay. Can he?
**Contains adult themes, content, and language.**
Review: 
Jag's been running for a while when he ends up at Heaven and Hell, a pole dancing exercise club by day and a pole strip club by night. Michael owns the club and hires the young man as a stripper. Even if he looks young his passport, with a thumb over his real name, supports he's twenty. Michael figures a new angel act at the club will go over well and Jag fits the look of an angel. They have private dances there and they are encouraged to add to the credit revenue system by doing extra for the punter. Jag should be a good earner.
Jag is always on guard, he has rules in place so he doesn't get close to anyone and so he can move on when he feels someone is forming a connection. He recites the rules to himself in reference to anything that may cause him personal problems.
Michael and Jag fancy each other pretty much immediately and commence a fuck-buddies relationship within days of Jag starting at the club. Michael is never allowed to ask Jag questions about himself, n-e-v-e-r, which doesn't leave much to discuss. It doesn't leave much room for someone to fall in love with someone they don't actually know… but that doesn't stop them. All Jag will say is that he's going to leave soon. He says that a lot. In spite of Michael knowing nothing of any note about Jag until much, much later he still falls for him. Michael's long-term partner Edward died approximately seven years ago, Michael still misses him, but he spends so much time trying to help Jag and getting him to open up, because something is obviously wrong with the younger man, that I felt his personal loss was brushed over.
I liked Michael more than I liked Jag. I thought he was selfless in his desire to help Jag. Jag is not easy to work with. Still, there is an age difference, Jag is young, and Michael is older. I'm not sure that Michael's age is ever mentioned but I think he was around forty.
There isn't much else to add to the general story without (kind of) spoilers.
**KIND OF SPOILERS**
Jag ran away from his parents when he was sixteen because they put him into conversion therapy when the school he went to told them he was caught kissing a boy. It must have been a religious based school because no government school would report a sixteen-year old's kiss to their parents. Anyway, Jag has been running for four years and feels his rules have served him well. Never at any stage was his parents, or some conversion minions, chasing Jag. In fact, when he called them they sounded concerned over him, not like manipulative arseholes. Based on what Jag continually tells himself, and eventually Michael, they are painful, but as a reader I never once experienced that feeling, and I should have, so I had to take one of the MCs at face value telling me what he felt. I was rarely, if ever, shown anything.
Niggles:
There was just no chemistry between this pair, none, so I ended up skipping sex scenes, and I do not take skipping anything in any book lightly. They both lacked necessary depth and dimension to make them feel alive and real,  especially Jag.
Jag likes working at Heaven and Hell, says multiple times he likes the other dancers he works with, but we never get to meet one of them except Mac, who happens to be Michael's best friend.
I didn't like the use of the words "the femme guy" to describe Mac's partner Russel. I found it derogatory. Just use the words "Mac's partner." If one guy is masc or they aren't, whatever point you feel needs to be made, we'll get it because of the quality of writing and character development. Unfortunately, the character development was lacking for me. I'm a character obsessive so I had issues.
The dancers are encouraged to do lap dances and private shows, but you never see Jag do one of them. I guess some readers might be upset and consider it unseemly, but I expected it. It's a strip club. I was disappointed this wasn't used to build some tension or connection in the story.
The gay conversion plot fell flat, as did any abhorrence that I should have felt along with it. I know in 2018 the British government was going though the processes of banning conversion therapy. Even so, it hasn't ever (thankfully) been as widespread there as, say, the United States. Two medical practitioners being complicit in having Jag held and "treated" for being gay, whilst not impossible, was highly questionable.
The attempt at trying to make the reader feel like Jag could be sectioned was all kinds of silly. Being gay is not a sectioning option, don't even start me on what's involved in sectioning someone. At least the solicitor tried to explain it to them later on. Also, Jag is now twenty, his parents grabbing him off the street would have been kidnapping, but neither Michael or Jag think about that. Michael is old enough to have at least given that some thought, especially once he knew. He's a businessman who says he's financially turned Heaven and Hell around, so he's not clueless.
There's a lot of inner monologue in this book which became repetitive and stifled the chemistry and overall story.  That much-needed sense of connection, drama or hurt/comfort went astray. The whole conversion therapy was tell, tell, tell, a lot of the overall story was, which made it feel flat and opportunistic. It didn't take me where it needed to – the emotional reactions and feelings, sympathy and empathy. I couldn't really find the necessary tug at my heartstrings. As well as being a character nut, I'm a visceral reader, and I also need some relatable reality in my fiction. It's an important subject and it should have been given more informed treatment.
Overview: 
I was disappointed with Broken. It had a great premise, the cover's good, and while I can see that the author has what it takes to write a good story – there were moments I felt something – overall, this was a letdown for me.
I'll finish by saying that this book has been well received on Goodreads. My rating/review is very much a dissenting voice thus far – take that as you will. 2 Stars!
ARC received in return for an honest review.