An Egg for Ansel (Alaskan Pebble Gifters #2), Amy Bellows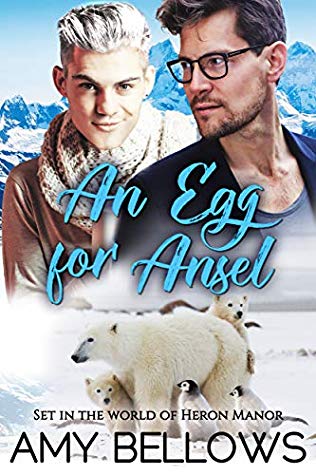 Rating: 4 Stars
Publisher: Amy Bellows
Genre: Gay Paranormal Romance
Tags: Paranormal, Age Gap, Daddy Kink (Kinda), Fisting, Mpreg, Opposites Attract, Shifters
Reviewer: Cindi
Purchase At: Amazon.com
Blurb –
Ansel has a thing for older men.
Specifically his friend's father Daniel, a penguin shifter who is surprisingly innocent for a forty-seven-year-old man. Ansel probably shouldn't flirt with Daniel. Or go on a date with him. Or send him photos that Daniel claims are "irresponsible." But Daniel's so cute when he blushes, and it's just a bit of fun. Ansel's learned that men only want one thing from him, and then they're gone.
But Daniel doesn't leave.
In fact, Daniel wants nothing more than to love and take care of Ansel. But Daniel is an omega, just like Ansel, and in polar bear shifter culture a "blood-bond" can only exist between two people who have a child that is genetically related to both of them. If he asks Ansel to be his mate, will he be able to make Ansel happy? Or will he be just one more guy who asks Ansel to settle for less than what he truly wants?
An Egg for Ansel is a second-chance age gap romance with plenty of lace, cuddling, and MPreg of the penguin egg variety. It's the second book in the Alaskan Pebble Gifters series, and will only make sense if you've read the first book.
Review –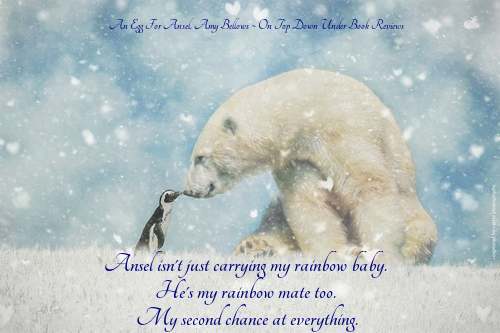 Ansel, a polar bear shifter, and Daniel, a penguin shifter, were introduced in A Pebble For Lewis. Ansel is Todd's friend and former occasional fuck buddy. Daniel is Lewis' father. I wasn't a fan of either man in the first book. I didn't like Ansel because of something that happened early on in that book. I couldn't stand Daniel because he was so against Lewis and Todd's relationship until babies came into it. I understood Daniel way more than I did Ansel.
The two men meet over Lewis and Todd's eggs. Ansel wants Daniel bad. He has a thing for older men and he's determined to hook up with him. Daniel, quite innocent for a man of 47, wants Ansel too, but Ansel's only 23. Their connections with Lewis and Todd certainly don't help.
Ansel wears him down.
What Ansel isn't used to is being taken care of. His two mothers are on two different political sides so guys mostly avoid him except for a quickie here and there. Politics and tradition run strong in the polar bear community and nobody wants to be in a relationship with someone with so much baggage, though Ansel is neutral when it comes to his mothers and their beliefs.
I'm very, very pretty. As long as I don't ask for more than sex, men never turn me down. Alpha or omega. Fresh out of high school or middle-aged. Top, bottom, or vers. It doesn't matter. They all want a piece of my ass.
Daniel hasn't been with a man since Lewis' other father eighteen years ago. His former alpha believed in only having sex for procreation and never cared much if Daniel got anything out of it. When he left, Daniel avoided alphas at all costs. Ansel is another omega. If the two men become mates they won't be able to have a 'Blood Bond' – meaning a child that shares both of their blood and genetics. This is important because the blood bond is huge in the polar bear community. Ansel, knowing he'd likely never be mated because of his mothers, has been saving up for a sperm donor even knowing that he would likely be ostracized. He doesn't care. He wants a child.
Ansel and Daniel quickly start building a relationship, though they keep it hidden from Todd and Lewis until they're given no choice but to reveal it. They know they love each other and they want to spend their lives together. But what about the child that Ansel desperately wants?
This is where Todd and a little bit of mermen magic comes in. 😉 I can't say more than that.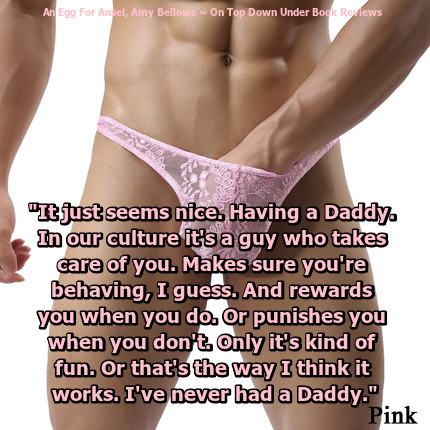 Daniel and Ansel are as different as night and day and I'm not just referring to their species. Daniel is responsible and doesn't veer much from the penguin norm. Ansel, on the other hand, is flamboyant and flashy. I don't want to say that Daniel is a prude, but yeah, Daniel is kind of a prude.
Ansel's a grown man, and he's not my son. If he sends me photos of him eating blueberries off his ass, I shouldn't scold him for it. I'm his mate, not his father.
Ansel is all about lace panties and garters. He's also always wanted a Daddy. Daniel doesn't associate Daddy in the way Ansel does, unfortunately. There's having an open mind in the bedroom and there's what Daniel has always believed. No matter. The first time Daniel sees Ansel in his lace panties and garters it kind of gets him moving in the right direction. *grin*
The shifters in this series don't have insta-love/fated mates like in other shifter books I read. Penguins mate for life. Polar bears don't – usually.
This was a nice story. I liked these two guys together. It was also nice seeing Todd and Lewis and their little ones. I know this series is set in the word of Heron Manor. I'll be checking out the first book soon.