Dads With Benefits (Fairview Single Dads #1), Jason Collins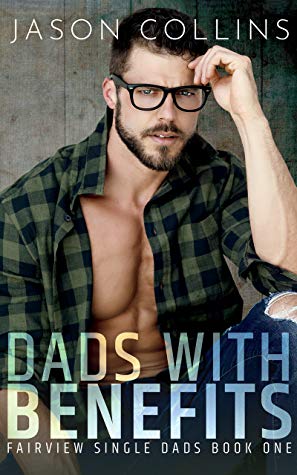 Rating: 3 Stars
Publisher: Jason Collins
Genre: Gay Romance
Tags: Contemporary, First Time, Friends to Lovers, GFY/OFY (?), Kids, Pretend Boyfriend
Reviewer: Cindi
Purchase At: Amazon.com
Blurb –
ELLIS:
There's a new single dad in the group, and he wants more than just support.
I've got problems on the job, but I'm in luck: the new dad at my support group is exactly who I need. James is sympathetic when I tell him my boss won't stop coming on to me. I'm up for a huge promotion, and I need help. Maybe a fake relationship will make my boss back off.
But when James offers to be my pretend boyfriend, I'm forced to start thinking about romance again. Acting is one thing, but I don't do real relationships, and besides, he's straight—or so he says. This relationship was supposed to be just one dinner, but we're getting closer than I expected.
Straight men make the perfect fake boyfriends, but I'm not sure if we're pretending.
JAMES:
It's my first day in the single dad support group, and the single part is already at risk.
I came to this group for advice on single parenting, but Ellis has more to offer. He's a good dad being harassed by his all-too-forward boss, so naturally I want to help. I'm straight, so it doesn't bother me that he needs a pretend boyfriend.
But faking it turns out to be harder than I realized, especially when I get to know him better. He's completely charming, and irresistible to boot. I want to veer off the straight and narrow with Ellis, but his past is holding him back. I'm falling for him, and I'm not sure how much longer I can pretend.
Our kids are playing matchmakers, and this fake relationship is starting to feel real.
This is the first book in the Fairview Single Dads series. It can be enjoyed as a standalone with no cliffhanger. Readers can expect a spicy MM romance with several steamy scenes.
Review –
In a recent review, Be My Mistake, I stated that I normally avoid books with fake boyfriends like the plague. Dads With Benefits has a fake boyfriend. I decided to read it anyway because it has other things in it that I love, the main one being kids. I've also read Jason Collins before (another one with a fake boyfriend, Destination Wedding) and was familiar with his writing style. The last one was cute so I took a chance again.
Now to my review…
It's James' first time at a single dads meeting. The first man he meets is Ellis, though Ellis has to rush out before really getting a chance to talk to him. The next meeting is different. They strike up a conversation and Ellis ends up opening up a little about his boss, Ian, who won't stop hitting on him at work. Well, the boss' son, but soon to be his big boss. During one of the annoying times that Ian follows him back to his office and asks him out, Ellis throws out that he has a boyfriend in hopes of it making the other man leave him alone. What it does instead is have Ian's father – who's the CEO and big on family – inviting Ellis and his 'boyfriend' and their kids to dinner at his lavish home. This puts Ellis in a big bind because there is no boyfriend. James, being the good guy he is, offers to pretend for the sake of Ellis' job. He's friendly and personable and ends up fitting right in as the fake boyfriend, angering Ian, of course, but he was a jerk anyway.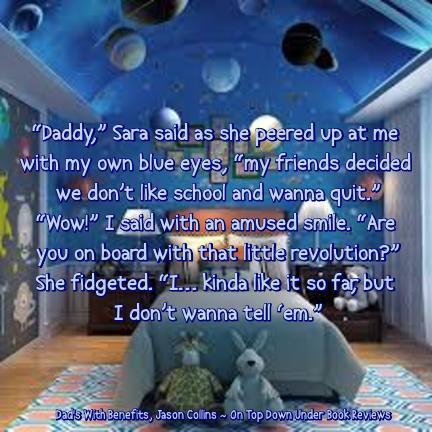 This starts a routine thing. Ellis is asked to different events with the boss and his family and James goes with him pretending to be his boyfriend. Brandon, James' son, and Sara, Ellis' daughter, also attend these events. The kids are adorable. Ellis and James develop a nice friendship and nothing seems awkward. They come together as a couple without a problem. After a few of these outings James decides he wants more with Ellis. Not necessarily a relationship relationship but a friends with benefits thing. James has never been with another man before but he's all about trying new things and going after what he wants. What he wants right now is Ellis.
Okay, that happened fast. They went from having a conversation over lunch to immediately playing around in James' vehicle in the parking lot. No problem. They didn't get caught and that was the beginning of a regular thing between them.
Until suddenly James wants more. The kids get along, he and Ellis get along, and the sex is amazing. Ellis, on the other hand, supposedly doesn't do relationships because of how his parents were in their marriage.
When Ellis finally starts to think that they might could have something together he starts thinking too much, believing that the only reason James spends time with him is because he's still playing a part with Ian and his father. So, what does Ellis do instead of discussing it with James? He sulks like a child and runs. He does this a few times or makes things sexual when he knows James wants to talk to him.
Ellis' lack of communication drove me nuts and I'm not just referring to with James. Ian constantly hits on him at work. Instead of saying NO flat out, Ellis is wishy-washy or makes up a fake boyfriend. What Ian was doing was sexual harassment. Maybe in the beginning it was just him being friendly and letting Ellis know he's interested. Later, however, he started giving ridiculous, menial tasks to Ellis because he wouldn't accept his advances.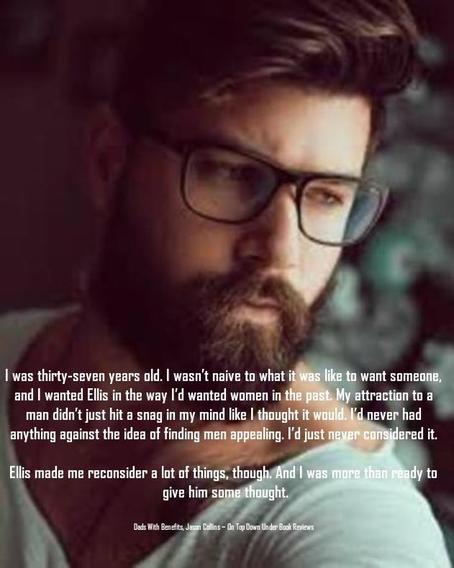 I loved the kids. Sara is six and Brandon is eight. They added a bit of humor when they were planning a wedding for James and Ellis, not knowing that James and Ellis weren't a real couple. That's another thing that bothered me. The two guys allowed their own children to think there was something going on between them (more than friendship). I get they didn't want the kids to accidentally say something to give their secret away with Ian and his family, but it just seemed wrong to lead Brandon and Sara on like that.
While I did enjoy this, I had other problems with it. I already mentioned Ellis and his not speaking up for himself at work, and how he'd run or act like a pouting child when James wanted to talk to him about anything serious. Another issue I had was the amount of exclamation points. Good Lord, how many can fit on one Kindle page? I don't understand why some authors think so many of them are so necessary. They aren't. They're distracting and almost had me DNFing the book only a few pages in. When I'm seeing five or six on one page  – page after page throughout the book – when five or six are more than enough for the whole book it's too much.
Another thing was how easy it was for James to go from never having been with a man before – or even wanting to, I don't think? – but jumping in with gusto with Ellis. Usually there's a bit of a battle within one's self over something like that. Not with James. The good thing about that is that there wasn't page after page of miscellaneous internal dialogue about it. I did, however, expect a little bit of hesitation.
I already stated that I usually avoid fake boyfriend books. With that being said, my rating for this book has zero to do with that. As I said in another review, I won't rate a book low when I know going in that it has something I don't like. I take that particular thing out of the whole equation and rate and review the book based on other things. The fake boyfriend thing didn't bother me. Ellis bothered me. It just took too long for him to get over his insecurities and see James for who he is, someone genuine who truly loves him.
Because I do like this author's writing (minus the !!!), I'll be reading the next one in the series at some point.