Be My Mistake (North Shore Stories #0.5), Lynn Van Dorn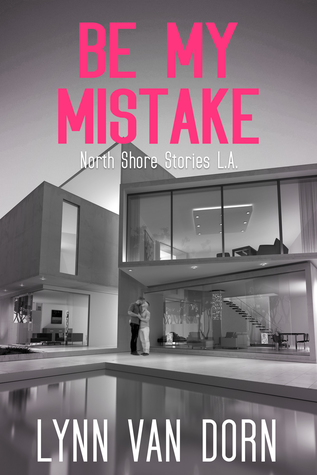 Rating: 4 Stars
Publisher: Lynn Van Horn
Genre: Gay Erotic Romance
Tags: Contemporary, Age Gap, BDSM, Daddy Kink, Insta-Love, Opposites Attract, Romance
Reviewer: Cindi
Purchase At: Amazon.com
Blurb –
Ethan's Valentine's day isn't going well. His plan for the Hollywood party he doesn't want to attend is to hit up the free bar for all the gin they'll give him, then slink home, alone. Instead, he gets lost in the host's mansion and runs into a handsome stranger. Suddenly his night takes a sharp turn for the better.
Charlie has everything he could ever want, except someone to love, and he's just about given up trying to find him. Then, at his party, he stumbles upon a young man gawking at his Czanne and cursing his name. Charlie is amused, then charmed, then turned on by Ethan, who can't shut up and has the biggest blue eyes Charlie has ever seen.
Both know that falling into bed with a stranger is a terrible idea, but it might turn out to best mistake either has ever made.
Be My Mistake is a 28K word novella that's a prequel to the novel Damage Control. It can be read on its own
Review –
Be My Mistake starts with Tyler (a main character in the next book) breaking up with Ethan. There's a little bit of snark from both, but they ultimately agree to part as friends. It's now eighteen months later and Tyler has talked Ethan and his best female friend, Purvi, into going to some important Hollywood mogul's John Hughes, eighties movies themed party on Valentine's Day. Tyler and Purvi have dates. Ethan is the third wheel and definitely feeling like it, though Tyler and Purvi don't really try to make him feel that way. Ethan, a 'reporter' for TMZ agrees to go thinking he'll stay just long enough to get a few tidbits for a story and then go back to his lonely apartment to play video games and watch porn all night. This, after he takes advantage of the free bar. 😉
So he commences to get drunk – very, very drunk.
When a creep gets all handsy with him, it causes a bit of a scene. He sneaks off and ends up getting lost in the big house. He's looking at a painting on the wall when he's approached by a handsome older man. Not knowing who the guy is, he rattles on and on about the house, the owner he's never met before, and pretty much everything else non-flattering one could imagine. The stranger humors him but it doesn't take long before they're in one of the bedrooms. The man doesn't want to take advantage of a very drunk Ethan but things happen really, really fast with these two. Before clothes start coming off, Ethan figures out that the stranger is none other than the owner of the house, the above-mentioned Hollywood mogul that Ethan has been calling a douche and pretty much everything else as he walked through the house with the man. Instead of being offended, Charlie's amused, and he's wanting Ethan in a way he's never wanted another man.
Charlie likes to take control in bed. While the Daddy/boy aspects of the story weren't gone into in as much depth as I would've preferred, it was obvious that Charlie was all Daddy and Ethan was a very good boy.
After a night of mind-blowing sex, Charlie's not done. If it was up to him, Ethan would never leave. His mother had once told him that she fell in love with his father when they shook hands as they were first introduced, so he totally believes in love-at-first-sight. He saw it with his parents. But telling Ethan this could scare him off and he'd lose any chances of a future with the man. What he doesn't know is that Ethan is wanting what he does but he too is scared to voice it. He wants a Daddy and Charlie wants a boy.
There's a 17 year age gap between Ethan and Charlie, which I loved. There's also a lot of humor, something else I love in books. I don't normally read books about mistaken identity but it definitely worked here. I almost always shy away from books about the entertainment industry. I've had horrible luck with those types of books. It worked here because neither character was an actor or musician. Everything happens really fast with these guys, some might say too fast. Personally, I thought the pacing was perfect. The sex was amazing and there's a lot of it. Charlie is a take-charge-you're-mine-and-I'm-never-letting-you-go Daddy even when he's trying to pretend he's not one. I absolutely loved that. I LOVED the eighties references. The eighties were my generation.
What didn't work for me –
Dear Lord, Ethan never shuts up. Not necessarily always a bad thing, but holy cow. Sometimes it was charming. Sometimes it was funny. Sometimes it was downright annoying.
I wanted more. I wanted to know what happened between that Valentine's Day and what occurs during the epilogue. Ethan was a tabloid reporter. Charlie was a well-known Hollywood mogul. Was there a scandal when they got together? What happened? Inquiring minds and all that.
Overall, this is a really good story. I loved both Charlie and Ethan together. They were so different but worked so well. This is a prequel to Damage Control, Tyler's story. Tyler is an actor. There's also a fake boyfriend, another thing I normally avoid like the plague in the books I read. Nothing against the author, but I doubt I'll be reading it. I just can't see me reading 431 pages of a story with things that just don't work for me. One of my biggest reading pet peeves is reading a review that says, "I'm rating this book low because I don't like *insert whatever here* even though it states very clearly in the blurb and everywhere else that it has *whatever* in it."  I'm paraphrasing but you know what I mean. 🙂 I won't be that girl.
I will, however, be seeking out others by Lynn Van Dorn.