Like A Gentleman (Love in Portsmouth, #2), Eliot Grayson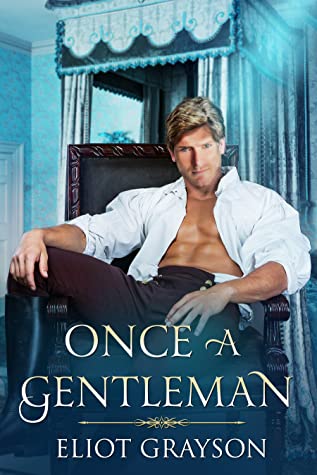 Rating: 5 Stars
Publisher: Smoking Teacup Books
Genre:  Gay Romance
Tags: Regency Romance, Dramatic, Angst 
Length: 295 Pages
Reviewer: Kazza
Purchase At: amazon
Blurb:
Penniless, friendless, and with nowhere left to turn after his family's ruin, Kit Hewlett can't afford any more disasters. When a rakish, too-handsome gentleman—and Kit's own clumsiness—cause him to lose his position as a bookshop clerk, Kit has no choice but to accept the gentleman's offer of employment as his secretary.
Andrew Turner serves honorably in the Royal Navy, but when ashore he wastes his fortune and his time on an endless round of drinking, cards, and…other pleasures. He appreciates his new secretary's slim body and pretty green eyes more than he ought, but he's also struck by Kit's quick wit and clever mind. To Andrew's shock, he finds himself wanting more than a tumble. But that's inconvenient. It's irritating. And Kit won't bed him anyway.
Trying to convince Kit that he's more than just a debauched wastrel takes some doing, but once desire overrides Kit's common sense, their attraction explodes into passion. Just as Kit dares to believe in Andrew's love, Andrew's ship is sent on a mission to the Continent. Will separation, worry, and fear tear them apart or will love bind them to one another forever?
This is the second book in a series, but it can be read as a standalone. Contains debauchery galore, a footman who wants to murder the butler, love letters, and gratuitous references to Gothic novels…and of course, a guaranteed HEA.
Review:
Once a Gentleman contains – but is not limited to – the following: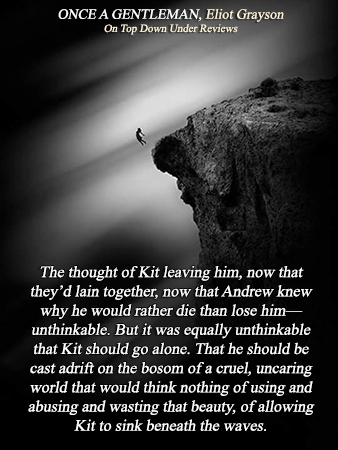 Some serious miscommunication
A hefty degree of introspective rumination
Angry kissing
Hurt sex
An angry BJ
Good old fashioned ravaging
Angst
My current favourite, drama
Some lovely epistolary moments – the words Andrew sends to Kit via letters are glorious
And there are two MCs I wanted to simultaneously slap the shit out of then soothe, and wash, rinse, repeat….
The writing is atmospheric. Beautiful. It's ideal for the Regency romance that it is
I love having my feelings unlocked, slapped around, then comforted, and that happened here – frustration, pissed off, gleeful, sceptical, worry, happy. More, but I'll leave it at these.
Andrew: I loved him, even when he was up his own arse about how to connect at more than a base level. Boyfriend material he wasn't for a while. He doesn't feel like he fits into the society he finds himself in but he's stuck between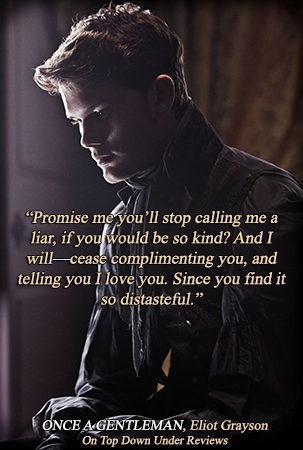 classes. He's a good man at heart. Inherently kind but he parties like it's the last day on earth, and much to his own detriment. He doesn't come from real wealth but inherited when a relative died, and he has been very wealthy for a little while. He's also in the habit of rescuing 'strays' – people who aren't easily able to get work elsewhere – and putting them to work for him at well above the going rate. He just asks for confidentiality about what he does in his home – fucking men is a hanging offense after all. He does fuck women too, he's very fluid, but the women are more about a bit of fun and a cover than the real lust that men inspire. Unfortunately, a few of his staff take advantage because of Andrew's sexual proclivities. They help themselves to more than they should and are lazy. All except Samuel, the footman, who is genuinely loyal, works for his pay, and appreciates Andrew. He also likes Kit when Kit moves into the house. Kit is also a 'stray' when he loses his job because he fell off the ladder at the book store, right into Andrew's big, strong arms. Andrew could sense the desperation but also the resolve of the man, that he speaks articulately, his clothes were once fine but are now tattered around the edges, so he offers him accommodation and a job as his personal secretary at Portsmouth. He actually needs one as he hasn't the time for things like keeping books and business affairs. He has a solicitor but needs a go-between and he knows Kit will fit that role. It doesn't hurt that Kit is gorgeous.
Andrew is a First Lieutenant in the Royal Navy and I wished for even more about that side of Andrew. Still, it forms part of the book. There is a section where Andrew is at sea. Initially he is waiting for the Horatio to exit drydock so he is stuck at home for several months in which he has wild parties, also gets to know Kit, and falls in love. He's all at 'land' when he's home and that makes him long to be at sea where he knows exactly what his role is and where he fits. He doesn't need the income but he likes the camaraderie, and his crew are a good bunch from the captain down.
Kit: I liked Kit. Then he annoyed me. Then I sympathised. Then he wormed his way into my heart. He thinks about his standing and how people will view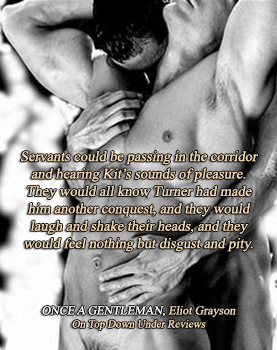 him, and with good reason. He is originally from a wealthy family, one that has been fairly recently disgraced, including the fallout from his father's suicide over business affairs. People that were his friends now shun him. He attended Oxford but that means naught in a deeply class-conscious society. He can't get the job he is academically qualified for, and he's viewed dimly by all other places because of his family's seeming fall from grace. Andrew's job offer comes at the perfect time, albeit with Kit's suspicions, but living at Andrew's house is difficult. The place is never cleaned properly, the food is basic when it should be the absolute opposite. Then there  are the loud bacchanalian parties, he's propositioned by a lecherous man and accosted, all of which are understandably galling. Andrew can also be somewhat overbearing in his ardour, and some other people scoff at Kit being the "secretary" because of Andrew's reputation, an indignity in itself. Kit also doesn't feel like he fits anywhere in society anymore and that leaves him feeling socially bereft.
I believe book #1 in this series, Like A Gentleman, was the first book I ever read of Grayson's. I've since become a huge fan. She mixes her writing up and she's amazingly good at it. There is much on offer within her catalogue. I seem to gel with her characters, whether they irritate me at first, I love them from the beginning, or they need a good slapping throughout, and Andrew and Kit both made my head spin. However, their common decency always made me want the best for them, and that is a core theme of this writer. She writes characters who may be surly or snarky or insecure, they're imperfect like the rest of us, but they are always decent at heart and have a lot to offer.
I read this book in a 24 hour period. I very rarely do that anymore. I seriously hated putting this book down in the early hours of this morning but I grabbed it when I could find time, between work today, and devoured it because I was totally invested. I absolutely loved it.
If you're looking for a well written gay Regency romance, and you don't mind some angst, some introspection, some drama, sexy times, and you want your HEA, then I recommend Once A Gentleman highly… with the caveat below.
If you DO NOT like one MC having sex with anyone apart from the other MC you probably aren't going to like this book. Andrew is a bad, bad boy, and it's in your face. He does fuck around, they aren't in a relationship when he does this, but they have had intimacy. I know this is a hard limit for some readers. This pair have feelings but stubbornly cogitate alone for a while. If you're good with this, then I heavily suggest you dive in because Once A Gentleman is a cracking read. 5 Stars!