Seducing the Sorcerer, Lee Welch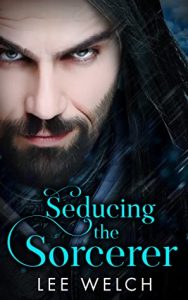 Rating: 4.5 Stars
Publisher: Self Published 
Genre:  Gay Romance
Tags: Fantasy, Magic, Older MCs, Horses, Alt-Universe
Length: 261 Pages 
Reviewer: Kazza 
Purchase At: amazon (*September 23rd release)
Blurb:
Homeless and jobless, Fenn Todd has nearly run out of hope. All he has left is his longing for horses and the strength of his own two hands. But when he's cheated into accepting a very ugly sackcloth horse, he's catapulted into a world of magic, politics and desire.
Fenn's invited to stay at the black tower, home of the most terrifying man in the realm: Morgrim, the court sorcerer. Morgrim has a reputation as a scheming villain, but he seems surprisingly charming—and sexy—and Fenn falls hard for him.
However, nothing is as it seems and everyone at the tower is lying about something. Beset by evil hexes, violent political intrigue and a horse that eats eiderdowns, Fenn must make the hardest choices of his life.
Can a plain man like Fenn ever find true love with a scheming sorcerer?
Review: 
This is the first book I've ever read by Lee Welch but it won't be the last. I remember I meant to read Salt Magic, Skin Magic but it was one of those books that just passed me by. Seducing the Sorcerer is a lovely tale, gentle for the most part. Sweet. Two older men, in their 40's, are the MCs, Fenn is forty-six. That was nice. No fuss about that. No fuss about too much in the book, to be honest.
I'll start with why I didn't give the book 5 stars and get that out of the way. The first (approximately) 50% is slow.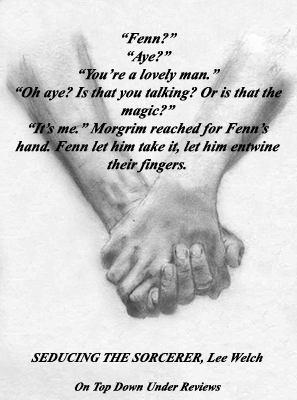 But by the 50% mark the author had found their straps and all things Fenn felt comfortable, then all things Fenn and Morgrim clicked into place. The author utterly found their groove. Then, the tale became a gem that wasn't so much glitter, but lovelier for it's understated beauty.
It's Fenn's POV that we get throughout Seducing the Sorcerer which was perfectly fine by me as Fenn is an honourable man, an uncomplicated man, telling what could have been a convoluted story through a kind and gentle lens. Fenn is a man who has walked a long time alone, over twenty years, after losing much. He's been walking to nowhere in particular yet needing to find somewhere special, searching for something like he once had but different, and always looking for horses. When he gets one in the shape of a "joke" that is meant as a cruelty, this book starts to look up and up. Squab, as he later names it, is a sackcloth horse with no hooves and a face only a mother could love but, as we discover, it's every bit a real horse in an unreal way. Even though Fenn initially feels he'll be the laughing stock of anywhere he goes with it in tow, things change. It's an old worple horse, one with kick, and I'll leave it at that because Squab made this book quirky and meaningful. That fabric-munching worple horse gave this story so much hope. Gave the ache in Fenn's heart the same.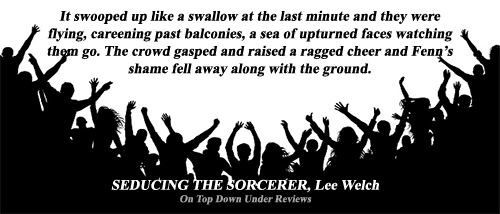 Squab takes Fen to the Unket Tower where Morgrim the most powerful sorcerer in the land lives. Rumour has it that Morgim is trying to marry off the young queen of Essuera, Aramella. That he keeps the rain constantly over his tower while the rest of the land is in drought. Where Queen Aramella is kind and thinks of the land, Morgrim thinks of himself and power. So Fenn is somewhat overwhelmed when he lands right at Morgrim's feet, so to speak. and Morgrim tells Fenn that he has to stay as he's wrought a hole in some magic, and he wants to find out why he's really there in the first place. During the course of Fenn landing at Unket Tower and staying for quite a bit longer than a few days, he and Morgrim get to know one another. With that comes the romance. With that comes some subtle fantasy and some adventure, and two men who seem to be so different outwardly discover they are like a lock and key. The elegant sorcerer, the man of politics, who needs someone to take control of him sexually and the man of no means, not a game player, who knows how to give that readily and respectfully, who also fixes shelves and plants and horses and makes people feel all the better for having known him, readers included.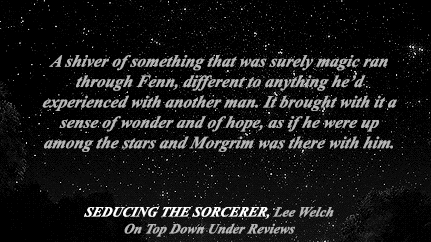 This is magic storytelling by Lee Welch, it's like a dream, it latches on quite slowly but also quite deliberately and doesn't let go until the last page. If you try to talk about the story it doesn't seem like it makes much sense and there isn't a lot of tangible aspects I can discuss in a review, it's more nebulous. However, there are moments that are deeply visceral and moving, and moments of great kindness, fleeting disappointment, and even though it's fantasy, it's so relatable to our world and the people we find in it nearly every day, or perhaps we'd like to. Yes, indeed. This book is definitely a gem. 4.5 Stars!