Shelter (Men of Hidden Creek – Season 1, #1), E. Davies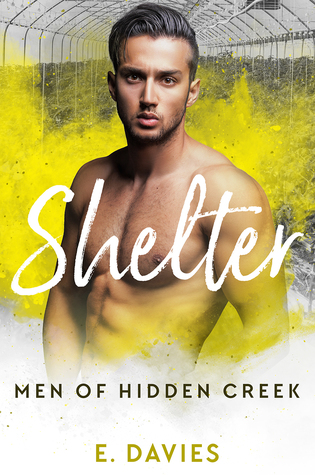 Rating: 3 Stars
Publisher: E. Davies
Genre: Gay Romance
Tags: Contemporary, Bi/Out-For-You Character, Romance, Series
Reviewer: Cindi
Purchase At: Amazon.com
Blurb –
"It's time to stop running away."
Private security contractor Orion Miele is only back in Hidden Creek long enough to help his Gramma get better. Orion never expected to fall for the only brown-eyed beauty he turned down in high school… one who needs his protection now. Juggling his responsibilities might get messy.
Gabriel Spicer can't wait to get out of this town and his cousin's fixed-up shed, far away from his clingy ex. He works at the Mieles' farm produce stall to save up for the big move to Houston, where his life will get better. But meeting his high school crush all over again throws his careful plans awry.
The walled garden designs Gabriel loves to sketch have nothing on the walls around his heart. While Orion comes to terms with being bi, Gabriel realizes that leaving isn't all it's cracked up to be. What he needs is shelter… here, in Orion's arms.
Welcome to Hidden Creek, Texas, where the heart knows what it wants, and where true love lives happily ever after. Every Men of Hidden Creek novel can be read on its own, but keep an eye out for familiar faces around town! This book contains a sweetly scheming grandma, a guy who thinks he's straight, and a sketchbook full of hopes and dreams.
Review –
I've been in the mood for series lately, but only if each book has different main characters. Not only does The Men Of Hidden Creek have different main characters, it also has different authors. I found a book in the series I wanted to read. I'm weird about reading books out of order, so I picked up Shelter, by an author I've never read before.
When Gabriel was in high school he took a chance and asked the most popular guy at the school – that would be Orion (aka Ryan) Miele – out on a date. Orion, not surprisingly, said no but in a kind way. Hidden Creek is a super tiny town in Texas where everybody knows everybody's business, so of course Gabriel asking him out spread like wildfire because it was overheard by others. Mortified, Gabriel pretty much kept to himself after that.
Orion was a love 'em and leave 'em type of guy – or so everybody thought. He had the reputation in high school but it becomes pretty clear only on in this book that there was more to it than met the eye. Orion left for Houston right after graduating and never really looked back. He got a job in security, occasionally guarding famous clients, and his life was pretty decent. That is, until Cora, Gramma, broke her hip and Orion was needed back home to help care for her. The timing was perfect because of something that had happened with Orion's job not long before. He'd take a break, help the woman who raised them, then maybe go back to Houston with a different outlook on things.
What he wasn't expecting was to see Gabriel, who he'd turned down in high school, working for the family business running a fruit stall near the family farm.
Gabriel, still embarrassed over being shot down by Orion years before, internally freaks out when Orion stops by to see him shortly after arriving in town. Orion looks even better than he did in high school and the crush comes crashing back with a vengeance.
But then Orion, shortly after arriving that first time, hugs him just a little tighter than would be appropriate for a straight man and he's looking at Gabe in a way Gabriel has only seen in his fantasies.
Gabriel always envied Orion for leaving town. That was also his goal. He lives in a converted shed on his cousin's (Art) property and saves every dime he owns as he focuses on his dream of going to Houston and doing – something. He sketches landscape designs but never expects anything to become of it. He's basically just muddling along, waiting for something to happen, instead of going out and finding it. That was my impression anyway.
One thing leads to another and the very gay Gabriel and the man he always believed to be straight end up experimenting sexually. It's only meant to be a friends with benefits type thing until Orion goes back to his life and job in Houston.
But then Gabriel's jerk ex (that would be Chad) starts making trouble and Orion jumps in as Gabriel's protector.
I love Gramma. She's your classic southern grandmother who's stubborn and all about feeding everybody and butting into things that don't concern her – I say that in a nice way – like playing matchmaker for her grandson and Gabriel. And give that woman a hot and sexy pool boy already. 😉 Or maybe even the hot paramedic who came to her house when she broke her hip. But sadly (lol), Mr. Hot Paramedic didn't play for her team. She knew that right off because of her naughty grandma intuition. I adored her.
"I know," Orion grinned. "Back in your day they had to chop firewood and grow lumberjack beards to keep warm in the winter, right?"
"Oh, no. None of that man up nonsense," she scolded him. "I like, what do they call them? Spray-paint jeans?"
"Skinny jeans? Spray-on? That's very skinny," Orion laughed.
"Shows off the goods better. You want a good idea what you're in for, trust me."
"Gramma!"
I liked Gabriel and Orion well enough, but I didn't buy into 'I've believed I was straight all my life and suddenly I'm eager to give Gabe a blowjob and swallow'. It just wasn't realistic. They worked together nicely as a couple but I was expecting more – maybe hesitation? – from Orion as he had his very first sexual experiences with a man.
Chad, the ex, didn't really come across as that threatening to me. Not even when he was waving a gun around. I know that probably doesn't make a lot of sense but all I saw was this loser guy acting stupid. Had the gun gone off it would've been because of carelessness on his part, not because he was seriously contemplating hurting Gabriel. Even when there was an incident (with Art there) I just didn't feel it.
The amount of winking and !!!! were distracting.
There were a couple of other things that I couldn't buy into but I can't really go into them here without giving away spoilers. The one thing I will say is this…. it's never cool to out somebody without their permission, even to people you know and supposedly trust. You especially don't say it loud enough for the town gossip to overhear.
That's all I'll say about that.
Overall, a nice enough gay romance. I like the story okay but I guess I didn't really feel the connection between Gabriel and Orion as much as I probably should have. I couldn't bring myself to buy into the 'maybe Orion had really wanted Gabriel in high school but couldn't/wouldn't act on it' thing. Also, there was a lot of talk about people bettering themselves and moving on to bigger and better things but I don't think I saw one mention of them going to college. I may be wrong and just missed it, but it seems like it was all about finding a way without furthering their education – in a classroom setting anyway. I'm not saying you have to go to college to be successful but I find it odd that it wasn't even mentioned.
One thing I really DID like is that small town Hidden Creek – in the heart of Texas – is not a homophobic town. If there's one thing I'm seriously sick of is reading about it's homophobic small towns that are ALWAYS in the deep south. I guess (I say with serious sarcasm) there are no homophobic small towns anywhere except in the southern part of the United States. 🙂 Anyway… it's refreshing to read something without the same old stereotype.
I'm looking forward to reading more in this series.